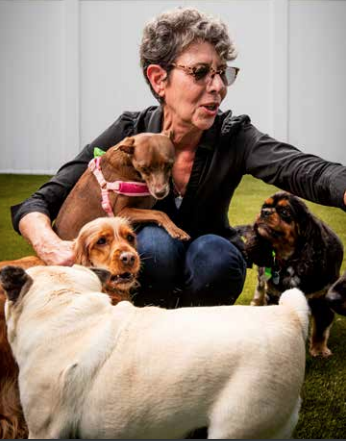 The COVID-19 pandemic has disrupted typical ways of life all over the world. And as Phyllis Bard, the co-owner of Bed & Biscuit Pet Inn and Salon, tells it, humans aren't the only ones who have noticed.
"[Dogs] have anxiety too, like everybody else. That's what I'm seeing when these dogs come in my door," she says. "It takes us a while to wear out some of that energy out of these dogs."
As for the humans, Bed & Biscuit clients have had peace of mind during the pandemic, thanks to accommodations the Coconut Creek business has taken to stay safe. Instead of allowing clients to come in at the entrance, Bard meets the dogs at the curb while wearing gloves and a facemask. The inn's grooming area is wiped down with Lysol between each dog and the bathing tub is bleached after each bath.
Bard shared more tips with Lifestyle on how to keep pets safe and healthy during this time.
Know the facts: According to the Centers for Disease Control and Prevention, there is little evidence of COVID-19 being spread by pets in the United States. If pets do have the virus, both the CDC and Bard agree that pets that have tested positive do not need to be abandoned. Acting against these facts has resulted in dire consequences for dogs locally.
"My friends [involved in rescuing animals] are telling me a lot of dogs are being abandoned in the shelter because people don't believe [they can't get sick]," Bard says.
Know your dog: When dogs experience anxiety, they often behave abnormally (for example, digging holes when they usually don't). Bard recommends quelling the behavior by taking them for a run or walk, especially if the dog is young. To help the community with this need during the pandemic, Bed & Biscuit started offering rentals of its expansive yard space for $20 per half hour.
Bard also keeps anxiety at bay with a calming classical music station on Amazon designed for dogs.
"You've got to find what works. The dogs are anxious, too," she says. "If people are anxious, the dogs can feel it."
Have a plan: The pandemic has taught pet owners that they need to be prepared for emergencies. Bard suggests having a plan to ensure what will happen to pets when owners are sick or unable to care for them. Someone trusted should know about the plan, such as a dog sitter, to prevent the animal from being picked up by animal control.
"People are isolated right now. They're alone," Bard says. "They need to start thinking if something happens to me or I get sick, where's my dog going? Who's going to pick her up?"
For the latest news on COVID-19, visit cdc.gov. Learn about Bed & Biscuit at bedandbiscuitpetinn.com.