We see them in uniform and on the job, but we don't always know much about the police officers who serve and protect our community. Life spoke to three Coconut Creek police officers to learn more about their off-duty pursuits.
Cake for Life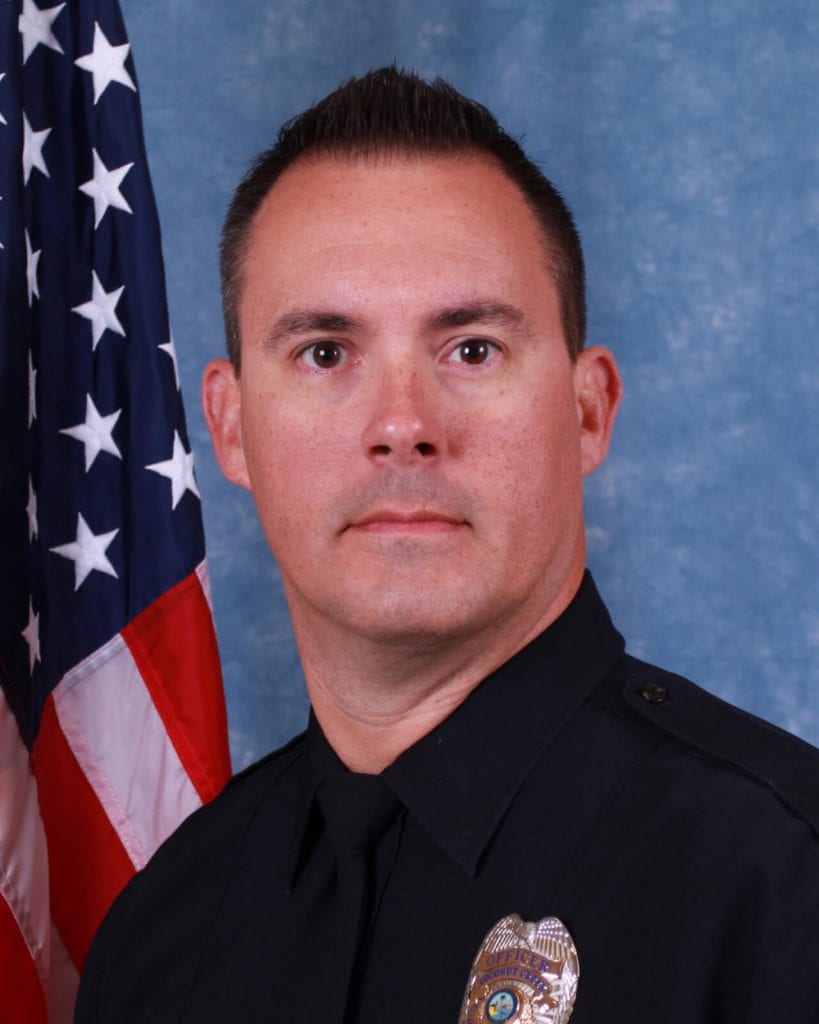 Michael Leonard started out in the state attorney's office reading police reports. The reports intrigued him so much that he opted for a career in the field instead of behind a desk. After breaking in as a traffic accident investigator with the Coral Springs Police, he's now a motor officer and traffic homicide investigator with Coconut Creek's traffic division.
Leonard has protected the community for 16 years; for nearly half that time, he's also been showcasing some serious game in the kitchen. Using the construction skills he learned from his father and the baking skills he picked up from his mother, Leonard creates elaborate cakes (birthday, graduation, wedding) for friends and family.
How did you become interested in baking?
Someone asked my mother to make her a custom cake for a baby shower. My wife and my mother tried their first attempt at making a fondant cake—a decorative, artistic cake. I'm a perfectionist, so I came by the house to inspect their work, and I made a joke and said, "Oh, I think I can do better than that." From there, it kind of sparked. When my mother got another request for a cake, I started helping her and then just started going on my own with the help of my wife. She helps out a bunch.
What's one of your most memorable cakes?
I'm usually excited to make a cake that challenges me—something that's creative and requires some kind of construction—moving parts or things like that. One cake I enjoyed making was a replica of a Stratocaster full-size guitar. The idea came about of having the cake sit on a real guitar stand, so I had to engineer a cake board that would hold this cake. That was one of my favorite cakes to make.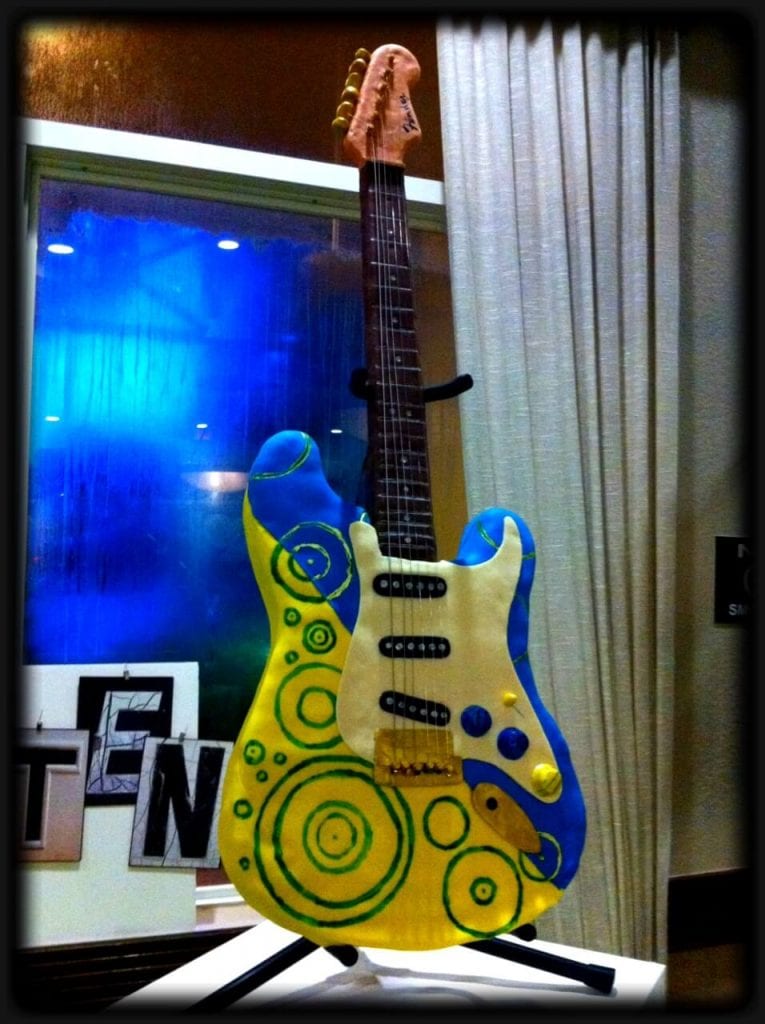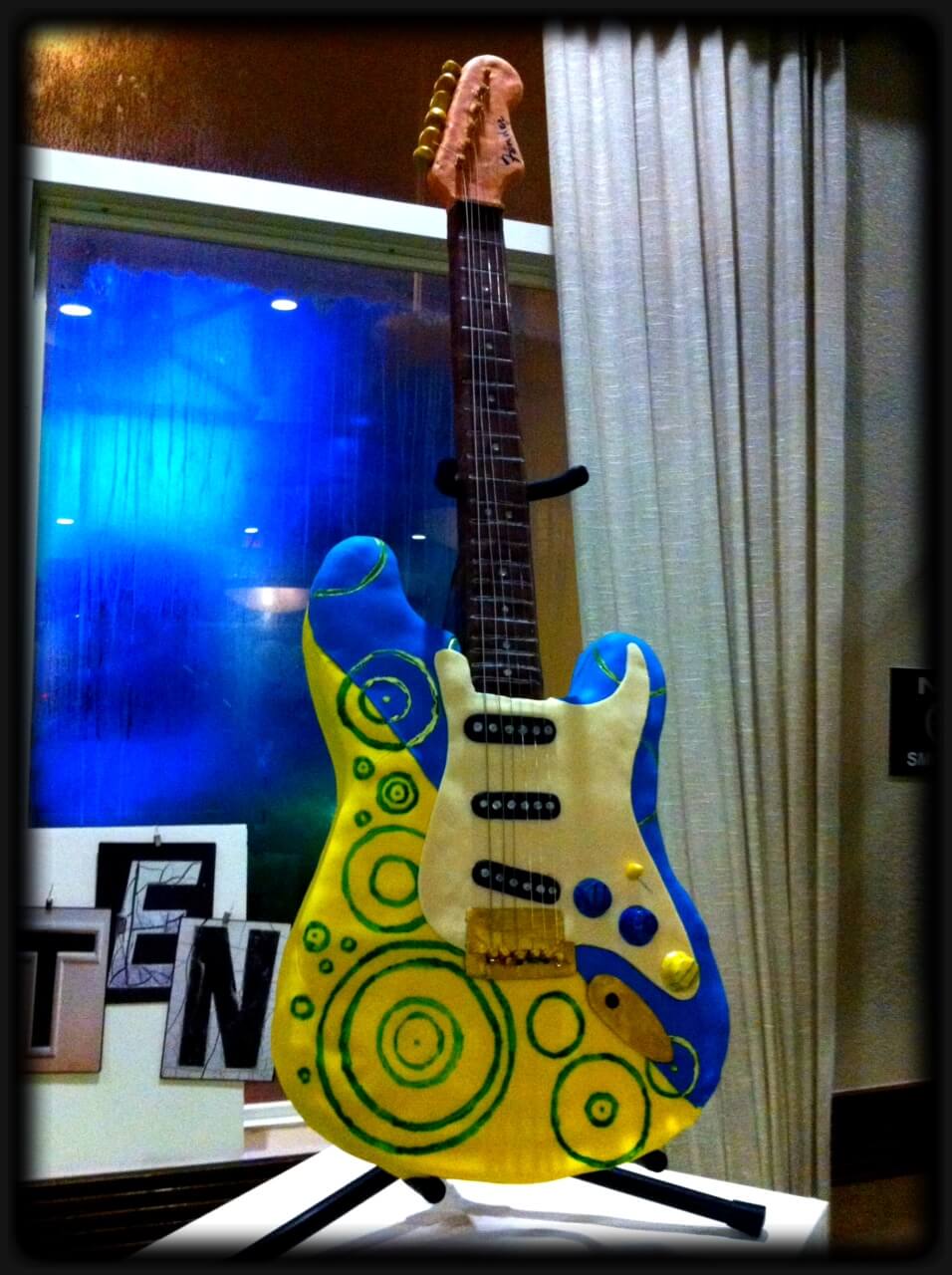 What's the cake-making process like?
You definitely need skill, creativity and patience. Sometimes, your recipe doesn't work or it worked one time but the temperature is off … it's all temperamental. You see some of these baking shows on television, and you see this drama that they have: an argument or the cake falls. And a lot of that stuff is real. You get a cake in position and you think it's going to work, then all of a sudden, the support gives out.
There's a lot of structural planning that goes on, so you can only do so much until you start putting it together. You're going, "Wait a minute … this is not working," and you have to come up with a quick fix. You're doing these cakes last-minute because you have to keep them fresh and you've got to come up with something. … It's pretty challenging but it's enjoyable in the same respect.
What do you think you'll make next?
Recently, I've been thinking of making a replica of a gun we use [the Glock model]. And I've been thinking of making a gun cake that actually functions. It doesn't shoot but the slide will move. … It's pretty interesting to see mechanical cakes, whether it be an element of smoke or light. I kind of see myself doing that only because it's a challenge and something I haven't done before.
All Shook Up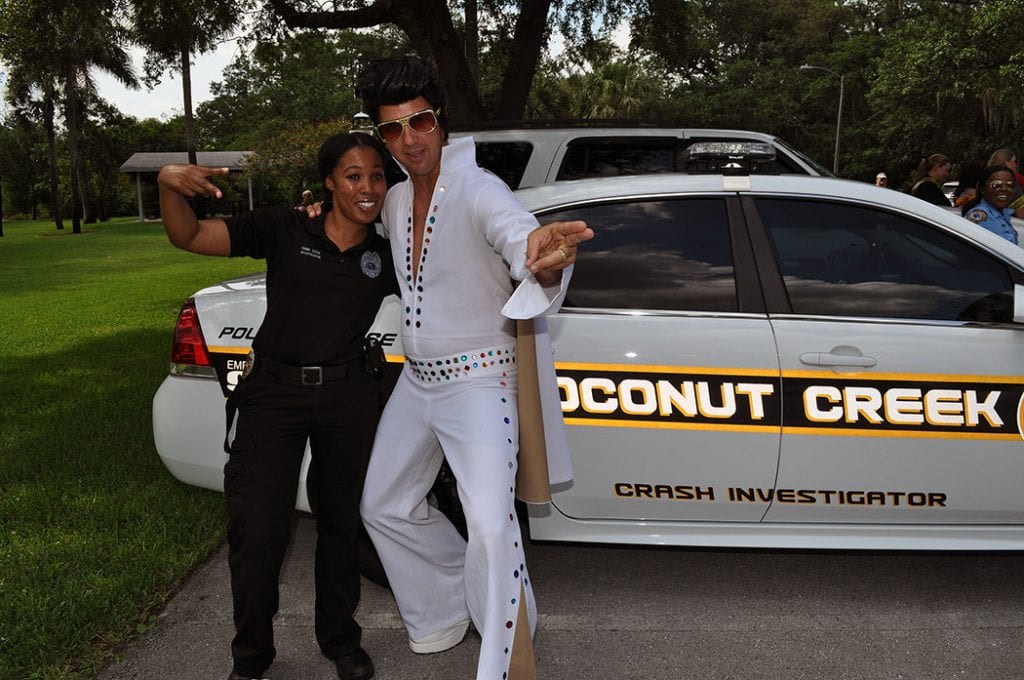 While Clint Corey knows several people who have worked in two city departments, he thinks he might be the only one to have worked in three.
Corey started working for the city at age 21, taking a temporary position in the parks and recreation department while he pursued his dream of being a teacher. However, he saw the opportunities the city had for him and worked his way up to a code officer in sustainable development at city hall, and then the police department.
But when residents watched officers take the Running Man challenge this summer on YouTube, they didn't see Corey, the police detective. They saw Corey, the part-time Elvis Presley impersonator, who was born the same year the real Elvis died—1977.
How did you become interested in Elvis?
I noticed that when people in the family sang Elvis [during karaoke nights], it became more interesting. Instead of standing there singing a song, they started dancing. … I said, "Wow, that's a whole lot more exciting." I watched for years and then finally I said, "I'm ready to get up there and give it a try."
As I got a little bit older, my mother said, "Wouldn't it be cool if we got you a jumpsuit?" and I said, "Yeah, let's do it." We got one when I was around 18. It cost $500. My dad had taken his karaoke shows on the road in Margate and Coconut Creek, so he said, "Great, you got a suit. How about you be the special act at my shows? You come in and you sing a few songs." So I did.
What's your impersonation style?
A lot of people try to sound exactly like Elvis. They try to do the mannerisms exactly like Elvis. They try to have a jumpsuit exactly like Elvis'—right down to the rhinestones in the exact placement. The difference with me is I do Elvis in an exaggerated fashion. My jumpsuit is not a replica. The stunts are not the same. When he gets up there on stage and he shakes his hips and he kicks his leg in the air and he throws his arm around to do the windmill—I do a more exaggerated version of it.
I'm trying to get a little more of a reaction out of people. I like watching people's facial expressions. I probably get more laughs out of it than "Wow, he's just like the real thing." And I'm OK with that because that's just the way I do it. … It's more of a novelty act.
Does your family get involved in your act?
My wife is a big fan. When I go up on stage, she's there 99 percent of the time. I usually refer to her as Priscilla [after Priscilla Presley, Elvis' wife]. Almost every time, I travel with "bodyguards." Elvis had the Memphis Mafia; I refer to them as the Memphis Mafia. Ideally, I'll have two or three of my friends with me who dress up as bodyguards, and they accompany me to whatever show I might be going to. … It's all part of the act.
Need for Speed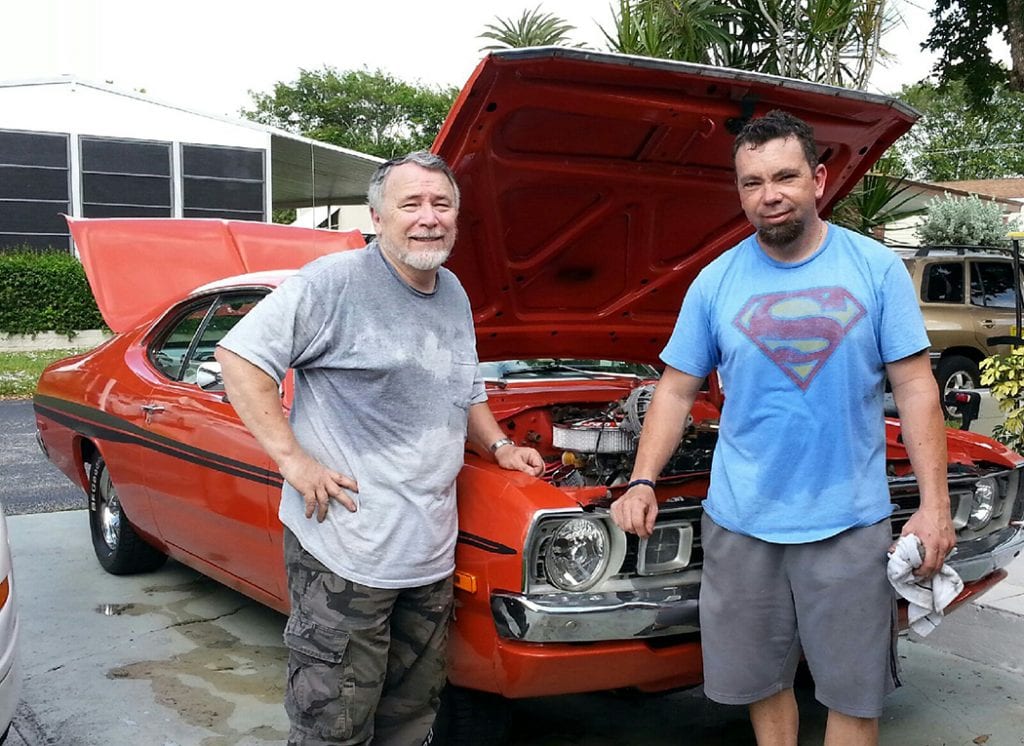 James Dingus grew up wanting to be a mechanic like his dad. But when his father discouraged him from the idea, Dingus decided he would try a career that would one day make his children proud of him and allow him to help the community. He started out as a community service aide with the police department and was hired as a police officer after eight months.
But Dingus didn't forget his interest in cars. He's passing on his father's legacy by restoring vintage cars with his family.
What are the steps to restoring a car?
It depends on the kind of cars you get. The last two cars that I've had, one was pretty much done, but the engine compartment and some of the interior needed to be redone. You can have cars that go from just having a shell, and you go from restoring the entire interior to fixing all the metal inside to redoing the seats, dashboards, headliners. The biggest challenge usually is the engine—getting the engine reconditioned, put back together, painted and making sure everything works right.
Something I haven't been versed in is bodywork. That's something I'm working on with my new project.
Are you involved in any local car clubs?
I'm in Dirty South Mopars and the Florida Mopar Connection Car Club, which deals with Dodge, Chrysler and others like that. Just about every weekend, there's somewhere to hang out. All the car enthusiasts around here all hang out together. It's one big community. We go and sit at either a Ruby Tuesday's on a Friday night or Tijuana Taxi on a Sunday night, or you have the major car shows. There's so much to do down here with vintage cars and even the newer cars with the car clubs that all get together. It's a fun time.
What is your dream project?
My dream would be to have an older Ford, maybe from the 1930s, like a Model A.
Which cars do you own?
Right now, we have three: a 1973 Dodge Demon, a 1963 Dodge Dart and a 1995 convertible Ford Mustang.
The 1963 Dart we bought for my 15-year-old son. When we bought that, it was just a shell. The seats were deteriorated. The engine needed to be redone. The outside still needs to be redone—we're just getting to work on that. From there, we've redone the inside—from making the door panels to redoing the seats, redoing the dash, insulating the inside, putting the radio in—and reconditioning the engine and changing seals and making sure the engine works to the best of its ability.
What do you enjoy most about restoring cars?
The best part is I get to work on the cars with my kids and my wife. She also helps out. My kids are learning about how to fix cars, how to tune up engines, how to take apart engines, what goes into redoing these cars and the interiors—even something simple as putting in the stereo system. It's something that I like doing because I get to do it with my family.