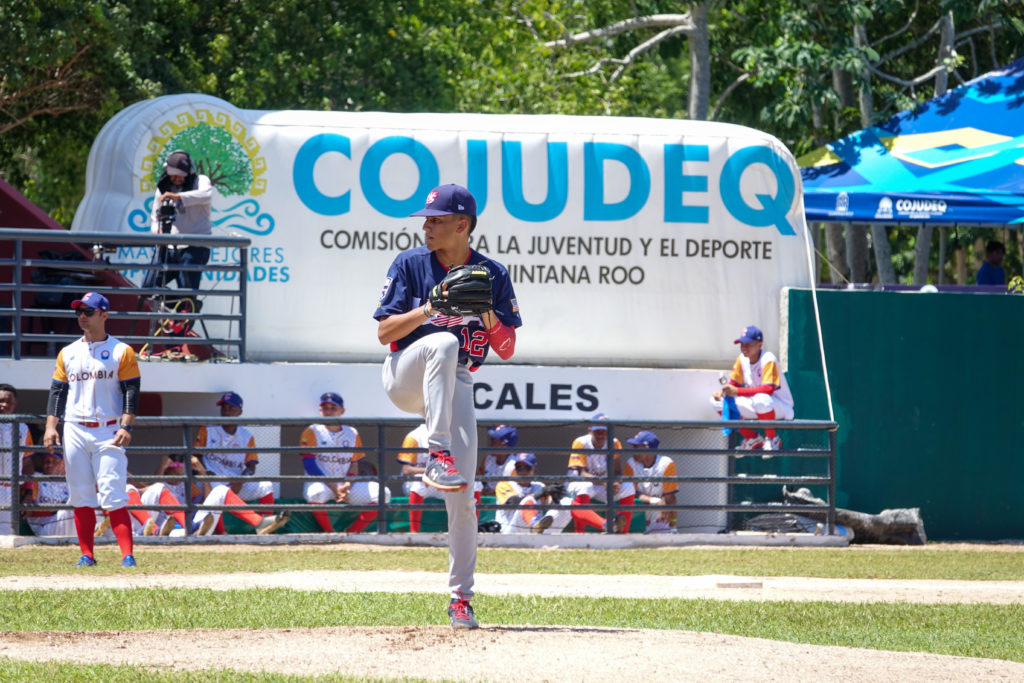 When Brandon Barriera was 4-years-old, he had yet to string together a complete sentence. "He was a late bloomer," says his father Sergio Barriera.
But Sergio will never forget how Brandon's first full sentence set the course for both of their lives.
At their home in Brooklyn, New York, they were huddled around the television watching the New York Yankees play the Toronto Blue Jays. Brandon told his father, "Daddy, I want to be the next Andy Pettitte." Pettitte was the Yankees' pitcher and a three-time All-Star.
Sergio remembers saying to his son, "We can start working on that dream."
Now turning 16 this month and 6 feet tall, Brandon Barriera is—according to his pitching coach, Nick James of Cannons Baseball Academy, and baseball scouting service Perfect Game—ranked the No. 1 left-handed pitcher in the country as well as the No. 3 overall player nationally. [Editor's note: Both rankings are for the class of 2022.]
His father has certainly influenced the dreams of the sophomore at American Heritage School in Plantation. So did Mama Carmen.
Brandon remembers watching Yankees games with his great-grandmother, who the family of Puerto Rican heritage called Mama Carmen. Born in Puerto Rico, she spent most of her life in Brooklyn and was "a bigger Yankees fan than anyone," Brandon says. When he would spend time with her as a toddler while his parents were at work, they would watch baseball on television.
"She would teach me how to throw a baseball," he says. She had pictures of Derek Jeter and Jesus on her walls. "There weren't any family pictures. Just baseball and God."
Mama Carmen, he says, died three years ago—he notes the date—Jan. 7, at the age of 85. When she died, he made sure she was buried with his favorite Yankee hat. Before he goes out to pitch at a big game, he'll write "Mama Carmen" on his baseball cleats for good luck.
Besides watching games with Mama Carmen, Brandon went to his father's men's-league practices and games since he could walk.
"The guys and I would let him go up to bat, and we would fake it for him," Sergio says. "He wouldn't get a hit, but he would run the bases. He thought he was playing a game."
The Andy Pettitte comment stuck with Sergio. So, he started working with Brandon on his pitching. "I had him throwing right-handed, because that was his dominant hand, but it wasn't good." Not long after they started, Brandon said that it didn't feel comfortable throwing with his right hand, so Sergio put the baseball in his 5-year-old son's left hand.
"His first throw was incredible. He had accuracy and pop," Sergio recalls. "That's where the whole dream began." As it turns out, Brandon's hero, Andy Pettitte was a southpaw; historically, left-handed pitchers have been more successful than righties.
As Brandon got better and more dedicated to the sport, Sergio knew that New York wasn't the place to "pursue the dream." So, two years after that left-handed pitch, Sergio asked his company for a transfer and moved the family to Coconut Creek in 2011. They didn't have family or friends here, but Sergio knew that in Florida, Brandon could play year-round compared to only two or three months in New York.
Brandon started with a Coconut Creek recreational baseball team. He tried to join a travel team where he could face more competition playing throughout the state. "The Coconut Creek Hawks didn't accept him on its team," Sergio says. "He was too young at that point."
But, they did one better, finding Brandon's coach, who has been with him for seven years. The owner of Cannons Baseball Academy in Fort Lauderdale, James also is a pitching coach at American Heritage.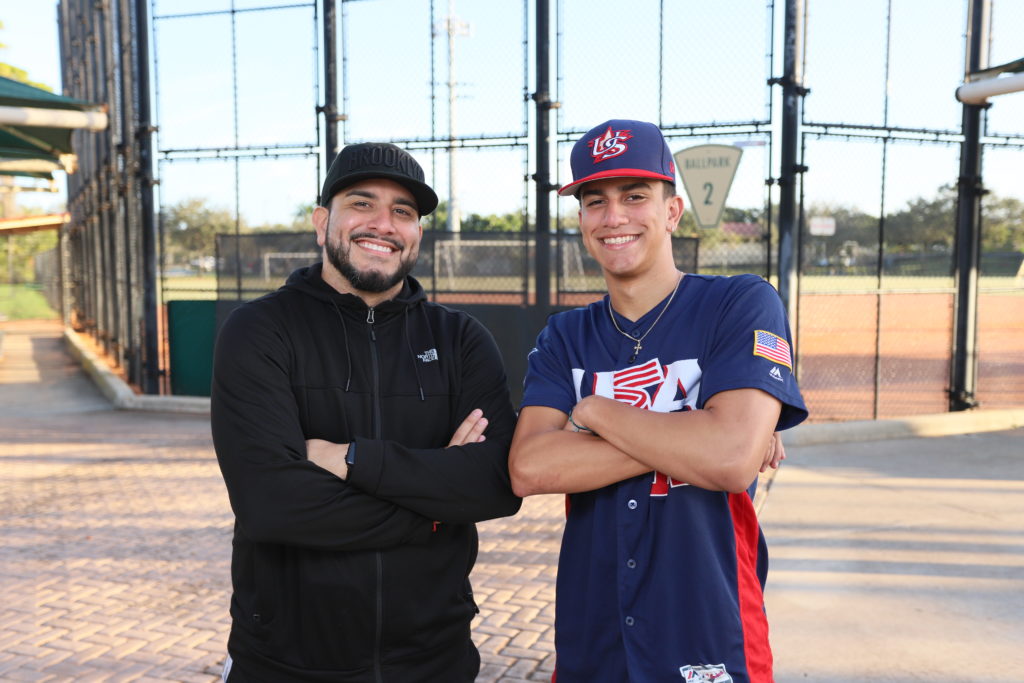 James told Sergio that in three to four years from the date that he began working with him, Brandon was going to be one of the most outstanding pitchers in the state and, likely, the country.
"He told me I needed to trust him," says Sergio, who couldn't believe James even wanted to take Brandon under his wing. "The first tryout he did at Cannons, Brandon threw a pitch 50 feet in the air. Nick came up to me and said, 'This kid is going to be great. It's going to be rough, but I need you to trust the plan.'"
Fast forward three years later, and Brandon, then 12, made it onto the USA National Team at tryouts in Compton, California, at the Urban Youth Academy. In youth baseball, it is a big achievement.
His coach says it was a turning point for Brandon and his national profile. "He started to get an idea and an understanding of what it was to be competing," James says. "These are the top 100 or so 12-year-olds in the country that get invited. This was when others that mattered nationally started to see what we had had seen locally with Brandon."
Sergio saw it too. "That was his best start ever," he says. "And it was almost four years to the day when [James] told me of his confidence in Brandon."
The recognition has continued. This past October, Brandon led the under-15 USA National Team to win gold at the World Baseball Softball Confederation in Playa del Carmen, Mexico. He was one of only 20 players selected from across the United States.
"Competing against the best kids in the world in my age group was a task I was looking forward to," Brandon says. "I knew if I could compete against them, it would continue to prove to myself that I'm made for this."
Though only a sophomore, Brandon already has made an oral commitment to Vanderbilt University in Nashville, and next year, he'll make it official.
"Ever since I started watching college baseball, that has been my dream school for sports and for academics," he says. The Vanderbilt Commodores baseball team won the 2019 College World Series. "It doesn't get much better outside of Vanderbilt."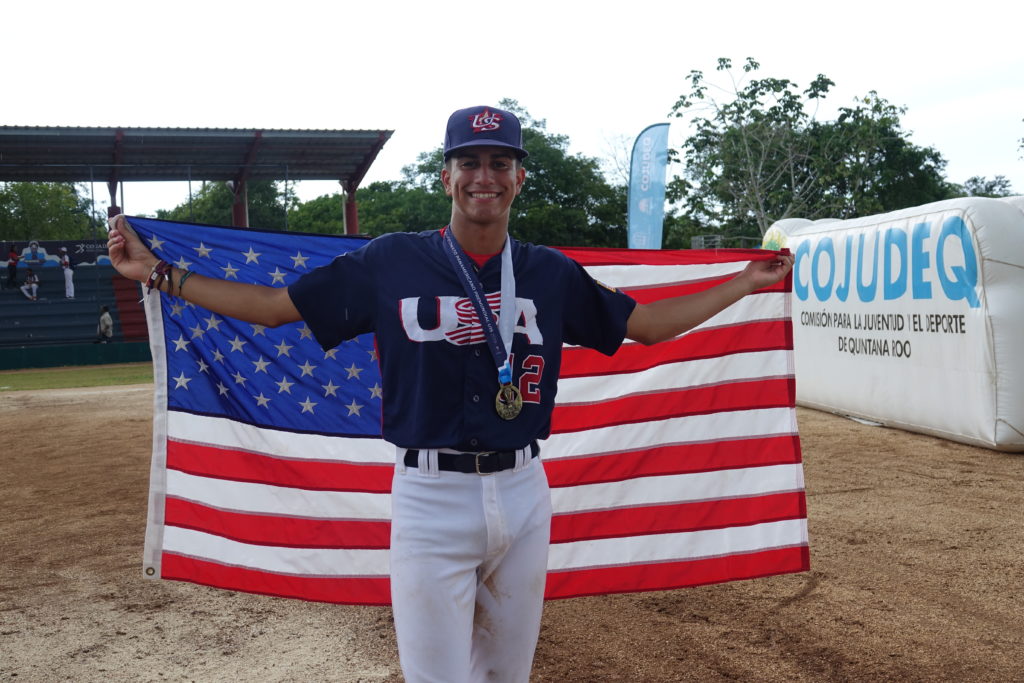 For a teenager with a big future in baseball ahead of him, Brandon is soft-spoken and easy-going. He says he doesn't like kids who are cocky, the ones with an attitude. "They think they have it all planned out and they don't have to do anything," he says. "They leave their friends. I still have the same friends I've always had."
His dedication belongs to two things: baseball and schoolwork. "I can't slack off in baseball so I can't slack off in school," he says.
Sergio is equally dedicated to his son's success. He works two jobs to pay the tuition for the private American Heritage, working from 5 to 9 a.m. during the week as a outdoor maintenance worker, then off to his daytime job working as a project analyst at the regional office of American Express in Sunrise. On Saturdays, he works during the day at American Heritage.
Even with this support, Sergio doesn't push him. "I told him if he decides not to play baseball, that's his choice. I just want him to be the best at whatever it is he does."
But Brandon can't even consider giving up baseball. "I live, eat and breathe baseball. Just being out there, making my pitches, it's just always been my thing, my passion."
It's this passion that perhaps leads his coach to say that it isn't just talent that should eventually guarantee him a place in Major League Baseball.
"Brandon likes to be the first one at the ballpark. He's there in the dugout talking to younger players, motivating them," James says. "And, it's not just for show."
When asked if there is any reason why he wouldn't make it to the majors, Brandon shows determination.
"Nope. No doubts whatsoever. I plan to keep on working as hard as I can," he says. "Plus, I've wanted to be a Yankee forever."
His dad says there's another reason: "There aren't many 15-year-olds that throw 92 to 94 mph [fastballs]," Sergio says.
Besides the obvious reasons an almost 16-year-old would want to be a major-leaguer, Brandon and his 12-year-old sister, Layla, also have a plan for when he makes it to the big show.
Layla wants to be a veterinarian and open a nonprofit animal shelter. Brandon's determined to help her reach that goal.
"She sacrifices a lot coming to tournaments and watching me play. She gives up her summers," Brandon says. "She's spent so much of her time surrounded by my dreams, I want her to have hers, too."
Photos courtesy of USA Baseball
Personal best: Third varsity start at Westminster Academy when he was a 14-year-old freshman; he pitched a seven-inning shutout with 14 strikeouts.
Baseball idols: Luis Severino, New York Yankees pitcher. "He is upbeat, and he is a competitor. You can always count on him, and that's what I like."
And Marcus Stroman, New York Mets pitcher. "I like the player he is off the field. He's a humble guy. He also has his own clothing brand meant to motivate kids to overcome adversity and chase their dreams."
Music in his headphones before he goes out on the mound: Meek Mill, Roddy Ricch, Drake and Lil Tjay
Nickname: La Créma. Sergio tells his son when he is down about not performing well in a game that "the cream always rises to the top."