Broad Shoulders Sandwiches to Celebrate National Sandwich Month
The Fort Lauderdale eatery opened in February 2022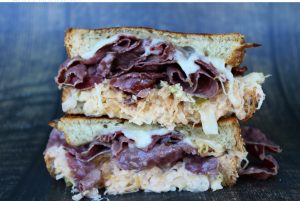 Broad Shoulders Sandwiches, a gourmet sandwich shop in Fort Lauderdale, will celebrate National Sandwich Month in August by providing daily menu specials throughout the month. Chef/owner Tom Azar and his wife Cheryl named Broad Shoulder Sandwiches after one of Chicago's nicknames, the "City of Broad Shoulders," to pay homage to his Chicago roots.
Some of the daily menu specials planned for August include a Crab Cake BLT and a Seared Sirloin sandwich on Ciabatta with roasted mushrooms, caramelized onions, provolone cheese and a touch of smoked tomato aioli. Regular menu staples include the Broad Shoulders Burger, the Shrimp Po' Boy with crispy fried shrimp, lettuce, tomato, red onion and remoulade on French bread and the Smoked BBQ Rib.
Broad Shoulders Sandwiches is located at 2822 East Commercial Blvd. in Fort Lauderdale. For additional information, please visit www.Broadshoulderssandwiches.com or call (754) 779-7220.