Miami's hip Wynwood district attracts visitors from all over the world, so it's no surprise it attracted a unique hospitality concept.
Brooklyn's bespoke hospitality concept FREEHOLD opened its second location earlier this month in Wynwood, offering a wide range of day-to-night accommodations and entertainment. Brand developers Brice Jones and Brad Gallagher describe their hospitality concept as "reminiscent of a bustling boutique hotel—without the actual hotel rooms."
FREEHOLD will offer a multi-use community space for Miami's upwardly mobile set. Designed by the award-winning architecture and design firm Rockwell Group, each space was created intentionally to offer a carefully-curated ambience enhancing the experience based on the time of day and programming. As an all-day all-night environment, with a menu to match; the transitional space includes multiple bars, a Pizza Shop, a café, a spacious courtyard, and event space.
"We fell in love with Wynwood in 2015 and believed our concept would be a perfect fit for the ever-growing neighborhood as Freehold is so much more than just a bar or a restaurant. We know we've accomplished our goal as creators when we see our guests arrive and utilize the space to work or host a meeting during the day and then stay to enjoy cocktails as the space transforms in the evening, offering a completely different ambience," said Jones.
Upon entry, guests will find the café, which offers a full Third-Wave coffee bar featuring Counter Culture Coffee, along with light bites. Beyond the Café is the "Front Desk" at the entrance of the expansive Lobby Bar, the true heart of the space, where robust culinary offerings, a full bar and a spacious common area are available, all reminiscent of a hotel lobby. On weekdays, the Lobby Bar will serve as an interactive dining and creative space. With the installment of cabinetry covers, a retractable panel will veil the back bar liquor display and televisions, offering an authentic daytime atmosphere. As the sun goes down, Happy Hour arrives, enhanced by FREEHOLD's trademark programming, which will bring an inspired mixture of entertainment in all categories from live music to comedy and more.
One of FREEHOLD's newest programs celebrates decadence with an edge: Oysters & Bubbles with G.H. Mumm. From 8 p.m. to close each Thursday, guests can indulge in $1 oysters and $6 glasses of G.H. Mumm champagne while enjoying entertainment from a rotation of the best local female DJs.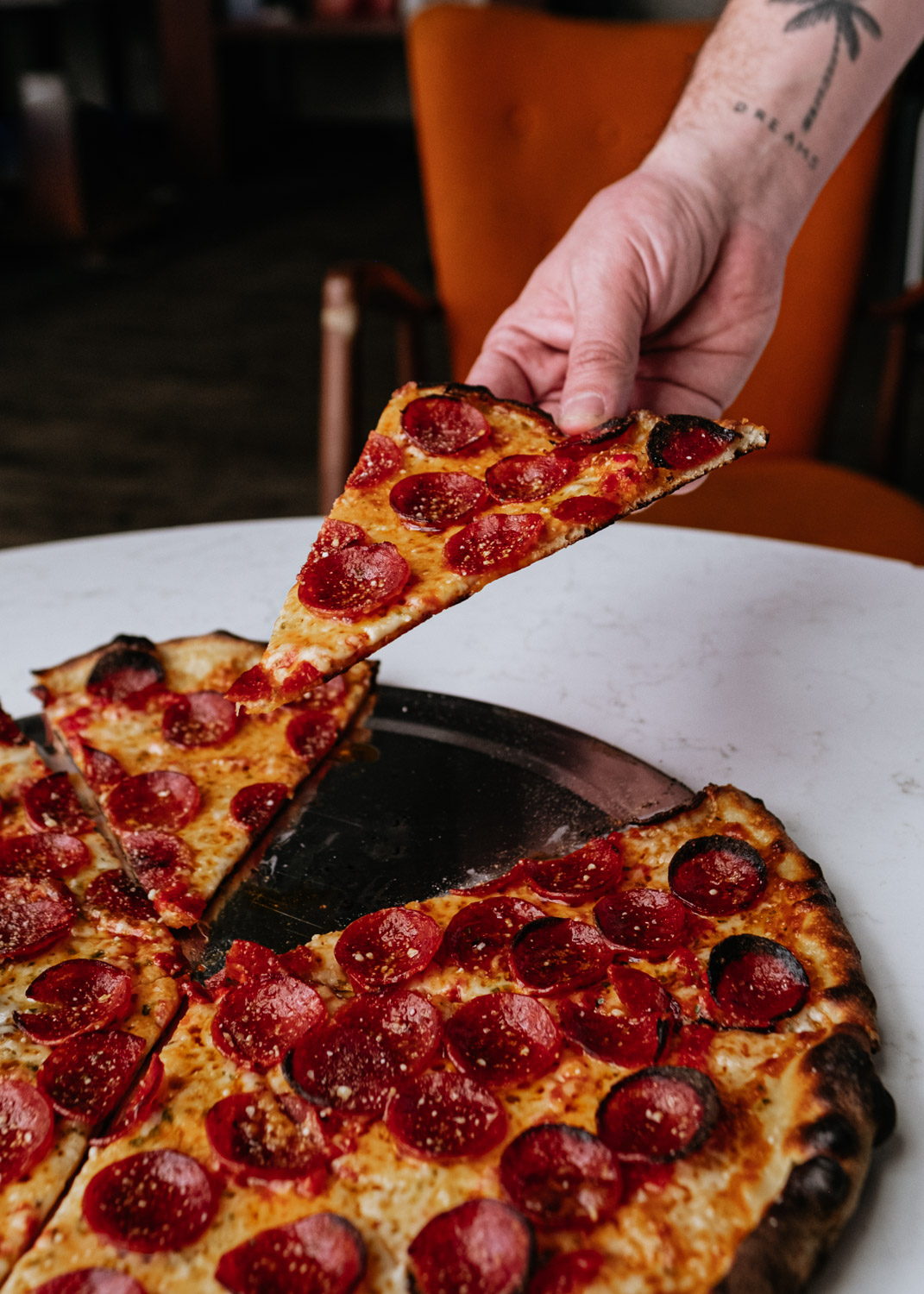 Beyond the Lobby Bar is the 4,000-square-foot Courtyard, featuring a cumaru wood "pool deck" with creative seating, leading to the central focal point, a sprawling Freehold Teal turfed area for lounging. Reminiscent of a hotel swimming pool, that you can sit inside. Here, guests can enjoy different seating options, perfect for relaxing or enjoying a meal outdoors while listening to their favorite local DJ. The Courtyard also offers a trellis roof, bringing a bit of respite from the sun, and a stage for live performances. The 750-square foot Cabana Room will be strategically located adjacent to the Courtyard, offering the public a private event and activation space.
Bringing a slice of New York flair to Miami, FREEHOLD selected Pizza aficionado, Anthony Falco, to assist in the creation of The Pizza Shop at FREEHOLD, a concept that is inspired by NYC slice joints of the 1970s. Hailing from New York's famed pizza shop Robertas, Falco has created for FREEHOLD a signature thin & crispy style for guests to enjoy, surrounded by customary tomato-red booths and backlit by hanging stained glass lamps, another one of Rockwell Group's imaginative details. 
"Our expansive overall program here at FREEHOLD has allowed us the ability to showcase our brand even during these unprecedented times.  We have made our culinary program our focal point during the past few months in launching our thin & crispy pizza, which has added another layer to our ever-evolving brand. We are excited to bring it all to Wynwood!" said Gallagher.
FREEHOLD is located at 2219 NW Second Ave., Miami. Click here for more info.