Broward College trains the health care workers of tomorrow in more than 17 different health science programs—a local education accomplishment possible through BC's relationships with health care partners Broward Health Medical Center and Memorial Healthcare System. It's a relationship that BC's senior vice president of workforce education and innovation, Dr. Mildren Coyne, calls "symbiotic," allowing BC students to get real-world experiences for their degrees at the medical centers and giving health care workers a place to complete specialization training and continuing education at BC.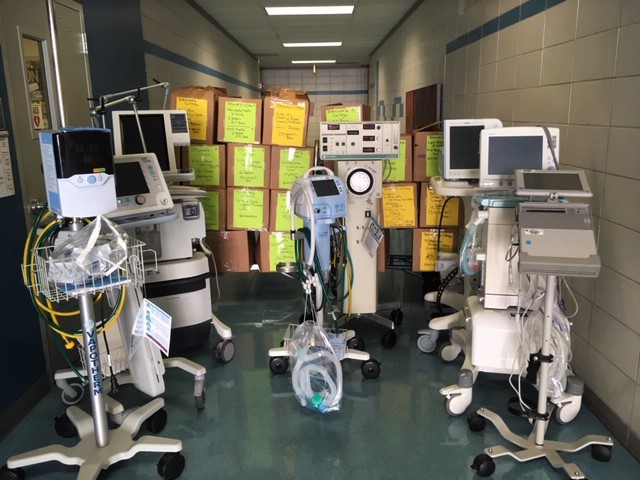 But in the COVID-19 pandemic, the partnerships took an unexpected yet ultimately heartwarming and serendipitous turn. As Isabel Gonzalez, BC's chief of staff and vice president of communications and community relations, puts it, "One day we were working on higher-level collaboration, and next we're pivoting on a dime and saying, 'We need to pause on anything else and really focus on what we can do to support the hospitals as their front line are working to save lives."
The next step for BC was to take inventory of its available supplies, including masks, gowns and ventilators. Dr. Coyne says it even became "a cross-college collaborative effort," as they found that nonmedical departments also had surgical gloves such as those used in science labs and its Institute of Public Safety.
In early April, BC transferred 141 boxes of sterile gloves, 1,127 boxes of nonsterile gloves, 187 boxes of gowns and 108 boxes of facial masks to its health care partners. In addition, the college gave them 104 boxes of items such as shoe covers, drapes, caps and infection control kits. The partners have agreed to reimburse the college for the materials in the future.
They also loaned 20 computer cameras for telemedicine and eight ventilators to Memorial Healthcare. Plus, the college produced 1,000 face shields made with 3D printers.
One of Dr. Coyne's conversations with a colleague who serves as a liaison for Memorial Healthcare at the college revealed how the loans assisted in the fight against COVID-19: "He conveyed to me that the medical director was just elated and relieved because that was going to definitely help them."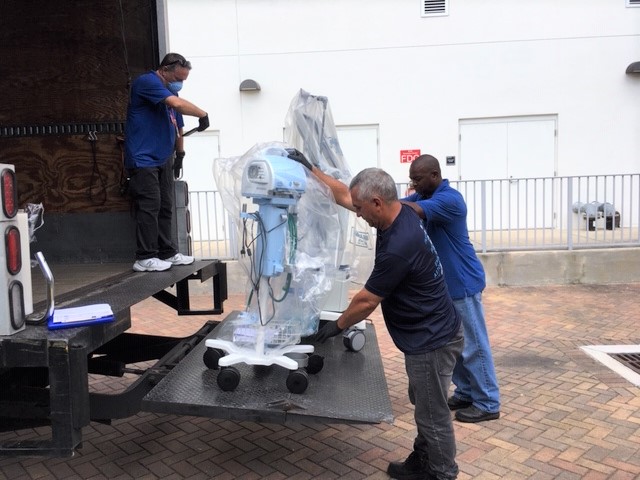 The loans also come full circle for BC as it seeks to support its students as well as the community during the pandemic.
"We feel a sense of pride and duty to help these hospital partners—not just because they're really good partners for us for now and in the future—but also because these are our students and our alumni who are saving lives and working on the front lines [in these hospitals]," Dr. Coyne says. "We want to make sure that they have what they need to be successful and healthy and safe."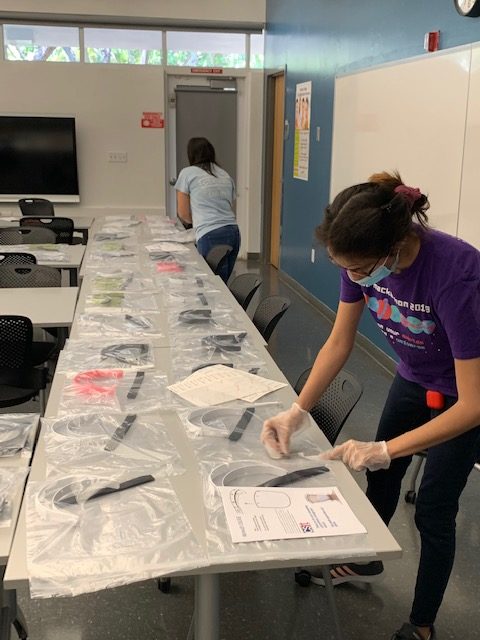 The assistance is also an example of how BC helps the community to the extent that it can. In fact, the college recently donated 500 masks to the FBI. And it has a committee that Gonzalez says is fielding requests by other organizations, seeing what the college can possibly do to meet community needs. It demonstrates the college is interconnected with the community—something that Gonzalez says has been heightened by the pandemic.
"We have a shared responsibility of responding and mitigating the spread of this virus, and we can do it in many different ways," Gonzalez says. "We're always open to inquiries and requests for help."
For both Dr. Coyne and Gonzalez, there's also a personal side to helping the community through their work with the college.
"It was just such a great sense of, 'Finally, there's something we can do. There's something I can help the college do that we can feel that we can make a difference in this battle that we're in against this virus,'" Dr. Coyne says.