While some top-level athletes focus on crushing the competition, acclaimed equestrian Carly Dvorkin can attest to the power of shifting her focus inward. The 18-year-old Parkland native, who admits that she sometimes "psychs [herself] out" during equestrian events, has had to learn to let her passion and confidence be her guide.
"Once you overthink too much, it doesn't benefit you; it only hurts you," says Dvorkin, a freshman at Tulane University. "After I realized that I compete because I love it, my team noticed. They said to me, 'You started riding way better when you stopped focusing so much on where you want to be in the future.'"
It's the tactic she used this summer in Budapest when Dvorkin competed at the 15th European Maccabi Games for Jewish athletes from around the world. She earned a gold medal in the individual show jumping event; Dvorkin also was part of a bronze medal-winning effort by the United States show jumping team in the respective competition.
"I was in two separate ceremonies because I was in the team ceremony and individuals," Dvorkin says. "I would never trade that memory for the world. That's something you just don't forget."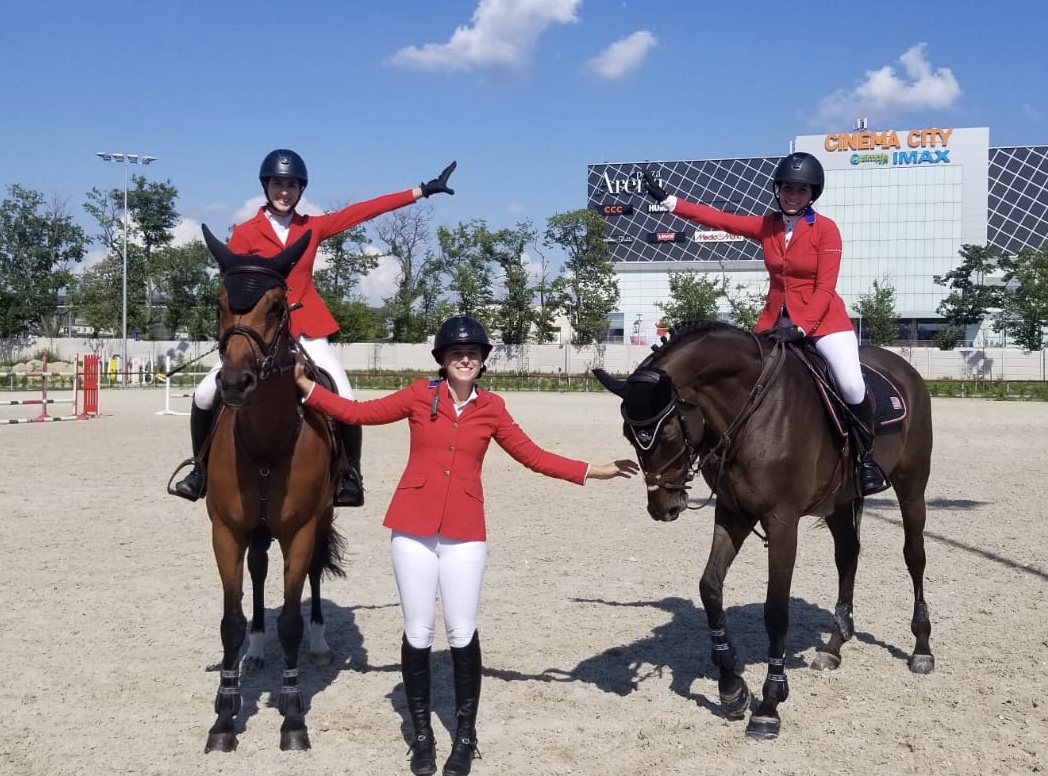 Her success is no surprise given her background. Dvorkin's parents, Howard and Gwen, own Pine Hollow Farm, an equestrian center in Parkland. With their support, she started riding ponies and eventually competing when she was only 5. Since then, she's placed in a variety of tournaments, such as the Winter Equestrian Festival in Wellington and the Tryon International Horse Show in North Carolina.
The results speak for themselves—in 2018, the United States Equestrian Federation ranked her third nationally among medium junior jumpers. In 2016, she was ranked first among junior jumpers in the organization's Southeast zone (Florida, Alabama, Tennessee, North Carolina, South Carolina and Georgia). Her horse, Catch Me Z, finished as U.S. Hunter Jumper Association's first horse of the year. Her other horse, Carlotta, which she rode at the Maccabi Games, finished as the association's first horse of the year for medium junior jumpers in 2017 and 2018.
"Nothing is better than coming out of the ring smiling after you know how well you've done," says Dvorkin, who credits her success to her trainer, David Blake, and her family's support. "It's not even about your results. Luckily, through the years, the results have followed with my passion. But I think that it's more about the love of the sport, and that I'm so dedicated to it."
Though now a college student in New Orleans, Dvorkin has no plans to stop riding. While the finance major explores her interest in marketing (she built the Pine Hollow website), she will fly to and from the Tryon International Equestrian Center to show through October (Carlotta currently lives at the Pine Hollow location in Tryon). She'll also compete in the Winter Equestrian Festival and the Great Charity Challenge in 2020.
"College is a new chapter of my life, which is a bit scary, but I'm really looking forward to the future," she says. "And I never would give up riding for the world because it's just a part of me. It's what makes me who I am."