Since blowing up in 2003 as a pop culture icon through his breakout work on Bravo television's "Queer Eye for the Straight Guy," Carson Kressley has been on 16-year tear that shows no signs of losing steam. He's done everything from authoring three books to hosting his own show on Oprah Winfrey's network ("Carson Nation") to cutting some rug on "Dancing With the Stars" to judging drag queens on RuPaul's VH1/Logo reality TV show to sitting across Arnold Schwarzenegger in the board room on NBC's "The New Celebrity Apprentice."
So, forgive the former fashion stylist and one-time employee of Ralph Lauren if parts of the past two decades are a bit of a blur.
"I'll run into people who say, 'Remember that time we were at the Kennedy Center, and we were talking to Cher?' And, I'll be like, 'No, I don't!' Because some of those years were so filled with amazing experiences, and we were going so full-tilt, that there are things I've forgotten," says Kressley, 49. "So, I'm very grateful for all the things I can remember—and even the ones I can't."
It's in his most recent capacity, as an interior design mentor and co-star of Bravo's "Get a Room with Carson and Thom" (with "Queer Eye" alum Thom Filicia), that Kressley will be in South Florida for the Fort Lauderdale Home Design and Remodeling Show (May 24-27). He spoke to Lifestyle about lessons learned in home design—and in his personal life.
Did having an eye for fashion easily translate to interior design, or did you have to work at it?
Fashion and interiors are very analogous. To be skilled as a fashion designer or stylist, you have to understand color and proportion and texture. You have to have an idea of where things come from and what styles work together. In that sense, it's similar to interior design.
What I didn't know, and what I think we try to teach people on "Get a Room," is the process and science behind interior design. Things like how high should a chandelier be from the dining room table? How many lumens [do you need for lighting, depending on the space]? I have good taste, and I understand the artistic side. But I didn't know the science.
When I was renovating my home, I kept tapping into Thom's knowledge of that science. When you live in New York City for 25 years, you're ready for a place to store your shoes that isn't your oven. So, I bought a weekend place in Pennsylvania; it was an original 1973 colonial, complete with avocado appliances. I thought, "I can renovate this by myself."
Then, a sofa arrived that didn't fit through the front door. I thought: (A) I better call Thom; and (B) I better figure out what I'm doing. That really was the impetus for our show.
I did manage to renovate the house by myself, and it looks great. But I made some costly mistakes that we're trying to teach people at home how to not make.
What threads of consistency ran through the spaces during the first season of "Get a Room"?
Every project starts with two strong, basic principles that I learned on the show. We used these on every episode, and I'll talk about this at the Home Design Show in Fort Lauderdale. First, you have to have a plan; that's something I didn't have. What furniture do you need? What pieces will fit? It's your road map to the physical design of your space.
The dance partner to that, the thing that you must also have, is a concept. Are you going to do urban farmhouse? Or Connecticut/colonial classic? This will be your road map as far as the style of your home.
When you pair those two things together, it really keeps you on the right track through your entire design process, no matter how long it takes.
The other thing that Thom and I both strongly believe in is that your home should be autobiographical. It should tell your story and be full of things that represent you. If you love travel, it might be things you brought back from trips. My house is on a horse farm, so it's very equestrian. Thom is the first one to say you shouldn't [overdo] a theme, which I agree with; you don't want your home to look like a theme park. But it should be full of your personality through color and textures and artifacts that you love.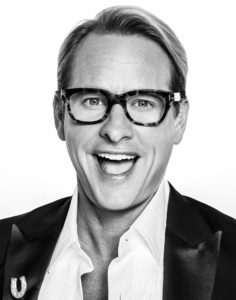 How do you think South Florida style, generally speaking, differs from other parts of the country?
To figure out what you're going to do inside your home, it's a great idea to look outside. Take cues from your environment. Obviously, South Florida has fantastic weather, but you also want to escape from the heat at times. So, you take that into account and perhaps incorporate cooler palettes; white, pastel, aqua and coral all look great. It's also reflective of the way people dress in South Florida. You have the Lilly Pulitzer aesthetic of Palm Beach down to the international style of South Beach, and everything in between. The common threads are that the looks are cool and more relaxed. So, [as it translates to interiors], it's not as formal as you might see in New York.
From the beginning, we've seen your TV persona as someone who speaks his mind. Have you always been so unfiltered?
When it comes to design, I've always had a strong point of view—and I haven't been afraid to express it. In 1976, my family had a home [built] outside of Allentown, Pennsylvania. I distinctly remember that my mom had hired a designer to do some custom curtains. And I was right there in the mix, giving my opinions. I think they were pretty unsolicited, coming from a 7-year-old.
You've said that great style can enhance your life. In what sense?
It increases your confidence. It makes you more comfortable. Beautiful spaces that look great and also function well truly make your life better.
I'm so inspired by design, whether it's fashion or interiors. It's such a fun world. I hate to hear stories about people being intimidated or scared about making mistakes [when it comes to style or design]. I like giving people good information so they can have a successful outcome. But I also like being a cheerleader in the sense that life is too short to live in a beige apartment. So, I try to inspire people to be a little daring and have fun with design.
There's an old Mae West quote where she says, "Life is a buffet, and most poor suckers are starving." I want to flip that around and be like, "Enjoy the buffet, kids!"
One of the unexpected asides on "Get a Room" was the episode where you talk about coming out to your parents at age 33. For people who are struggling to come out, what advice can you share now that you have some perspective?
I think I struggled with the same thing that so many people struggled with. What's unique for gay kids is that, if you're bullied at school for being tall or short or skinny or fat, you come home to your family and they can relate or understand—and say, "Listen, we love you." Gay kids are afraid to come home and tell their loved ones about this perceived flaw of theirs, because they fear rejection.
Even though coming out is easier than ever before, because we've made so much progress and people are more accepting in general, it still can be hard. But fear not. There is a community that will embrace you with open arms. And will love and support you. And you will, in fact, find your tribe. Sometimes, it's not our family. Sometimes, it's not our friends. But your people are out there. …
The most gratifying part [of TV success] has been the notes, the emails from people who will write, "I watched you on 'Queer Eye,' and you were so out there and so unapologetically yourself that it gave me the confidence to be me and come out."
If someone had told 16-year-old Carson that one day he would achieve renown, in part because of his sexuality, what would your reaction have been?
It would be one of incredulity. I'd be amazed because, at that point, I thought that my sexuality was my Achilles' heel. I thought it would hinder me from being successful. I would have been delighted to look into a crystal ball, see the future, and understand that it's now one of the things that I'm celebrated for.
I'm the poster child for hope!
When: May 24-27
Where: Greater Fort Lauderdale Broward County Convention Center (1950 Eisenhower Blvd.)
What: Expect lifestyle seminars, room vignettes, a food-and-wine pairing demo, interior trends and cutting-edge products that span the world of home improvement. Categories including kitchen and bath, flooring, closets, furniture, garden and patio, and home automation will be represented. On the celebrity front, meet Carson Kressley on May 26 (2 and 4 p.m.) and May 27 (3 p.m.).
Tickets/info: homeshows.net, 305.667.9299