Andrew Koenig wants to win.
His competitive embers burned as a youngster on fields of play and during games of Monopoly. And they burn even brighter now that he's CEO of one of the top 20 furniture companies in the United States, City Furniture.
"The question," Andrew asks from a conference room at City Furniture headquarters in Tamarac, "is how do we get to No. 1?"
Here's an equally compelling question: How does the 40-year-old son of the company co-founder have City Furniture moving so quickly in that very direction? And why did it necessitate a 180-degree philosophy flip when it came to how an already successful operation ran its business?
To answer those questions, it helps to go back to the beginning.
Family Influences: City Furniture was still a decade away from its own birth when Andrew entered the world in 1983. Back then, the company founded in 1971 by his uncle, Kevin, was still Waterbed City. But as Kevin joined forces with his brother (and Andrew's father), Keith, it soon became clear to the siblings that it would take more than an aquatic trend in bedding to make serious waves in the industry.
"I grew up learning about the business at our dinner table," Andrew says. "My father always had people over to the house—vendors, members of his own team, others in the industry. You can imagine the conversations that were being had in 1992 and '93 [leading to Waterbed City's transition to City Furniture in 1994]. It piqued my interest, even as a kid."
But it wasn't just the business buzz that made a strong impression on Keith's son.
"You could always tell how much people admired [Keith]," Andrew recalls. "There was a period where it felt like it he was being honored every week for his work in the community. It became the running joke in our family—what else can you possibly win, Dad? But we realized he was building something special.
"[Andrew and his sister, Daren] were beyond blessed. We'd look at each other sometimes and go, 'This guy is awesome.' He was the perfect mentor. And he's still the perfect example of how to be a great human being."
Though Andrew is now the CEO, he still talks to his father, multiple times, every day.
Fork in the Road: Though he doesn't go into detail, Andrew admits that he had a good time at St. Thomas Aquinas High School. Too good. He rebelled a bit. He challenged authority. And he loved the South Florida lifestyle, hanging out with his friends and playing basketball and golf far more than classwork.
"I wasn't a horrible kid, and I didn't do drugs, but my priorities weren't aligned yet," he says. "I just wanted to have fun. And, sometimes, that fun was probably too dangerous."
One night, Andrew remembers walking through the front door far past his designated curfew. His mother, Doreen, was in tears. His father, meanwhile, had reached the end of his rope.
So, he let it go.
"My dad looked at me and said, 'OK. You have no more curfew. Do whatever you want.'
"For whatever reason, that hit me hard," Andrew says. "They were that disappointed in me that, now, I had zero restrictions. I don't know if that was some amazing reverse psychology or what. But it worked. Something started to switch inside me. It was a reset."
Before long, Andrew was off to Elon University in North Carolina—where another, more profound revelation awaited.
Charting a New Course: Though learning the furniture business lingered in the back of his mind, Andrew entered college with tee-to-green aspirations. His skills on the links landed him a spot on the golf team at Elon, and he envisioned earning different kind of green as a professional. But then Elon started playing top teams from around the country.
"There were guys who must have been five years ahead of me in terms of golf talent," he says. "I was going to have to dedicate every bit of my life to golf if I wanted to go pro."
As one dream was fading, another was taking shape. Andrew was digging his business classes at Elon. Big time. (He'd earn his bachelor's degree in accounting and finance.) And some of that actually spoke to his love of sports.
"It started to click for me that business is competitive," Andrew says. "It also can be fun and strategic and team-oriented. All of the same things that I felt about sports."
As his grades soared, so did his interest in what was happening back home at City Furniture, which was on its way to establishing itself as an industry leader in South Florida. Andrew returned to Broward County for his Masters in Business Administration at Nova Southeastern University.
He would leave with more than just his MBA.
Bride to Be: Andrew met his future wife, Deana, at Nova when they began working together on a competitive business project. Though she instantly caught his eye, he says she had a boyfriend at the time.
"I was playing hard to get the entire time anyway," he quips. "The long game. It worked out well for me."
About a year after they had completed their MBAs, the two ran into each other in downtown Fort Lauderdale. As Andrew tells the story, Deana's friend pretended to be Deana on MySpace and sent him a message. Whatever the case, it led to a first date at Timpano, the storied Italian restaurant on Las Olas Boulevard.
"Her father [a general contractor] built homes [for communities] like Plantation Acres; she'd been working with her dad since she was a kid," he says. "So, we had [the family business background] in common. When I met Deana, she wore so many different hats. She already seemed to be the matriarch of her family."
She's now the matriarch of her family with Andrew. The couple, who married in November 2014, have three children—Aaron (8), Daya (7) and Christian (6).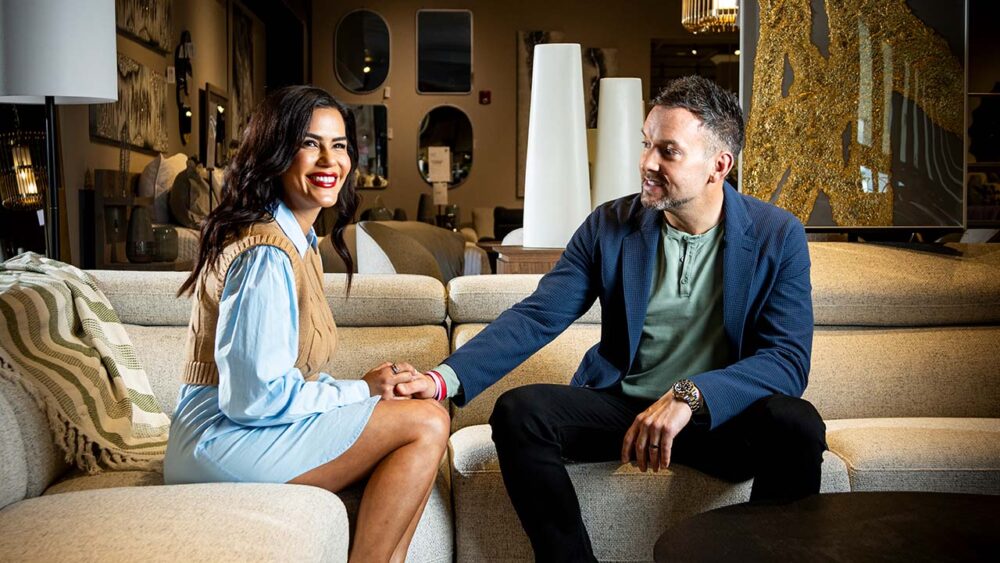 Paying His Dues: Andrew officially started at City Furniture in June 2006—as a marketing intern. He understood that people saw him as the nepotism kid, especially early on, but Andrew had a plan. He was going to learn City Furniture operations from the inside out. He made stops as operations supervisor, manager, director of operations, vice president of operations and marketing, chief operations officer before being named president of the company in January 2019.
I wasn't going to earn anyone's respect unless I did it side-by-side with everybody else," he says. "It also was a way for me to become an expert at the business. It also went to that idea of competitive advantage. By doing most every job, I could help solve problems in those areas that needed to be solved."
The simple idea of problem-solving was about to become the cornerstone of a philosophy that not only flipped the script on the way City Furniture did business—but positioned it to become one of the nation's largest furniture companies.
Leaning Into It: In 2003, Andrew read The Machine That Changed the World by Daniel Roos, James Womack and Daniel Jones about the revolutionary business philosophy—lean production—that made Toyota the world's top-selling auto manufacturer. The book changed his life. Lean emphasized decisions based on a long-term vision instead of chasing short-term financial goals. At its core was the concept of continuous improvement, a methodology called "kaizen" that engaged workers in all departments to create more efficient and thoughtful processes.
"In the early 2000s, City did not have a defined operating system of how we wanted to work together," Andrew says. "There was still this hierarchy in American management that didn't lend itself to strong communication between the front-line worker and the CEO. So, we were very ivory tower with Keith at the top. We had intent to do 50 things. We'd get five done."
Keith reached out to the late Jim Moran of JM Family, who arranged for Andrew to tour Toyota headquarters in Japan. It validated everything he'd been reading about the philosophy. But, despite his son's contention that "lean" was the future of City, Dad wasn't sold. City had grown 800 percent over a 12-year span. Why fix what wasn't broken?
"What makes Keith so great is that he kept reading about it," Andrew says. "You're talking about asking a guy who'd run a successful business for three decades to suddenly do it a different way. But I'd give him books on the philosophy, and he'd take them with him on his business trips. He was humble enough to learn."
When the economy began to show early signs of the recession to come in 2008, Andrew asked his dad if the time was right to go lean.
"Go for it," Keith told his son.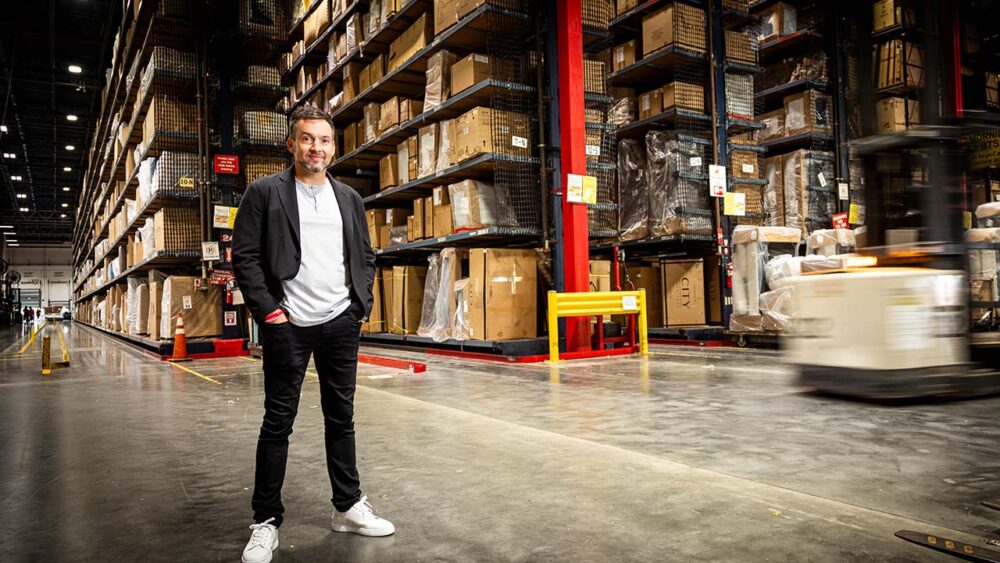 All In: Starting in 2007, Andrew began teaching the Toyota way to teams of 20 at City Furniture. At the time, he was fresh of out college and still an operations associate. A few years in, he realized it was better to train one person and a time to ensure the connection to and understanding of lean principles.
Not everyone bought in. Andrew says City lost two of its vice presidents early on. "We probably went through seven or more VPs over the past 16 years," he says. "It wasn't easy. It was tough for people who had managed a certain way for so long—including people who'd had built the business with Keith. But Dad knew in his heart that this was the right way to turn our business."
The proof was in the kaizens.
Several early problem-solving projects bore immediate fruit. One kaizen involved how product flows in and out of the building. "That process had nine managers at one point," Andrew says. "We got it down to one supervisor. We saved millions of dollars through that process. Another smaller kaizen resulted in a thousand percent productivity improvement. Fast forward. We did kaizen after kaizen in different areas of operation. We did one event for our repair shop. Literally, within a week of implementing the changes, we saved almost $20,000 in those five days.
"Suddenly, there was buzz about our lean strategy [since renamed the City Furniture Operating System]. We were off on our journey."
Rethinking the Work Week: A few years ago, during a return trip to Japan, Andrew asked a Toyota executive about their strategic process and how many years out they plan.
"'Oh, we plan 500 years out,' he said. 'We like to look really far into the future. That way, we take our egos out of the situation.'"
Letting go as managers can be counterintuitive, but it's vital to the out-of-the-box mindset necessary for continuous improvement. Recently, City freed up 12 people from their day-to-day jobs for a week-long kaizen.
"We do it all the time," Andrew says. "We want them to come together and solve a problem. If I showed you people's allocations of time, you'd be amazed. We try to have our leaders spending 50 percent of their work week solving problems. That's unheard of in organizations."
Andrew also implemented "City Circles," where teams of five solve issues and consider better systems one hour a week for 12 weeks. The group then presents its results to the senior team. Andrew also runs 80-hour leadership training courses; he estimates 10 a year for a combined 100-plus people.
Of course, there's an immediate cost to cross-training and ongoing continuing education. But only, Andrew says, if you're focused on the next quarterly results.
"We're building something for the next 50-plus years," he says. "We're not going to be around because of my knowledge. If I can get everyone here as smart or smarter than me, solving problems in all aspects of the business, that's the organization I want to be a part of."
One of the Guys: When Andrew insists that communication drives the narrative, he isn't just talking about the teams he oversees at 35 showrooms across Florida (21 City Furniture stores and 14 Ashley outlets) since taking over for Keith as CEO in January 2022.
Human resources gives all new hires Andrew's personal cell number during orientation.
"I was in Plant City [over Labor Day weekend], and a couple of guys walked up to me and said, 'Is this really your phone number?' I said, 'Call me." My cell rang. And I go, 'Told you!' … To me, it makes total sense. The people working at our stores have the ideas. They're going to tell me what I need to know. I'm not telling them to go to me instead of their boss. Do that first. But if you think I need to know, text me. Call me.
"It really creates a phenomenal culture."
Looking Ahead: The clip at which City Furniture continues to grow shows no signs of slowing down. There are three showrooms underway in Tampa Bay and a fourth set for Daytona Beach. But expansion plans aren't limited to just Florida. Like a chess master, Andrew is always thinking three, four moves ahead.
"I believe the furniture industry is moving in the same direction as the home improvement industry did. Back in the early 1980s, there were more than 25 home improvement regional centers, beyond just Home Depot and Lowe's. Today, you only think of Home Depot and Lowe's, and maybe a few others.
"The home furnishing industry also is going to consolidate over time. You need scale, you need buying power, you need technology, you need investments. I've been running our business with the mindset that there's this invisible ticking time clock. The bigger are only going to get bigger—and we need to hurry up and get on that path. So, I'm happy with our growth the past few years. But we have to continue along that fast pace."
Winning Ways: "I'm always interested in innovations. Or trying to figure out the root causes of something," Andrew says. "I think that comes from my competitiveness. Whether it was trying to get better or gain an edge at golf or basketball.
"But in business, I've also learned that if you want to win, build an organization that's constantly learning, constantly getting better. How can we identify problems, generate great ideas and solutions, and test them and get them implemented as quickly as possible? If you can do that—if you're learning faster, solving problems faster—how can you not beat the competition?"
Giving Back
City Furniture's pronounced philanthropic footprint extends to nonprofit organizations throughout South Florida. In recent months, the American Heart Association has honored Andrew and Deana Koenig for their ongoing commitment to AHA initiatives. Mission United, the program through United Way of Broward County that supports current and former military members, worked with City Furniture on a home makeover for a local Army veteran and her family. And the furniture company again partnered with the Miami Dolphins on the sixth annual Delivering Hope event, which delivered new bedding for more than 100 children.
This month, join City Furniture in its annual Pink Pumpkins tribute. The fourth-year initiative, which runs through Dec. 31, supports Making Strides Against Breast Cancer events by the American Cancer Society as well as ongoing cancer research. Visit any City Furniture or Ashley showroom (which will be decked in pink during October) and take a complimentary pink pumpkin bucket for Halloween to honor survivors and raise awareness. Andrew's mother, Doreen, herself a longtime philanthropist, had the original idea for pink pumpkins even before she was diagnosed with breast cancer (Doreen lost her battle with the disease in 2015).
Andrew also is a member of CEOs Against Cancer, a collection of top executives seeking to "alter the trajectory of cancer care" in conjunction with the American Cancer Society.
Photography by Eduardo Schneider