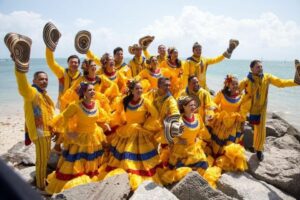 As part of its celebrations to honor Hispanic Heritage Month, CityPlace Doral will host an evening of music and performances during the 2021 International Music and Dance Festival from 4 p.m. to 8 p.m. on Oct. 9. The event will feature performances highlighting the culture of Argentina, Brazil, Colombia, Mexico, Nicaragua, Puerto Rico and Venezuela, followed by a musical performance by Barranquillero Musico, Singer and Producer/Composer Felipe Molinares at 7 p.m.
Along with the performances, guests can enjoy beer samples and consume hand-rolled premium cigars. They can also enter a contest to win a prize package from VezaSur Brewing, a Miami-based brewery with Latin and American roots.
During Hispanic Heritage Month (Sept. 15 – Oct. 15), the Doral Contemporary Art Museum (DORCAM) will feature pop-up exhibitions of Latin artists at CityPlace Doral. Other featured exhibits include:
Collodion Wet Plate Process: Photography Exhibition (Wednesday, Sept. 15 – Friday, Oct. 24) — Miquel Salom: The Tintype in the Twenty-First Century.

Children of the Diaspora: A multimedia exhibition (Sept. 25 – Sunday, Oct. 31) produced by local children of Cuban exiles detailing how they combine both cultures.

Love Pop Next Level (June 4 – Oct. 31) — Venezuelan artist Eduardo Sanabria will display a large selection of his works in 2D and 3D in an exciting exhibition. 

New Mural Across Novecento: Marcus Borges, also known as Grabster, is a Brazilian graffiti artist, muralist and abstract will feature a mural for Jackson West.