After sharing stories about a year that not only altered the trajectory of her life but might change the narrative about her chosen sport for decades to come, the moment of truth has arrived for Cori Gauff. There's a final question on the table, one that speaks to a road less traveled and one incessantly traveled.
The young woman known around the world by her nickname, Coco, is pondering it from a courtyard seat just outside of the stadium at Delray Beach Tennis Center. What's more daunting? Playing a U.S. Open match before a capacity crowd of more than 23,000 people at Arthur Ashe Stadium in Queens, New York? Or driving around South Florida on Interstate 95?
Coco cracks a smile.
"It depends on who's in the car," says the Delray Beach resident. "I don't like driving with my mom. She's so hands-on. 'Stay in your lane,' and 'Stop at the light.' I'm like, 'Yes, Mom. I know to stop at a red light.' My dad, on the other hand, is in the passenger seat watching a movie on his phone.
"So, if it's with Dad, more nerve-wracking to be on center court. Mom? More nerve-wracking to drive."
Though the I-95 question is meant as fun, it's also a reminder that the player Sports Illustrated named as its "Breakout Athlete for 2019" only recently snagged her learner's permit. It's a year from that point, by Florida law, before she can get her license—which means that Coco won't be driving without Mom (Candi) or Dad (Corey) until long after turning 16 on March 13. But if last year was a hint of things to come, she may not have to worry much about being behind the wheel of a car. There will be people happy to do the driving for her.
That's because last year changed everything in women's tennis. And not just because Coco won her first professional tournament last October in Linz, Austria, at age 15. Or that, in defeat, she participated in a moment that transcended sports at the U.S. Open. Or that her star first exploded, appropriately enough, during a Fourth of July week run on the hallowed grass courts of Wimbledon. Or that, in just one calendar year, the 5-foot-9 right-hander rose 618 spots in the women's professional rankings. And won more than $538,000 in prize money.
That's all part of it, of course. But it's also this: From all appearances, Coco Gauff has game that extends beyond the court. It stands to reason that the best of that is still to come as well.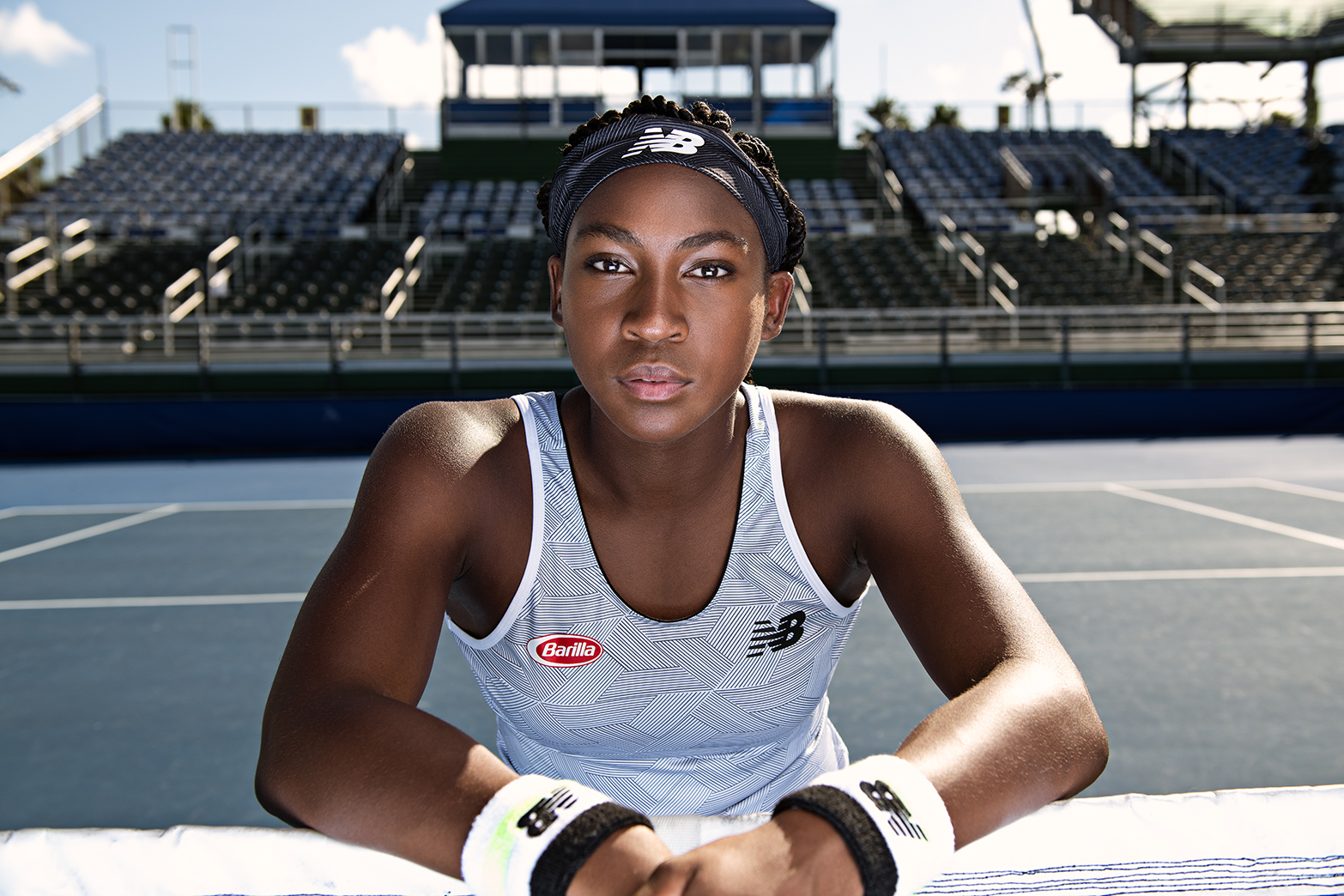 Setting the Stage
The first sign that Coco isn't your typical 15-year-old celebrity athlete is when she sits down for an interview without supervision. Candi and Corey not only stand in the distance with Coco's agent and representatives from New Balance (which signed her in October 2018, the year she started playing pro events), but the parents politely decline to be interviewed. According to Coco's agent, it's about regaining some privacy after a whirlwind year and relentless media attention.
It's also clear that Candi and Corey have done their job, and done it well, raising a daughter they not only trust to handle herself during a magazine interview, but who's poised beyond her years.
It helps that Mom and Dad, both originally from Delray Beach, understand what goes into being an elite athlete. Both played Division I sports in college—Candi was a track-and-field standout at Florida State University between 1988-1992, specializing in the heptathlon (composed of seven events, including the 100-meter hurdles, high jump, javelin throw and shot put); Corey played guard for the Georgia State University basketball team in the early 1990s.
Though all the Gauff children love competition (Coco says her younger brothers, Cameron and Codey, complain that she goes "too hard on them" no matter what sports they play), Candi and Corey realized early that their daughter possessed off-the-charts athleticism. As the story goes—and it's been told plenty over the past seven months—tennis "chose" Coco by playing to her natural gifts, including a sprinter's agility and uncanny hand-eye coordination. As early as age 7, while the family was still living in Atlanta, Coco took to the courts with a passion that recalled the origin stories of Venus and Serena Williams, whose journey to greatness gave the Gauffs a blueprint of sorts. That included a move back to the tennis town of Delray Beach in 2012, just as the Williams sisters did in 1991.
But it was more than the sisters' championship pedigree that inspired Coco as a youngster.
"The reason I wanted to play tennis was because of Venus and Serena," Coco says. "Just seeing black women in this sport meant so much to me.
"Last year, I was playing a tournament in Charleston, South Carolina, and a little girl came up to me. She must have been like 5 or 6. And she said, 'I wanted to play tennis because of you.' More and more, girls are now saying that to me. I can't tell you what that means."
The foundation that Mom and Dad provided included an emphasis on faith and family, another reason for the move to Delray; a baseball field at Pompey Park is named after Coco's grandfather, Eddie Odom, who launched a youth baseball league in the early 1970s for African-American children. Just as important, as Coco began to dominate the junior tennis scene in South Florida, Corey and Candi reminded their daughter that nothing ever was going to be given to her.
"They taught me that there's always someone out there trying to be where you're at—someone trying to take your spot," Coco says. "So, work hard, remain humble and be thankful for everything that you earn."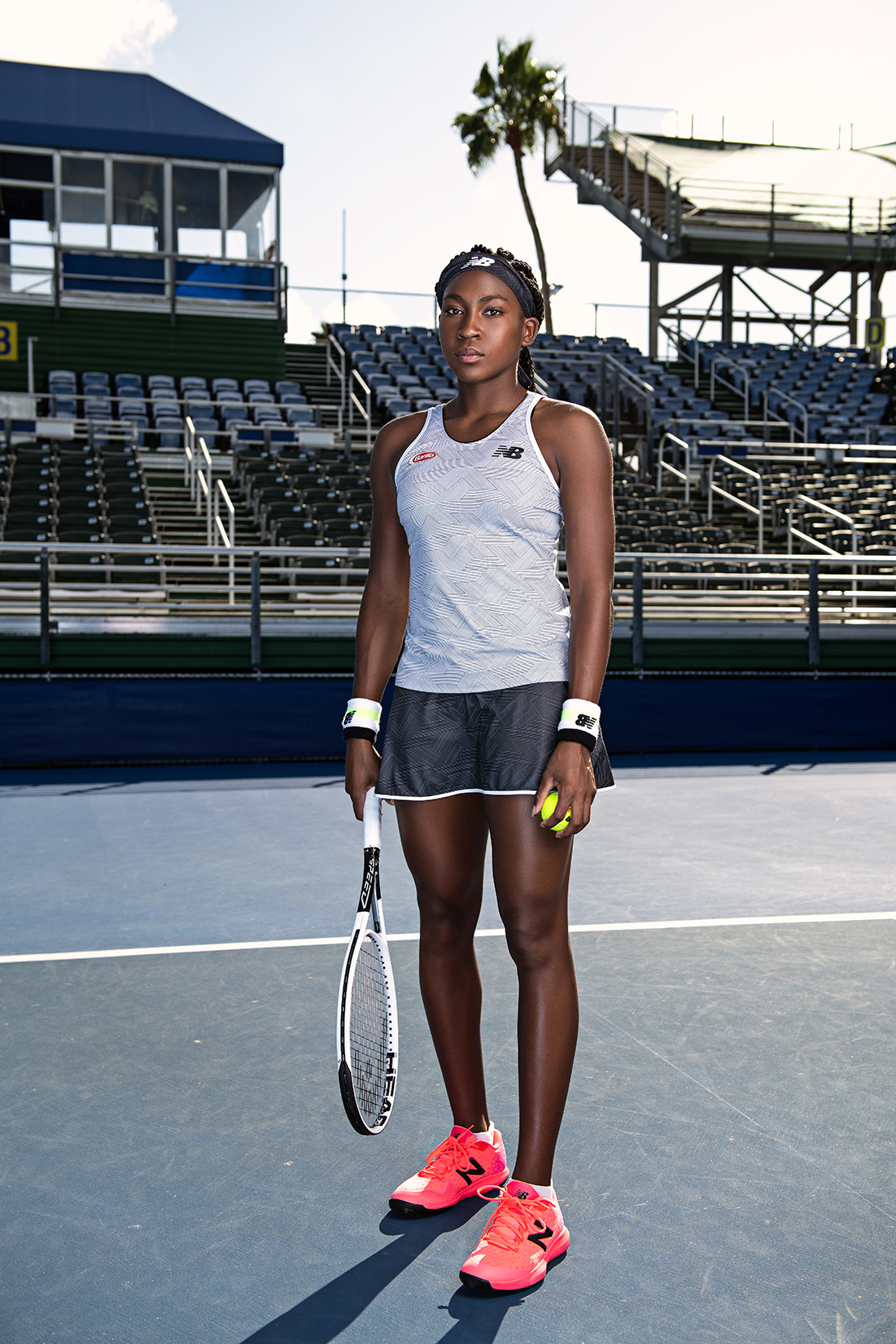 A Year to Remember
To put Coco's 2019 into perspective, it helps to go back one year. In December 2018, she put an exclamation point on her junior tennis career, becoming the youngest player since 2003 to win the Orange Bowl girls' 18s singles title. It capped a year during which she captured the French Open junior girls' singles title and dropped only five junior singles matches (against 31 victories). She also made her professional debut (and won her first pro match) that May, at a small event in Osprey.
She started the 2019 professional tennis year ranked No. 685 in the world, but little in the first part of the season suggested what would come later. Coco entered July having dropped eight of 16 matches over a four-month span, including an opening-round qualifying loss in March at an off-the-grid tournament in Mexico. She pocketed $68 for that effort.
Then came The Championships at Wimbledon. After three straight-set qualifying victories to make it into the main draw, Coco took down one of her idols—five-time Wimbledon champion Venus Williams—in the opening round. She reached the round of 16 before falling to Simona Halep, who went on to win the women's title. By then, the All-England Club had a hard case of Coco fever—and it seemed to be spreading.
Among the people who tweeted about Coco that July was Michelle Obama. A few months later, the former first lady invited Coco and her family to meet with her in Washington, D.C. "It was the most nervous I've ever been meeting someone," Coco admits. "Never in my life did I think about meeting the former first lady—or her even knowing I exist."
Next came the U.S. Open, where, for the first time, Coco arrived at a Grand Slam tournament shouldering expectations. But from the minute she walked on the court for her opening-round match, a thrilling three-set victory against Anastasia Potapova, the New York crowd embraced Coco with full-throated affection.
"I'll never forget when they were chanting my name; you just don't see that much in tennis," Coco says of her Open experience. "You see it with Rafael Nadal, he has his chanters. Simona Halep has hers. And Juan Martín del Potro. Those might be the only three. So, when I had people chanting, 'Coco,' that was pretty cool."
After another three-set victory in the second round, Coco was humbled in short order by 21-year-old Naomi Osaka, the top seed. In a moment that would go viral, Osaka invited Coco to stay on the court, bask in the fans' adoration one last time, and share in a post-match interview. When it was her time to speak, Osaka turned toward Coco's parents in the stands and said they had raised an amazing player. Both Coco and Osaka cried.
"I definitely thank her for that," Coco says. "I first met Naomi when I was 12; she's always been a nice person. So, it wasn't surprising. It just shows her character. I felt like it wasn't just a good moment for me, but for the world to see."
Ironically, Coco capitalized on a "lucky loser" opportunity—entry into a tournament because another player withdraws, in this case because of injury—to claim her first professional singles title. At the Upper Austria Ladies Linz, she won six matches en route to the final, including a straight-set victory over Kiki Bertens, currently the No. 9 player in the world. Coco then defeated Jelena Ostapenko, the 2017 French Open champion, in three sets to hoist the trophy. Afterward, a presenter handed Coco what appeared to be a bottle of wine, a seemingly inappropriate gift for a 15-year-old, even in Europe. But Coco swears it was sparkling cider.
"And it tasted good," she says. "I almost drank the whole bottle that night."
In With the New
As with most professional tennis players, Coco's life revolves around routine when she's not in tournament mode. Practice starting at 9 or 9:30 in the morning. Fitness after that, from noon to 1 p.m. Online school (which she's done since third grade) from 2 to 4 p.m. Then more tennis. Then more school work.
Her social life is relatively low-key. You might catch her at an Atlantic High School game during football season or hanging out someplace locally with tennis friends or cousins. But she's just as happy in her room catching up on Netflix or, like most 15-year-olds, spending time on her phone.
"Honestly, I've never been a social person," she says. "It's not that I'm an introvert. But there are some teenagers who have things lined up every day—movies today, mall tomorrow. At max, I can handle two social things per week. Plus, I don't have much free time."
By the same token, Coco is well aware that, after last year, parts of her life never will be the same. For starters, she's recognized now—all over the world.
"I can kind of see it coming," she says. "Someone will glance at me, and they'll keep looking back—and, then, finally they realize. And then they ask for a picture. And then more people see that happening, and they'll ask for a picture. It's something I don't take for granted. You never know how that one picture might change someone's day."
More than once, Coco talks about working hard and staying grounded. She also talks about using the platform tennis is giving her to do good things—like raising money for hurricane victims in the Bahamas, or raising awareness about issues important to her generation, like climate change or the spike in teen suicides. Candi and Corey would be proud. Their oldest child sees what's on the horizon, and she's channeling their wisdom. She'll need to.
Coco won 29 matches in 2019. She entered 2020 ranked No. 67 in singles. In tennis terms, those numbers alone aren't about to raise eyebrows. But don't think for a moment that the Women's Tennis Association, which restricts the number of tournaments in which players under 18 can participate, isn't doing a happy dance over Coco's breakout season.
She can crush the ball from both the forehand and backhand sides. She can cover the court like nobody's business. She has the kind of fight in her that you can't teach. And she has a smile that can light up New York City.
Serena and Venus are pushing 40. Coco is the future of women's tennis, especially here in the United States. And everyone from the sponsors to the TV networks to her fellow players to the fans at Flushing Meadows who chanted her name in unison knows it.
She's also a teenager with a learner's permit. And a soon-to-be 16-year-old who still can't believe that NBA players, actors like Tom Hiddleston (Loki, from The Avengers) and even Ginger Spice (aka Geri Halliwell) want to meet her—let alone a former first lady who spent more than an hour with Coco and her family.
And yet, despite everything swirling in her orbit, Coco manages to recognize good advice when she gets it.
"[Michelle Obama] told me that it's OK to say no to some things," Coco says. "She said not to worry too much about people who have opinions about me, that [you can't] get caught up in the noise.
"Really, she was telling me the importance of knowing my own path."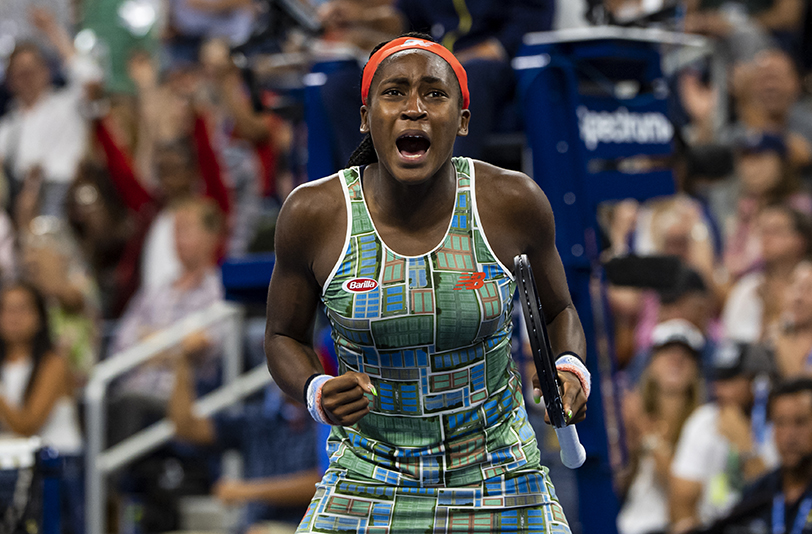 Coco Gauff exhibition
When: Feb. 15, 7 p.m.
Where: Stadium Court at the Delray Beach Tennis Center
What: For the first time in Delray Beach Open history, women's tennis takes center stage as local sensation Coco Gauff faces off against Estela Perez-Somarriba—a senior at the University of Miami and the 2019 NCAA Division I Singles champion—in an exhibition match. The evening session on the 15th also features doubles and singles action, as part of the ATP Champions Tour Legends event.
Tickets: Visit yellowtennisball.com or 561.330.6000 for ticket information.
Delray Beach Open
When: Feb. 14-23
Where: Delray Beach Tennis Center (201 W. Atlantic Ave., Delray Beach)
What: The only tournament in the world to feature an Association of Tennis Professionals Champions Tour event and an ATP 250 event returns to Delray Beach for 10 days of star-studded tennis and special events.
• Feb. 14-16: Some of the game's great players from past eras—including Tommy Haas, David Ferrer and James Blake—will compete during the first three days as part of the ATP Champions Tour Legends event.
• Feb. 17-23: Former Delray Beach Open champions Juan Martín del Potro (2011) and Kei Nishikori (2008), along with standouts Nick Kyrgios and Milos Raonic, are among those vying for the singles title during the ATP 250 event. In addition, five-time Delray Beach Open doubles champions Mike and Bob Bryan—the winningest doubles team in men's tennis history—are back to defend their 2019 title.
• Special events: There are tennis, foodie and family fun festivities throughout the 10 days of the tournament. Highlights include a special tennis clinic hosted by the Bryan Brothers (Feb. 17); Ladies Day Luncheons, presented by Lilly Pulitzer (Feb. 19 and Feb. 20); and an adults-only beer, wine and food pairing event—Game, Set, Pour (Feb. 21).
Tickets: Visit yellowtennisball.com or 561.330.6000 for ticket information.
Photos by James Woodley
Shot on location at Delray Beach Tennis Center