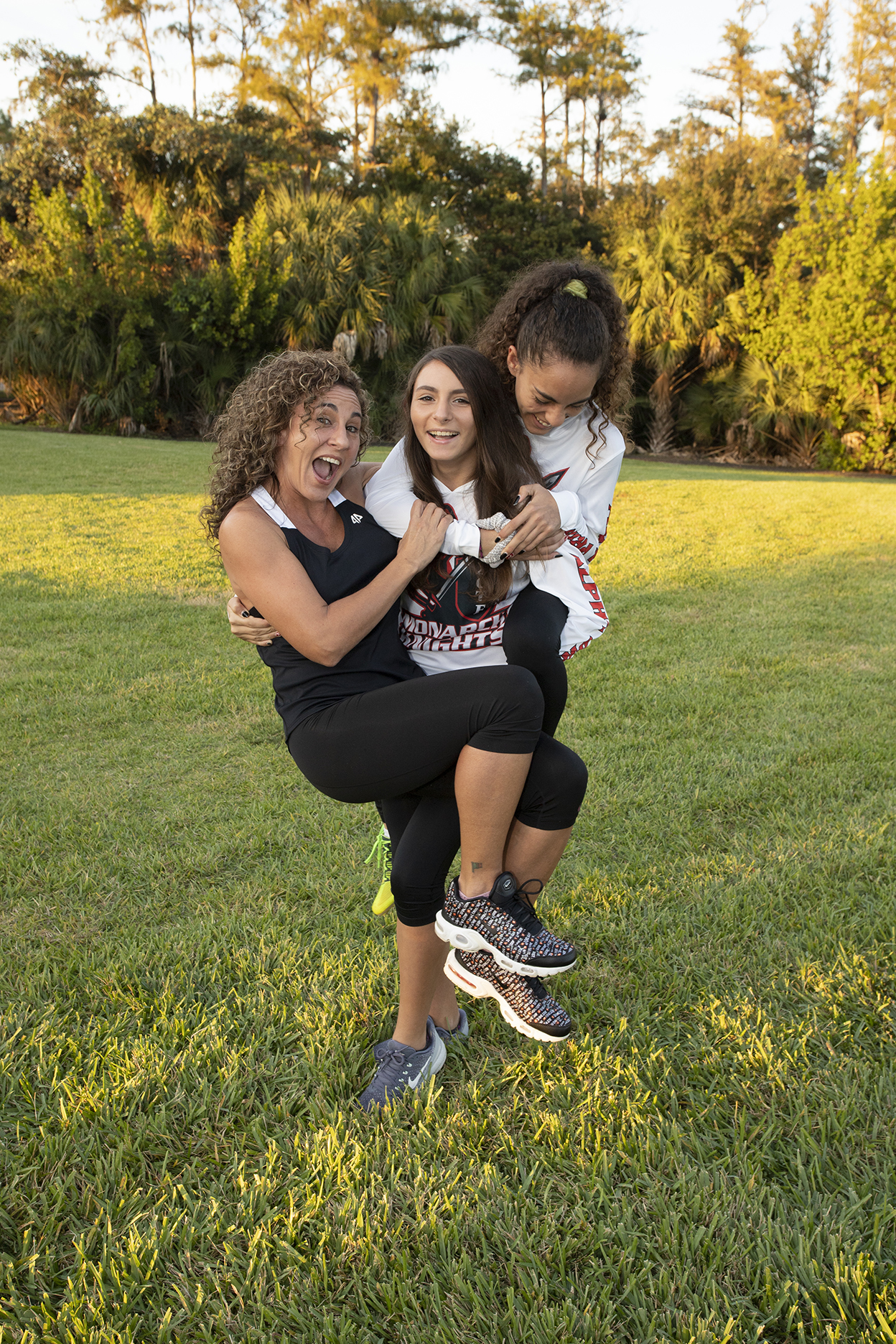 For the Potenzano family, running goes far beyond a way to stay in shape. It's a veritable heirloom—a hobby that has been passed down through generations.
Creek resident Claire Potenzano started running when her grandfather took her to her first 5K in fifth grade. Every year, they ran the Tamarac Turkey Trot, a tradition that continues today. She and her 14-year-old twins, Gianna and Denise, compete in about six or seven 5Ks a year and run in other events such as the Coral Springs Holiday Mile and the PurpleStride 5K.
"Having the girls with me is such a huge thing for me—that my girls enjoy doing the same thing I do is nice," she says. "We go out, we do our run together, we get up, we compete, we sweat. … It's more about just being with the girls and having that time with them."
It's no surprise that her daughters have inherited her passion. Both were were involved in cross-country and track in middle school and are now on the track and field and cross-country teams at Monarch High School. As Denise says, "I started running when I started to walk."
The family also shares a competitive streak. Claire's plaques with her running times hang above the girls' beds, a reminder of what they can accomplish. Though the girls haven't broken Claire's records yet, she is looking forward to the days when they catch up to her.
"When I run races, my goal is to continue to beat them," Claire says. "And I will cry when they beat me for the first time; I'm not going to lie. But I know they're catching up to me quickly. It's going to be anytime now that they surpass their mother."
They're already coming close. At the 2018 Coral Springs Holiday Mile, Claire, Gianna and Denise finished first, second and third, respectively, in the women's division. At Coconut Creek's 2019 5K Butterfly Run, Claire won overall among the women, with a time of 21:12, and Gianna came in a close second at 21:27. Denise placed second in her age group (11-13) with a time of 25:21.
"We were gonna stay in the front and stay with each other, and if anybody were to pass us, I would chase that person because I wanted one of us do it," Claire says of their strategy. "I didn't realize when I did, that Gianna actually passed that person too."
For Denise and Gianna, who also play soccer, their performance at the Butterfly Run foreshadowed their individual successes at Monarch High in the 2019-2020 school year. In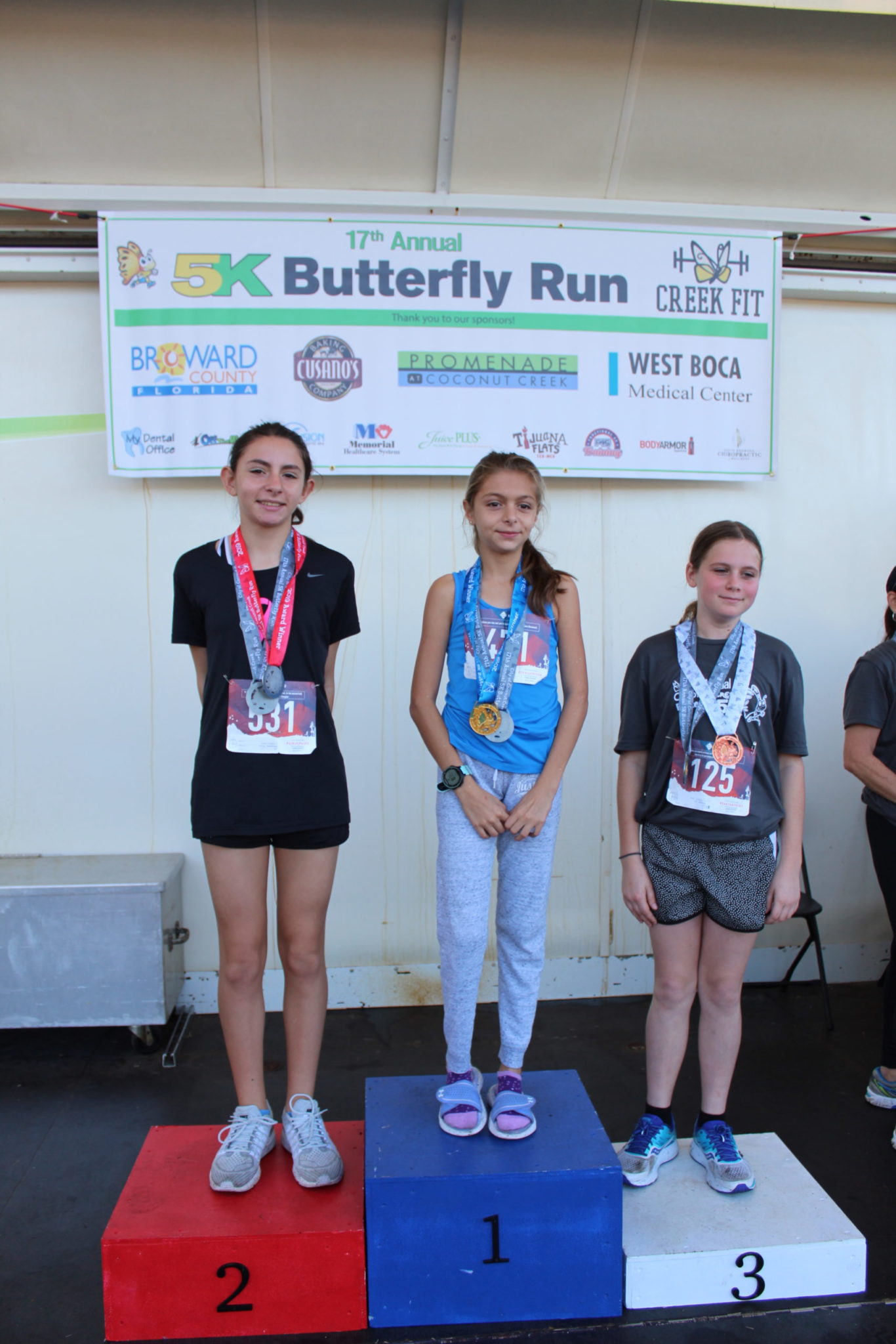 October, Denise ranked 20th in the Florida High School Athletic Association's cross-country regional championship, where she improved her time in the 5K event by 45 seconds with a time of 21:32. Gianna, who ranked ninth in the same competition, started the school year determined to run a 5K in under 20 minutes. She reached that goal this season at the cross-country state finals in November. She finished with a time of 19:58—and, Claire is quick to add, a sprained ankle, which was later diagnosed as a ruptured ligament.
"[When she sprained her ankle], I kept on practicing, and then I went to the trainer and she told me to stop—I didn't stop," says Gianna. "States was in four days, so I just taped it so it was really stiff and I ran. I got really worried because during the warmup, it started hurting a lot. But I ran through it."
The family—including 11-year-old Anthony who joins his familiy in races when he isn't playing travel baseball—continues to beat their times with plenty of training: Claire with special strength training at CrossFit LPF in Coconut Creek, and Gianna and Denise with their mother, coach Trish Butler and their coaches at Monarch High. And all three are members of the World of Beer Run Club, based at the bar in Promenade at Coconut Creek. This month, the family is again gearing up for the Butterfly Run—which holds special significance to them as Creek residents who have gone to every race.
"It's a very family-oriented race. I love that you see everybody from the run clubs and the people you run with," Claire says. "It's a great way to keep in touch with your friends, hang out and meet new people that you wouldn't otherwise have known without running."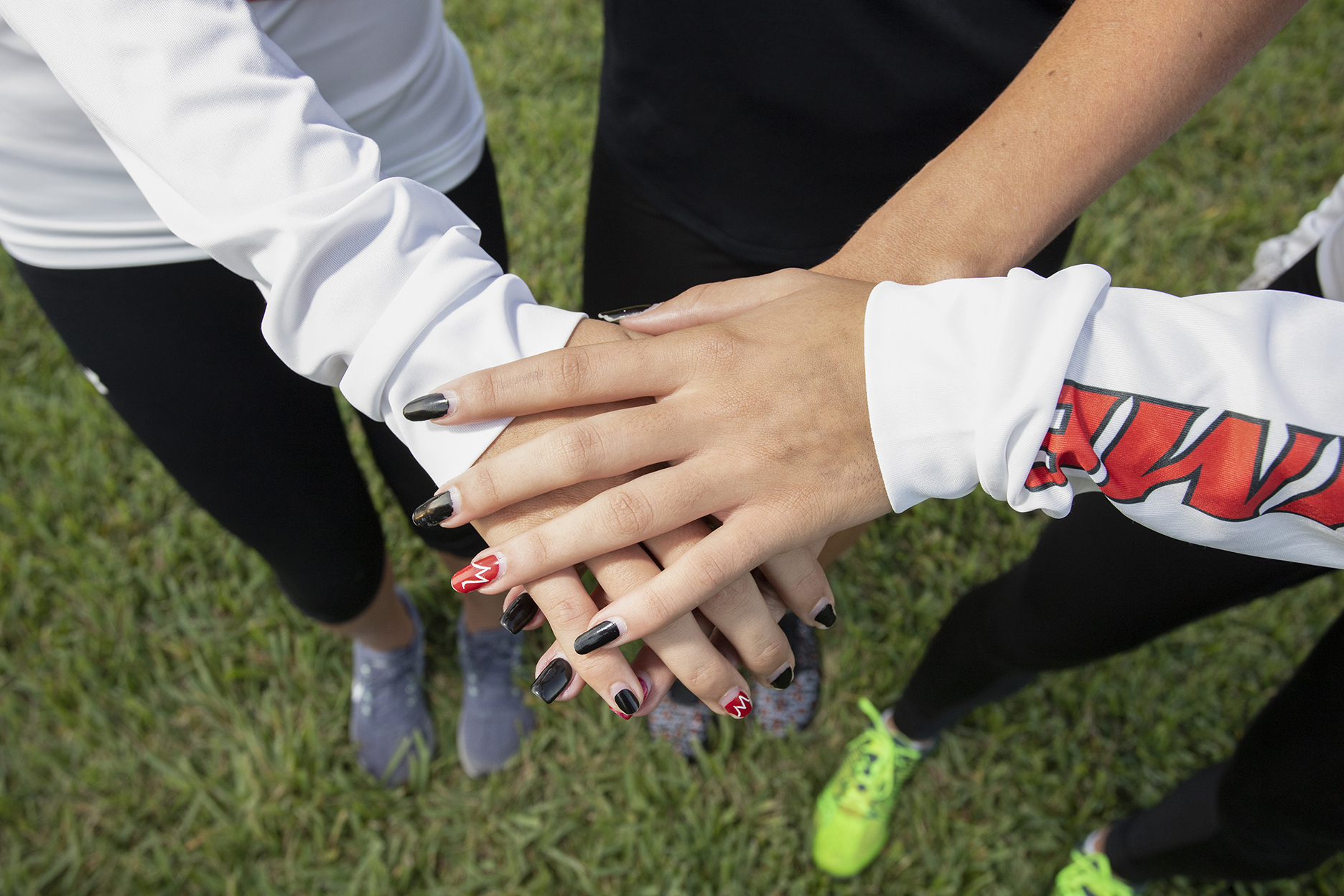 The Potenzano Files
Creek Lifestyle asked the family for some behind-the-finish-line facts.
Preferred running gear brand: Nike for all
Running app of choice: Nike Run Club for Claire and Gianna
Do you repeat anything to yourself as you run?
Claire: Other than the ABCs, rhyming words, and "I hope my daughters don't catch me?" I usually talk to my grandfather (in heaven).
Denise: I think about almost being done and catching the next person.
Gianna: I like to play lyrics from songs over and over again in my head.
What do you tell yourself at the starting line?
Claire: Have fun! You got this.
Denise: Stick with Gianna.
Gianna: I tell myself that I'm going to do the best that I can do.
Favorite post-run snack?
Claire: Fried food! I figure I deserve it.
Denise: Bacon and a Cuban sandwich.
Gianna: I crave one of my favorite fruits, which is grapes.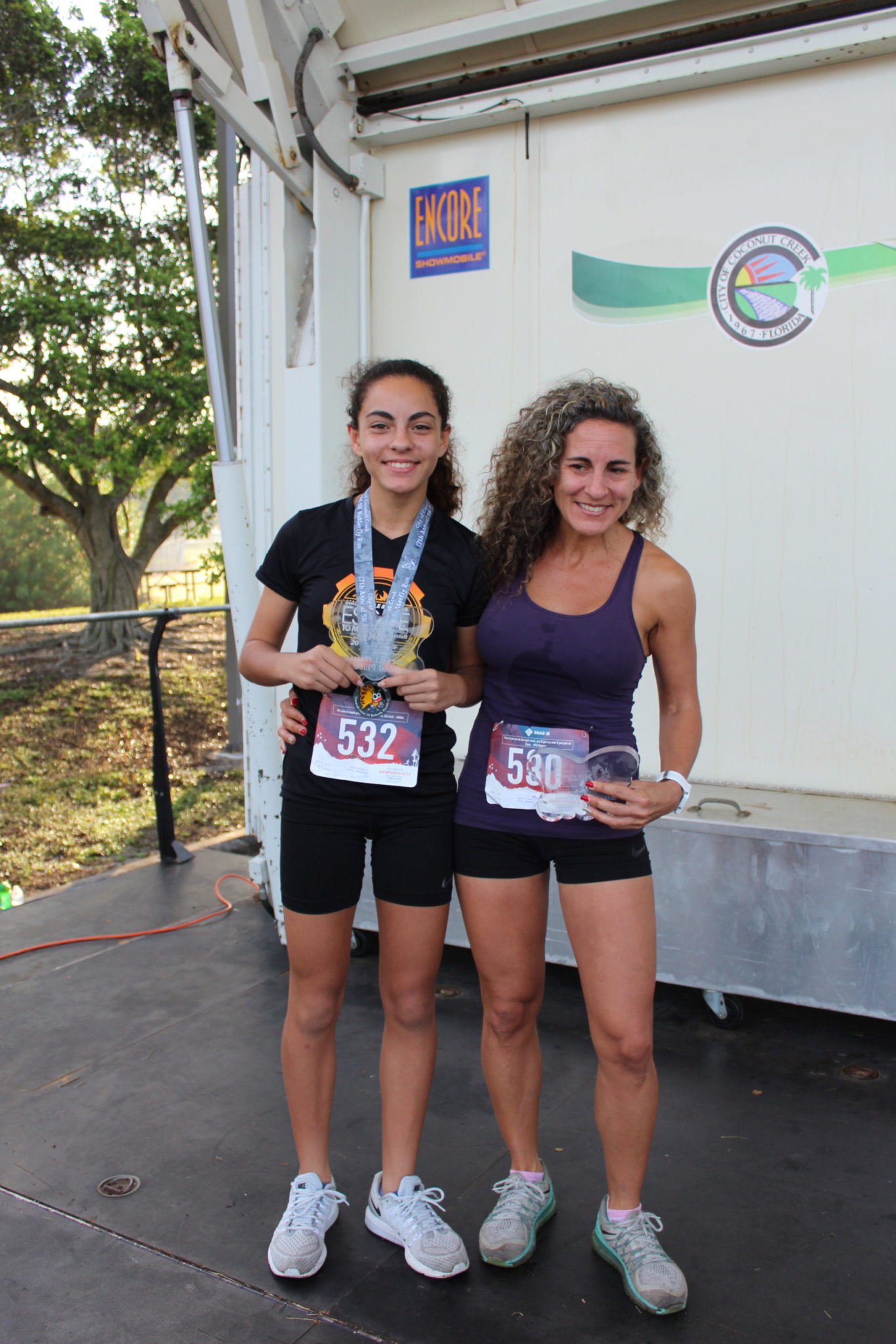 5K Butterfly Run
Coconut Creek's Parks & Recreation Department hosts the 18th annual 5K Butterfly Run, certified by USA Track & Field. The first 800 finishers receive a medal. The top three males and females in each age division receive placement medals.
When: Feb. 2, 7 a.m.
Where: Tradewinds Park, 3600 W. Sample Road
Info: butterflyrun.com