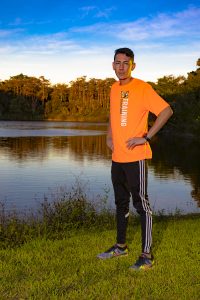 Photos by John Hartzell
Cristian Moreno ran both track and cross country at Monarch High School, and, every year, he and teammate Brandon Flagler would compete in Coconut Creek's Butterfly Run.
"We treated it as a competition race, and we practiced for it together," he says. They started running together when Moreno was a senior and Flagler was a sophomore.
Flagler won the 5K race in the Top Overall Male category in 2016 and 2017 while still at Monarch. Moreno, who is in his junior year at Florida Atlantic University, set his sights on winning in 2018, and beating his friend.
"Brandon's faster in the short distance, and he beat me the previous two years," Moreno says. "He's always out-edged me by a couple of seconds."
As they were at the starting line at the 2018 race, Moreno, with a grin, turned to his friend and said: "You're not getting this win again." And, in the 16th annual Butterfly Run on Feb. 4, Moreno was the top finisher at the annual race with a time of 16:46—a minute and 6 seconds ahead of his former teammate.
Moreno knew he was going to win because he had a secret. He had spent the year training himself to be "smarter" in how he approached the run from previous years. He first ran the Butterfly Run in 2015 and has every year since then.
"Before, I would just hammer at it," he says. "I would just race in my workouts. But, I did a lot of research, and, ideally, it's not the best thing to do."
Moreno decided to concentrate on paying attention more to his endurance in a race, rather than speed. He studied different theories on distance, learning all he could about how top runners achieve their goals and best times. It wasn't about running faster; it was about building stamina.
"I like knowing how the body actually works," Moreno says. At FAU, he is studying biology and wants to continue to medical school at the University of Florida. Eventually, he'd like to become an orthopedic surgeon.
"It would be the chance to work with athletes, in some cases, because they get injured," he says. He's getting experience around a hospital; he recently began a part-time job as a phlebotomist at Boca Raton Regional Hospital.
When asked what advice he would give to someone who wants to succeed as a runner, he says, it's the same as how he approaches life in general: Discipline, determination and patience.
"You have to put in the work every day," says the 20-year-old. "There are days that you might not want to run or you don't want to do the workout, or you don't feel well, but you still have to go out there and do it if you want to be a champion. If you take the day off, there is someone out there not taking the day off; they are out there working harder than you are.
"As far as patience, you can't rush things. Be patient and it will all fall into place."
He has plans to continue to compete in the Butterfly Run, and is ready for another win this year. "I'd like to keep that streak going," he says.
Don't take off too fast. "Your first inclination is to start out of the gate fast, but it is 3.1 miles, so that may feel good when you're leading in the first half-mile or first mile, but after that you will hit a wall."
Be mentally prepared. "The race is going to be challenging, and it won't be easy, but, in the end, it's all about having fun. No matter what you are doing, training or racing, it should be about enjoying yourself."
Think of it as an opportunity. "Don't take anything for granted. There are so many people who don't have the opportunity to walk or run, and that's something I think we all take for granted. That's what this is all about: getting together for a community race, and for everyone to be grateful to be together, outside and in nature on a Sunday morning."
17th Annual Butterfly Run
The Parks and Recreation Department hosts the USA Track & Field large-scale-certified race for runners of all ages. Awards include male and female top 3, Grand Masters and Coconut Creek residents. All finishers receive a medal.
When: Feb. 3, 7 a.m.
Where: Tradewinds Park, 3600 W. Sample Road
Info: 954.545.665; butterflyrun.com
Contact: Janet Hull at [email protected]
Tradewinds Park
One aspect of Coconut Creek's 5K that Moreno says is part of its appeal is that it takes place in his favorite place to run. "I believe I have run in just about every place in Coconut Creek. I've lived here for so long. I know the streets, and all the parks, inside and out," he says. "I've run through all of it, but Tradewinds Park is my hands-down favorite."
During his high school training, that was where he would do his workouts. "We called it the full loop–6 miles—and I still love running there. Horses, stables, the lake and a nice trail. I have to train outside. Get out and breathe, and get some nature inside of me."