The executive chef at Sorrisi, Seminole Casino Coconut Creek's fine dining Italian restaurant, has been in the position for less than a year. But Katherine Carrasco had an idea of what her regular customers would want even before she approached the restaurant's red and green awnings and walked through its open double doors.
As a chef on private yachts in South Florida, she had a feeling that visitors to Sorrisi would be much like her boating clients. And, she discovered she was right.
Just as yacht owners who are on a boat for days on end expect certain dishes, diners to Sorrisi aren't usually first-time visitors to the restaurant. "They are casino-goers who become regulars," she says. They haven't come off the street to eat at the restaurant but are taking a break from playing slots or table games. Many have built up complimentary points on their loyalty cards from casino play, which they can exchange for fine dining. They have expectations that Carrasco understands.
"It's not so much me putting out the menu I want, changing dishes all the time, knowing what sells in New York," Carrasco says. "I'm specifically curating the food to the guests and the clientele that comes in and what they are looking for. They aren't looking for my vision, a chef's vision." And that's fine with her. She's happy to improve on the current menu and show off her style with weekly features.
For a recent Saturday menu, she made swordfish in a creamy lemon butter herb sauce with polenta and brocolini, prompting a diner to ask to speak with her.
"When I went to his table, he told me, 'I have traveled all over the world—South America, the Galapagos Islands—and I have eaten seafood and fish everywhere. This is one of the best fish dishes I have ever had.' The features are where I can create."
Born in the Dominican Republic and raised in New York City until coming to Florida four years ago, the job at Sorrisi is Carrasco's first as an executive chef. "It wasn't something I went looking for, but it came my way," she says. In South Florida, she worked as a cook and then sous chef at French restaurant Le Zoo in Bal Harbour. She followed executive sous chef Daniel Seigelman from Le Zoo to Hollywood's Point Royal at the Diplomat Beach Resort on South Ocean Drive. It was Seigelman who recommended her for Sorrisi. "I went for it, and I landed it," Carrasco says.
Her start in the culinary arts, she says, is about a kid in high school not knowing what road to take. She wanted to pursue a career in music—she's played drums and percussion since she was 12—but she had a love for cooking, too.
"My parents were divorced, and I would spend time cooking with each of them separately in their own homes," she says. She was also intrigued by the differences between the two, "how they approached the ingredients they would use, the seasonings they chose. It inspired me to create my own style."
She was at a crossroads when finishing up high school at Humanities Preparatory Academy, a small school in Manhattan, when a teacher mentioned New York's French Culinary Institute. That was it for Carrasco. Her training in classical French cooking guides her even at Sorrisi, despite its focus on Italian-American fare.
"In French cuisine, attention to detail and balance of flavors and textures is so important," she says. "I've always honed in on that."
Carrasco talks like an Italian mother when she refers to the restaurant needing "tender-loving care," something she says has been missing in its eight years. The restaurant opened at the same time as its next-door neighbor NYY Steak during the Coconut Creek casino's $150 million makeover in February 2012. "It has gone through so many changes and so many viewpoints," Carrasco says. "There was never anyone who had a vision for a long enough time. I want to give it the attention it deserves."
Part of that TLC is her belief that an Italian restaurant should be nostalgic and evoke memories.
"Who doesn't remember the first time they had a wonderful meal in an Italian-American restaurant? That's the menu you want to put out as a chef."
Photos by Eduardo Schneider
Sorrisi
Location: 5550 NW 40th St., Coconut Creek
Info: 954.585.5379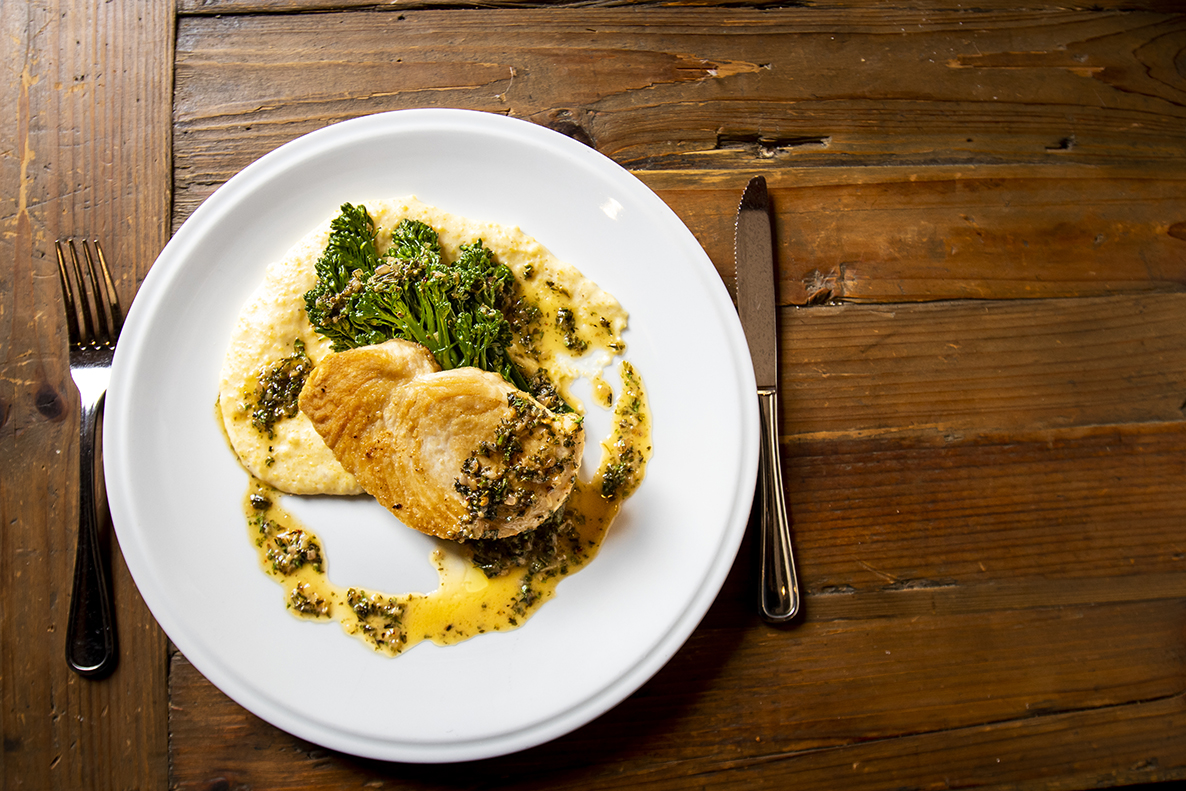 INGREDIENTS
For fish
4 swordfish steaks (each 7-8 ounces)
3 tablespoons blended oil
Kosher salt
For broccolini
2 bunches broccolini, blanched
1 teaspoon chopped garlic
1 teaspoon chopped shallot
1 ounce white wine
1 tablespoon unsalted whole butter
For sauce
1?4 cup flat-leaf parsley, chiffonade
1?4 cup oregano, chiffonade
1 tablespoon chopped garlic
1 tablespoon chopped shallot
1 teaspoon Calabrian chili paste
1?4 cup lemon juice (optional)
2 tablespoon unsalted whole butter
2 tablespoon extra virgin olive oil
For polenta
1?4 cup yellow polenta
4 cups water
2 cups milk
1 sprig rosemary
1 sprig thyme
2 bay leaves
1 tablespoon butter
Salt to taste
POLENTA DIRECTIONS
Using heavy bottom pot, add milk, 2 cups water, herbs and pinch of salt to boil. Once boiling, whisk and slowly pour in polenta to hot mixture until incorporated. Return to boil, and then lower to low simmer. Cook thoroughly, stirring often; the key to creamy polenta is the stirring, not the dairy. Once ready, turn heat off, add butter, stir until butter has melted. Add salt to taste. Warm remaining 2 cups of water, using about 1-2 cups of water to thin polenta to desired consistency. Hold for plating.
SWORDFISH DIRECTIONS
Heat oven to 400 and heat skillet on medium-high. Season swordfish on both sides with salt, add blended oil to pan, sear on one side for three minutes. Flip and sear for three minutes on other side. Put in oven for about 3-4 minutes to finish cooking throughout. Once finished, set on paper towel-lined tray and hold for plating.
BROCCOLINI DIRECTIONS
Heat pan on high, add oil, take 2 bunches of blanched (cooked in boiling, salted water for about a minute until bright green, then shocked in ice water) broccolini and saute with garlic and shallot. Deglaze with white wine and mount with butter.
SAUCE DIRECTIONS
Heat saucepan to medium-high, add oil. Saute garlic and shallot for 1 minute, until colorless. Add herbs and chili paste, saute 30 seconds, add lemon juice (optional), and reduce by half. Mount with butter and stir to make sauce, season with salt.
On desired plate, spoon polenta off center with the broccolini next to it. Add the swordfish steak on top, then add the sauce atop the fish and around the plate. Serves four.