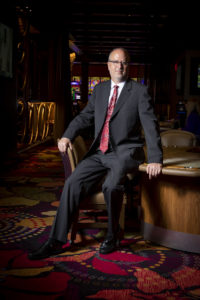 Photos by Eduardo Schneider
In 1982, Larry J. Buck was lucky enough to be in the right place at the right time.
The New Jersey native had just graduated from Syracuse University and was looking for a career. Around the same time, the casino business was booming in Atlantic City. New Jersey became the second state to legalize casino gambling in 1977 and several casinos opened in Atlantic City in the late 1970s and '80s.
"I had a degree in accounting, but the only thing I really knew as a young guy is, I do not want to be an accountant," Buck says. "But I saw an industry that was young, growing and had a lot of opportunity. And I said, 'Let me try that.' "
Luck became his business. Buck started working at the Golden Nugget, opened by Steve Wynn, who opened the Bellagio and Mirage resorts in Las Vegas. From him, Buck learned the core philosophies of guest service that still guide him today.
Building on these beliefs, Buck opened and operated casinos in several states under companies such as Players International and Pinnacle Entertainment. In 2012, he moved to South Florida to become the general manager of Seminole Classic Casino in Hollywood, overseeing its renovation and other improvements.
Now, the Parkland resident works closer to home, becoming the president of Seminole Casino Coconut Creek in November 2018. Coconut Creek Lifestyle spoke to Buck about running one of Creek's best-known attractions.
Have you made any changes to Seminole Casino Coconut Creek since you became president?
On weekends, we have live entertainment in three different venues: Sunset Grill, Nectar and Legends Lounge. I say to people that the strength of this property is the core business—what we do every day. With that in mind, we expanded the live entertainment in Nectar to every night. … The idea is if somebody says, "Hey, let's go out tonight," whether it's grandma or friends in town, my goal is your mindset should be, "Let's go to Coco. There's always something happening there."
What are you doing to further elevate service?
The use the technology to help the guest service is where the growth is. … We're working on a system where you'll be able to order a drink from your slot machine. Right now, if a server comes around, leaves a service bar, serves her drinks and then starts taking orders, that life cycle might take 15 minutes. … At Seminole Classic, they put the system in last year. It's working well, but we have an update to the software that's in our test lab right now to help make it even better. Right now, we get drinks done in Seminole Classic in less than six minutes, and we think we can make it better. [Updates to the system will be] implemented in Seminole Classic in July, and, after, we hope to roll it to Coco.
What do you enjoy about your job?
I love what I do because I get to spend time on the casino floor with the guests and team members. But there are two things that really give me a charge. One is beating our competition because I think in business that's what we're all bred to do.
The second thing: This industry over the last 30 years has grown, and our company has grown. With that growth, we need people to grow. I like our training and mentoring programs that help people grow. To see somebody join the company, become a supervisor, then a manager and then run a department—that's when I go, "That's cool."
How is the casino supporting the community?
We had a big presence in November for the Pancreatic Cancer Action Network. [Editor's note: The casino donated $50,000 to the organization.] Personally, I like to focus on things closer to home. I was asked to join [the SOS Children's Villages board], as I'm already active in fundraising.
We're probably going to move [Seminole Classic's] American Cancer Society survivors dinner here because it became something that folks really look forward to. They get about 150 people there.
As a company, we shut Fresh Harvest down every year: once for Veteran's Day [for a lunch for a local chapter of Disabled American Veterans] and once for Thanksgiving dinner for SOS.
What does the rest of your first year hold?
I think the goal is to continue to refine our marketing programs to keep them interesting and keep people entertained. It's a really simple business—all we do is entertain and serve people. If we start getting out of that, we're starting to do things that aren't at our core. It's keeping everybody focused on doing the basics well and consistently.
And I emphasize consistently.