Photos by Eduardo Schneider
Amanda Atallah laughs at her father, Naji, as he stops his work to take a bite of hummus and pita chips,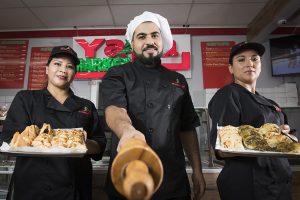 displayed as free samples at the food counter of Yalla Market.
"It's like a pit stop—a pita stop," Atallah says.
The housemade pita chips and hummus are customer favorites at the Lebanese market and bakery, run by the Atallah family, where staff members wear shirts that say "You're cute and all, but I'm not sharing my hummus" and "'That's too much falafel,' … said no one ever." Besides hummus, Yalla also makes falafel, sandwiches, tabbouleh, shawarma, meat, spinach and cheese pies, and kafta, a Lebanese meatloaf made with parsley, tomatoes and onions. One specialty is garlic potatoes marinated in spices and a few secret ingredients.
Customers also can find a variety of food and products from the Middle East, including hookah pipes, stuffed grape leaves, Turkish delight, chocolate and ready-to-eat favorites. Atallah says Yalla, which opened in March, is a marked improvement on the former establishment, which also sold Lebanese food. Past customers have noticed the difference and have spread the word.
"One would walk in and say, 'My brother told me that there's new ownership. There's more things,' " Atallah says, describing the growth. " 'My friend told me.' 'My mother came here the other day.' That's literally all we hear."
Part of Yalla's popularity can be attributed to the family's experience in the food-service industry. In Montreal, they run Kabab Laval, a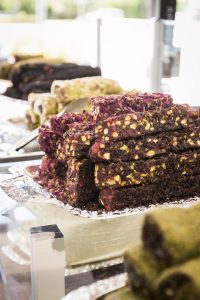 Lebanese restaurant they opened almost 10 years ago.
Like Kabab Laval, Yalla became a family effort. Naji and his wife, Jacqueline, managed the business aspects and decided on the service counter concept. Atallah and her sister, Samantha, manage the inventory, importing goods from the Middle East and major cities that offer foods not often found in South Florida. Atallah also handles the marketing, manages the staff and oversees customer service.
"Life is about experiences. You want to be able to give that to people—something out of the ordinary," Atallah says. "That's my role—the experience and making sure that customer service is pleasant, receptive."
Atallah credits her work ethic with her parents' example. As young teenagers, they fled to Canada in the 1970s to escape unrest in Lebanon. After years of working a variety of jobs (including one as a taxi driver), Naji opened the Montreal restaurant and now owns a number of businesses, a story Atallah calls inspiring.
"We're raised in a family where work doesn't stop," says Atallah, who helped get Yalla off the ground while finishing a bachelor's in marketing at Concordia University in Montreal. "You integrate work with your personal life, with your studies, everything."
The family still goes by this mantra, splitting their time between Montreal and South Florida and keeping both locations connected. They brought in their chefs from Kabab Laval to teach the staff how to make classic recipes, which have been successful at both locations.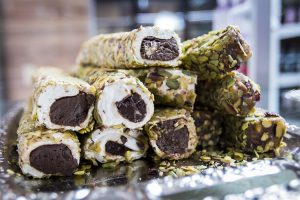 While Yalla continues to please its customer base—which Atallah describes as 70 percent Middle Eastern, 20 percent South American and 10 percent American—the family looks forward to developing their menu and offering more variety. They plan to introduce poutine—a traditional Quebec dish made with french fries, cheese curds and gravy—with a Lebanese twist of shawarma meat. There also are plans to expand dessert offerings and open a nut bar to complement the existing olive bar.
But whatever changes Yalla makes, Atallah wants to make sure that each customer leaves with a smile.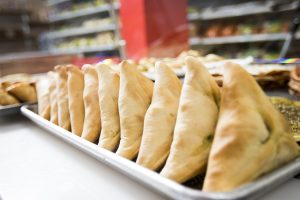 "If you're going to do your groceries, you may as well enjoy yourself. It shouldn't be a burden. We want to be the Ellen DeGeneres of grocery stores," Atallah says with a laugh. "Kindness, fun, laughter—that's what we want to serve here. And, of course, flavor."
Yalla Market
Location: 6718 N. State Road 7, Coconut Creek
Hours: Monday-Saturday: 9 a.m.-8 p.m.; closed Sundays
Contact: 954.418.4405