From early each morning until just before midnight, Homa and Ali Khakpour serve the cuisine and culture of their homeland inside a Pinecrest storefront. Together with their son, Reza, the family owns Rumi Persian Grill in Pinecrest, a popular neighborhood spot for traditional Persian food.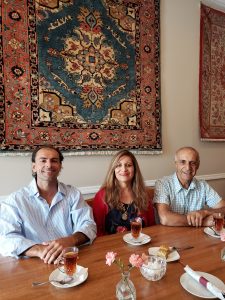 Named in honor of the 13th century Persian poet and scholar Jalal al-Din Muhammad Rumi, the restaurant, which opened earlier this year, makes its own interpretations of age-old cuisine served during the time of Cyrus the Great in the sixth century B.C.
The Khakpours, who have owned and operated convenience stores and restaurants for more than 40 years, might be remembered for their shuttered Kendall restaurant, Shiraz Kabab Café, which was open for nearly two decades before the family sold it a few years ago to retire.
Retirement didn't last long for the Khakpours. Former customers craved the distinct Persian dishes, and the Khakpours quickly grew hungry for their next adventure. Not long after, they opened Rumi in Pinecrest. Now, all three are heavily involved in creating the menu.
"Persian food shares some of the standard Mediterranean favorites, like hummus, kabobs, stuffed grapes  and more," Reza says. "But our menu also features many finer dishes and gourmet stews."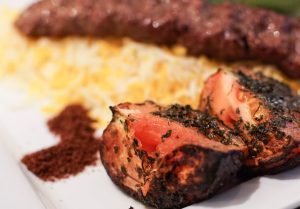 Spices and ingredients, such as sumac-and-pomegranate reduction, deliver a complex and enhanced flavor profile in Persian food, according to the Khakpours. Diners will find more than 50 different items on the menu, ranging from familiar plates to specialized and regional classics that are unique to the family's past in southwestern Iran.
Standouts include chicken, beef and vegetable kabobs, falafel and hummus platters, spinach pie baked in a soft white pita, and slow-cooked lamb in a thick tomato-based sauce. There's also a handful of slow-cooked strews, which feature rich and savory flavors and textures.
"The fesenjan, which includes ground walnuts simmered in a house-made pomegranate sauce with braised chicken, is a real effort to get just right," Reza says. "But it's delicious and one of our most popular dishes."
Other stews, served with basmati rice, include bademjan, made with fried eggplant and braised lamb in a sun-dried tomato broth, and gormeh sabzi, which includes sautéed herbs and vegetables simmered with dried lime, beans and braised lamb.
"We always try to get the best-quality ingredients available," Ali says. "Everything always has to be fresh. Nothing is premade here, which is why we have to get to the kitchen so early. We cook from scratch and get to the kitchen early in the morning to make enough for lunch and dinner."
The Khakpours, who live near the restaurant, were drawn to Pinecrest because of the area's growing community of international restaurants and increasing appetite for nontraditional dining. "We're very happy here in Pinecrest," Ali says. "We have really wonderful and bright customers. Plus, our location on U.S. [Highway] 1 gives us great visibility and helps us attract new customers."
As the restaurant celebrates its first anniversary, the Khakpours are eager to continue spreading their culture through South Florida with food.
"Rumi wrote hundreds of poems about working on what you love and pleasing others," Ali says. "We're doing all of that that now."
Rumi Persian Grill
Location: 12257 S. Dixie Highway, Pinecrest
Contact: rumipersiangrill.com