Students at Florida Atlantic University's The Florida Atlantic University's Cane Institute for Advanced Technologies at A.D. Henderson University School get a thorough education in robotics, artificial intelligence and cybersecurity. And, this month, because of the COVID-19 pandemic, they got a real-world education in how what they've learned can help others.
It all started when Giovana Jaen, a third-year student at FAU's Schmidt College of Medicine, reached out to Allan Phipps, the district science coordinator at ADHUS and FAU High School. As a graduate of FAU High School, she knew of the school's strong STEM program and asked Phipps if there was a way that the school's 3D printers could be used to produce personal protective equipment for local hospitals.
"His response was immediate and incredibly enthusiastic," Jaen said. "I got into contact with the hospital network affiliated with the FAU College of Medicine, [and] within a week of coordinating communication between Mr. Phipps, [Dr. Livia Jaen, an anesthesiologist at Boca Raton Regional Hospital and Jaen's mother], and the anesthesiology department, he was printing face shield prototypes."
Phipps moved the 3D printers to his garage which has become a sort of headquarters for the school's efforts. From there, he manufactures face shields and intubation chambers with his children (who attend ADHUS) and coordinates the Cane Institute's efforts.
Over the past month, students ages 5-18, Phipps and James Nance, a middle school science teacher at ADHUS, have made 650 3D-printed face shields, 500 ear savers and 36 intubation chambers (which protect health care workers when incubating patients) for hospitals in Palm Beach County. And they're not done yet.
"I am so proud of our students for helping our community during this global pandemic," Phipps said. "This has been a team effort from the start, and we are doing everything we can to support the medical professionals and our local hospitals during this crisis."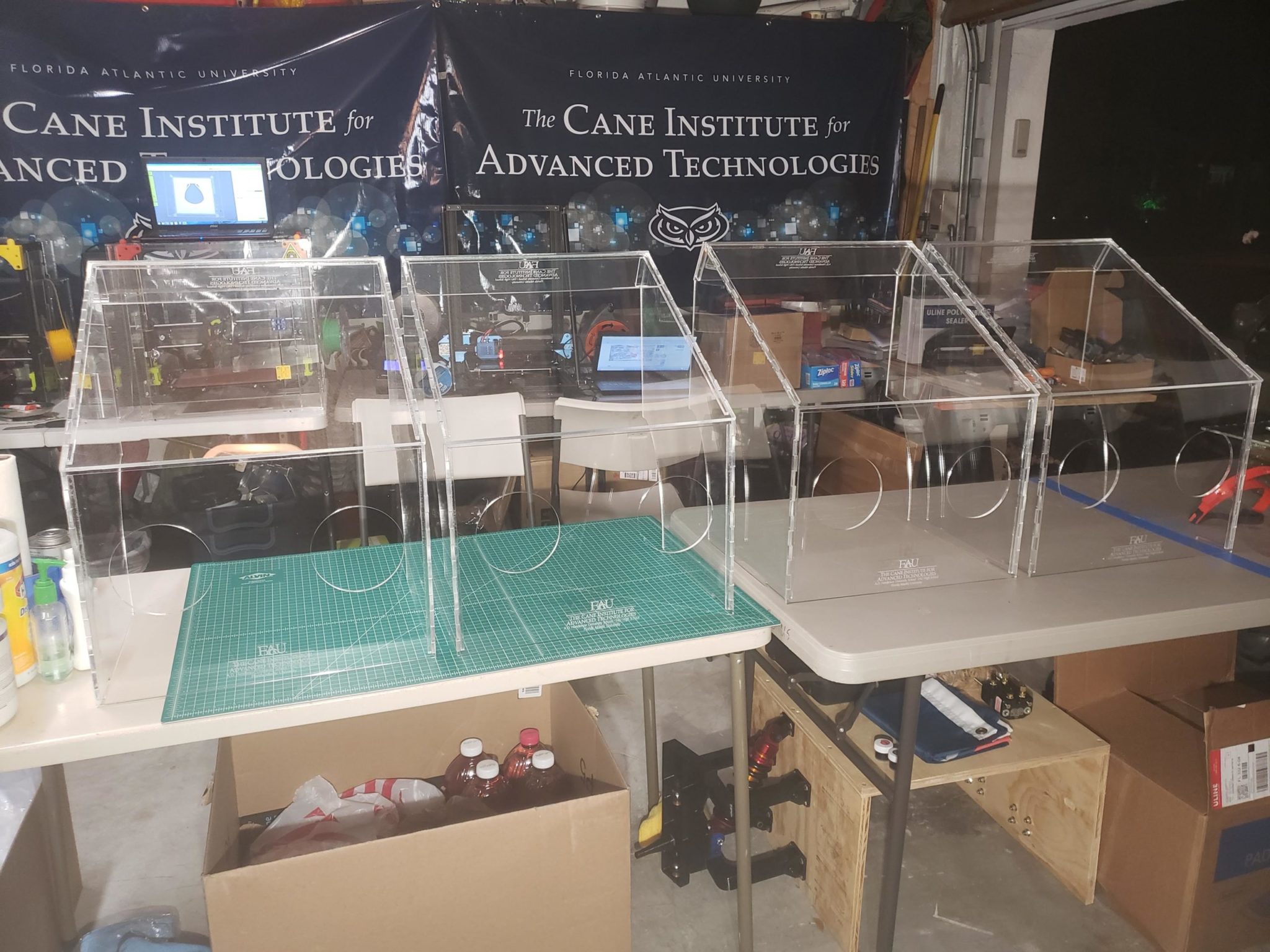 Practicing social distancing, students can check out 3D printers from the school or get their own personal 3D printers serviced. Phipps and Nance host drive-throughs in front of the school where students can drop off 3D printed face shields and ear savers they created at home. Later, representatives from local hospitals pick up the PPE.
"Seeing my very own FAU High School's students rally behind our cause to volunteer their time and personal 3D printers to the cause has been incredible," Jaen says. "Speaking as the family member of someone on the frontlines of the pandemic, and as a future physician, I am so grateful for members of our FAU community and am proud to call myself an Owl!"
FAU has been able to donate this lifesaving PPE as a result of public, private and industry support. For more information or to make a contribution, contact Mickey Zitzmann at [email protected].
Pictured above: The Cane Institute for Advanced Technologies 3D printed face shields