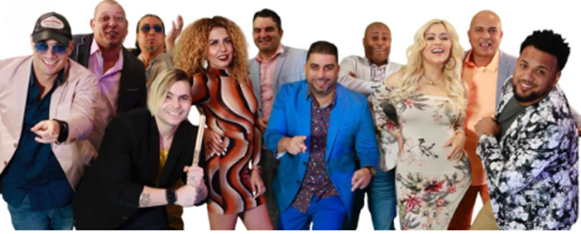 Flagler Quantum Village in Fort Lauderdale to Host Monthly Street Fair
The event will feature local artists, live music, a farmer's market, food trucks and more

Spin at Quantum, a new monthly street fair at Flagler Quantum Village, will host its first festival from noon to 10 p.m. this Saturday, Aug. 27, at Flagler Quantum Village in Fort Lauderdale. The event is a collaboration with the popular Fort Lauderdale Art Walk and MASS District Art Walk on the last Saturday of every month. It features two stages, three massive bars, food trucks, dozens of artisan vendors and more. Saturday's musical headliner will be Cuban Salsa Funk Band TIMBALIVE, taking the main stage at 7:30 p.m.
Spin at Quantum was launched due to a new collaboration between PMG Hospitality, MASS District, and Sunny Side Up Market to bring local vendors and the community together with a lively and festive atmosphere on the streets and at Quantum Kitchen and The Easton Rooftop Pool & Lounge, located on top of Courtyard by Marriott. The monthly festival will take place on the streets from Northeast 5th Terrace to the Lawn on 5th and Quantum Plaza to the NE 4th Avenue location of the MASS District Artwalk, one block up the street.
Programming for the Aug. 27 event will include:
Food Truck Row

Octopalm Lounge & Bar

Classic Car Club

Salsa in the Street

World's Biggest Salsa Lesson

24+ Artisan Vendors

Lounge on the Lawn with classic cocktails and beverages
Quantum Kitchen and The Easton Rooftop Pool & Lounge will also be open to the public for various daily and evening specials. On Saturday, Aug. 27, The Easton will feature a Splash Floatchella Pool Party where guests are encouraged to bring their floaties in the pool or use one of the many that The Easton has out at the pool. The VIP area will be in Quantum Kitchen in the Marriott Courtyard from 6 p.m. to 10 p.m., where a $50 cover entitles guests to two drinks and free apps.
"With the popularity of our site and the MASS District South of Sunrise one block away, we wanted to give back to the community by collaborating with the Fort Lauderdale Art Walk," Heather Strauss says, Director of Hotel Asset Management at PMG Prime Group. "We thought, why not consolidate all our efforts to make the best festival experience for locals and tourists in Fort Lauderdale? We can't wait to shine on Aug. 27 and monthly thereafter."
For more information, visit https://spinatquantum.com or https://www.eventbrite.com/e/spin-at-quantum-fort-lauderdale-flagler-village-community-festival-tickets-399623563837.