Anquan once said that his purpose in this life was not to make it to the NFL and score touchdowns, even though he did plenty of the latter. In all, he reached the end zone 82 times on receptions during a career that included stops in Arizona (2003-09), Baltimore (2010-12), San Francisco (2013-15) and Detroit (2016). He's ninth on the NFL's all-time receptions list (1,076) and 14th in all-time receiving yards (13,779).
After suffering a heartbreaking Super Bowl defeat with the Cardinals in February 2009 (a last-minute loss to the Pittsburgh Steelers), Anquan earned a Super Bowl ring with the Baltimore Ravens on Feb. 3, 2013, a thrilling 34-31 victory over the 49ers during which he had six catches for 104 yards and a touchdown.
Almost three years later to the day, Anquan shared with reporters that "God put me on this earth for something much bigger [than football] … It's my prayer and my hope that I can live out the rest of my life … helping as many people as possible."
He spoke those words after receiving the 2015 Walter Payton NFL Man of the Year award, an honor that recognizes an NFL player's charitable efforts off the field. By then, those efforts included more than the educational programs, Thanksgiving turkey drives, holiday shopping sprees, and other benevolent initiatives back home. Anquan and Dionne were touching lives from coast to coast; in all, Q81 has impacted some 100,000 families throughout the country.
One such family caught Dionne's attention in San Francisco. After the Boldins spent their Thanksgiving at a shelter helping to feed the homeless, the couple couldn't stop talking about what they had seen. In the shadow of Silicon Valley, people working 40-hour weeks and trying to support their families were overwhelmed by the cost of living in the Bay Area.
"It challenged our perception of homelessness," Anquan says. "You think male, you think drug addicts. No. We're talking working families who just couldn't make ends meet."
Dionne (who is starting a nonprofit consulting firm for athletes and their families this month) spent time with the 49ers' director of community relations at homeless facilities in the area, including a women's shelter. There, they met a woman with two sons whose husband had walked out on the family. She worked six days a week as a manager at Goodwill, but she struggled to cover basic necessities, let alone housing.
The Boldins quietly found the woman and her boys a furnished place to live—and took on all of her expenses for a full year. "Her job that year was just to save money and attend financial classes so she could better learn how to survive," says Dionne, recognized in 2018 as the Woman of Impact by the NFL Off the Field Wives Association.
"She did. We still keep in touch with her."
And Justice For All
Anquan was no stranger to testifying before Congress. He'd done so in 2013 following a humanitarian trip to Senegal with fellow NFL wideouts Larry Fitzgerald and Roddy White that opened their eyes to the mining issues in Africa that cost locals their own version of the Muck—rich agricultural land with gold nuggets for which multimillion-dollar mining companies offered little to no compensation.
But his testimony in 2017 at a congressional forum was different. This was personal.
Anquan was calling on Congress for transparency, greater accountability and more training when it comes to community policing. And with good reason. In 2015, his cousin, Corey Jones, a 31-year-old drummer (he played at his church and with a band called Future Presidents), was stranded on an exit ramp off of Interstate 95 in Palm Beach Gardens after his car broke down. A plain-clothes police officer pulled up to the scene in an unmarked car.
In the incident that followed, Jones, who had a permit for the gun later found unfired 125 feet from his body, began to run. The officer fired six shots and killed Jones. Four years later, officer Nouman Raja was convicted of manslaughter and attempted murder; he was sentenced to 25 years in prison.
His cousin's death would lead Anquan (along with co-founder and current NFL safety Malcolm Jenkins) to launch the Players Coalition, a nonprofit organization that works with professional athletes, coaches and owners across several major sports to advocate for and raise awareness about social justice and racial equality.
Asked if the heightened rhetoric around race in the United States has been deflating, Anquan says that, if anything, it's added more fuel to his fire—and to the desire of his fellow athletes—when it comes to effecting change.
"Because if we don't fight, then who will?" he asks. "We're not going to lay down and just allow this country to go to shambles. We have children coming up behind us. We want to live in a better country than we're currently living in."
Adds Dionne: "It's scary raising young black boys right now. So, yes, it emboldens me because I want them to live. I want to feel that they're safe when they walk outside this house."
As part of its advocacy work, the Players Coalition partnered with the Florida Rights Restoration Coalition in 2018 to help pass the ballot initiative that gave voting rights back to an estimated 1.4 million Floridians with past felony convictions. A similar initiative passed in California thanks, in part, to their efforts.
But it's the lines already blurring for the next generation that concerns Anquan when it comes to issues like disenfranchisement, incarceration and policing.
"In Orlando last year, a 6-year-old girl was arrested at [her charter school on a misdemeanor battery charge]," Anquan says. "What can you possibly do at 6 that would be cause for arrest? And what does that do for your view of law enforcement?
"That's why [the Players Coalition is] here. To continue to educate people about what's going on. These are things in this country that have to change. If we don't know about them, we can't change them."
Paying It Forward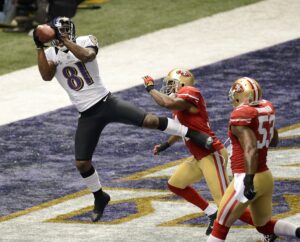 Though their work on broader issues can take them away from South Florida, charity for Anquan and Dionne always seems to begin at their one-time home.
As the realities of the COVID-19 era began to set in, the couple noticed the disparity in attention being paid to more populated parts of Palm Beach County. People in the Glades were driving 30 miles to reach the nearest testing site. So, Anquan "made a couple of calls."
With help from organizations such as the Community Foundation for Palm Beach and Martin Counties, testing sites and drive-up sites finally arrived in Belle Glade and Pahokee. In addition, Anquan and Dionne helped to organize food drives for people who were out of work.
"Fast-forward to the vaccinations," Anquan says. "Once again, people in that area didn't have access. Shots originally were being made available at Publix—but there are no Publix stores [in the Glades]. It was truly unfair."
Anquan again picked up the phone. This time, he called a friend who works in Gov. Ron DeSantis' office. Ultimately, the Boldins helped to get thousands of people vaccinated, including a significant portion of the region's elderly population.
Because that's what you do when you grow up in the Muck.
"I remember at FSU, there were so many of us from [the Glades], and we always had each other's back because we felt that we were all that we had—one another," Anquan says. "We always say, 'Nothing is given to us. It's always earned.' It's a hardworking community. And it was great for me. A lot of lessons learned.
"I'm definitely the person I am today because of growing up there."
Portrait photography by Eduardo Schneider