Inside her Coconut Creek home, Irmgard Estelrrich concocts elaborate cake creations: a Louis Vuitton bag, Mickey Mouse ears, a typewriter, even a Wonder Woman-themed cake. That one might be her favorite.
"The Wonder Woman cake was awesome," Estelrrich says. "When I delivered it, they had a special place for it. It was on a pedestal. Wonder Woman took me a long time—like two days straight working on that cake."
Estelrrich, 47, was born in Florida but grew up in Argentina. She came back to South Florida when she was 26 and eventually started a clothing business. It was successful, but with 25 employees and a long commute from Coconut Creek to Miami, Estelrrich was stressed out. She sold her share of the company to her co-owners in 2015 and decided to do what she had always loved: make cakes.
"I always made cakes for friends and family," she says. "I didn't go to school for it, but whenever someone asked me what I'd be doing if I wasn't doing clothing, I always said cakes."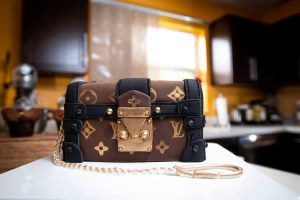 Estelrrich makes cakes all week long. Sometimes they take a few hours, or, as with Wonder Woman, they can take a couple days. On any given week, she gets five to seven orders.
"I like the quality, and I don't like to rush," she says. "If I have a wedding party one week, I usually only take that order and nothing else."
Estelrrich's standards are high. Ten years ago, she began eating more healthy meals and made everything from scratch. She started using cage-free eggs and bought other high-quality ingredients. Now, she puts that same quality into her cakes. Everything she buys is locally sourced, and when her clients have a special request, she honors it.
"I cater to different diets," she says. "One girl can't have any carbs or sweets. For her birthday, I made her a mermaid cake that was sugar- and gluten-free. No one ever complains. I had a client get one for her engagement party, and no one knew it was gluten-free. Everyone loved it."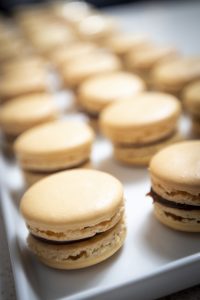 And her clients appreciate her work. Making cakes started as a hobby but, in the last three years, her work grew through word of mouth. Eventually, the requests piled up and, in 2015, Estelrrich started her own business, G Cake Studio, in which she does everything herself.
In the future, Estelrrich wants to open a small bakery where she can bake in a kitchen and sell desserts up front. She doesn't want anything big.
"I want to make everything from scratch by myself," she says. "I'm happy every day to do this."
To learn more about G Cake Studio, visit gcakestudio.com or call 561.235.6909.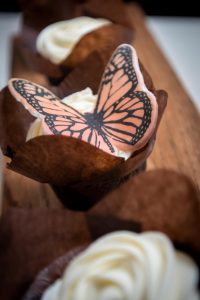 Pumpkin Spice Cupcakes with Cream Cheese & Maple Frosting
We asked Estelrrich for a fall recipe to share with readers.
Cupcake Ingredients
½ cup organic canola oil
1 cup unbleached organic all-purpose flour
1 teaspoon baking powder
½ teaspoon baking soda
½ teaspoon ground cinnamon
½ teaspoon ground ginger
¼ teaspoon ground nutmeg
½ teaspoon kosher salt
2 large organic eggs (room temperature)
1 cup canned organic pumpkin purée
½ cup organic granulated sugar
½ cup organic light brown sugar
Frosting Ingredients
6 ounces organic cream cheese (room temperature)
3 tablespoons organic unsalted butter (room
temperature)
2 tablespoons pure maple syrup
½ teaspoon pure vanilla paste or extract
2 cups powdered sugar
Directions
Preheat oven to 350 degrees, and line muffin pan with 12 paper liners. Sift together the flour, baking powder, baking soda, cinnamon, ginger, nutmeg and salt, and set aside. In a large bowl, whisk eggs, pumpkin, sugar, brown sugar and vegetable oil. Add flour mixture little by little, stirring to combine. Do not over mix. Scoop the batter into prepared liners and bake for 18 minutes or until a toothpick comes out clean. Cool completely in a wire rack.
While they are cooling, cream the cream cheese, butter, maple syrup and vanilla on medium to low speed for 2 to 3 minutes in an electric mixer using the paddle attachment. Add powdered sugar and mix on low to medium speed for 5 to 7 minutes or until it is smooth and piping consistency. Once cupcakes are cold, using a piping bag to decorate.