When Joanna Perdomo, a pediatrician at Nicklaus Children's Hospital in Miami, dreams about the future of her work, she envisions twisted vines of juicy tomatoes, blossoming cauliflower plants and bunches of fresh basil, all growing from a patch of dirt in the fire lane by the hospital's parking structure.
She pictures children learning about healthy nutrition, harvesting fresh vegetables to be served in the hospital cafeteria or put in boxes for patients to take home to their families. She imagines cooking classes—instructors teaching kids and parents how to make healthier, affordable versions of their favorite recipes.
This teaching garden is just one arm of a new three-part program Dr. Perdomo spearheaded at Nicklaus Children's Hospital called "Food for Salud: Healthy Food for Healthy Kids." The program's three parts—Grow & Nourish, Screen & Refer and Innovate & Evaluate—are designed to help address food insecurity, which has been shown to have a negative impact on health outcomes for children.
Food insecurity, as defined by the USDA, is when a household has limited or uncertain access to adequate food, either because of economic circumstances like poverty, or social conditions, such as living in a "food desert." Food deserts are geographical areas that lack access to affordable nutritious food or basic grocery stores.
The 2021 Map the Meal Gap study conducted by Feeding America and published by the Florida Department of Health showed that 14.3 percent of children (78,980) are food insecure in Miami-Dade County, 14.7 percent (60,580) are in Broward County, 13.2 percent (37,530) in Palm Beach County and 10.9 percent (1,390) in Monroe County. This means that, in the four-county area Nicklaus Children's Hospital serves, there are 178,480 children considered food insecure.
Of those, about a third are ineligible for federal nutrition programs (30 percent in Miami-Dade, 36 percent in Broward County, 34 percent in Palm Beach County, and 29 percent in Monroe County). According to a 2016 investigative documentary by the Sun Sentinel, South Florida had 326 food deserts at the time.
A journal published by the American Academy of Pediatrics noted that, compared to food-secure households, children in food-insecure households had rates of lifetime asthma diagnosis and depressive symptoms that were 19.1 and 27.9 percent higher, rates of foregone medical care that were 179.8 percent higher, and rates of emergency department use that were 25.9 percent higher.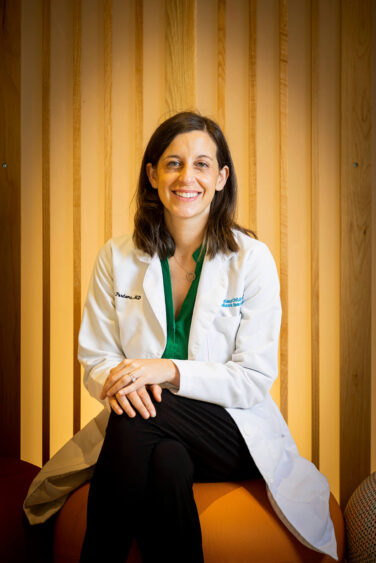 As a pediatrician who grew up in Miami volunteering at community health fairs and watching her parents work as nurses at Nicklaus Children's Hospital, Perdomo has long felt a sense of obligation to help young patients get proper nutrition, which she sees as a bedrock for overall health and wellness.
Food for Salud's second area of focus—Screen & Refer—helps identify food-insecure patients and refer them to sources for help. Under the program right now, patients are either screened by a social worker at the inpatient level or by a specially trained medical assistant at the outpatient level. So far, since May of 2022, Food for Salud has screened a total of more than 13,000 people. Of those, 5 percent screened positive for food insecurity. This percentage is lower than expected compared to area's numbers. Perdomo says she thinks this discrepancy could be because of the stigma, fear or shame experienced when patients are surveyed verbally.
"Families fear saying, 'I'm food-insecure.' They think, 'My children are going to be taken away,' or 'I'm going to be reported to DCF'," Perdomo says. "A lot of families also want to shield their children from knowing that they're experiencing food insecurity in the home."
Perdomo hopes to transition the program's screening techniques to an iPad or paper, which would allow respondents to answer more privately.
After a family has been identified as food insecure, Perdomo's team helps connect them to local, state and federal resources like SNAP, WIC, Feeding South Florida or other food-providing services. While South Florida's public school system also helps connect families to nutritional resources, Perdomo believes medical facilities are another great touchpoint, particularly since food insecurity is intimately tied to a child's health.
The last phase of the program—Innovate & Evaluate—will help families whose children have very specific medical conditions, such as food allergies, diabetes or celiac disease, which require strict specialty diets. These families might not be well served by standard food interventions. This part of the program also aims to design evaluative studies to track health outcomes when different food interventions are used—and pilot novel interventions like a grocery delivery platform or food stipend.
While Perdomo's passion for pediatrics first began as the child of two nurses, the topic of food insecurity largely dug its roots during her time in medical school at the University of Chicago where she says she witnessed a lack of health-care access and widespread food insecurity on Chicago's South Side.
She became involved with a summer service partnership working with another medical student and three high school students from an area youth center. Together, they designed a nutrition and exercise program in the South Side's Greater Grand Crossing community. They also went into local community health centers and asked people about their diets, shopping habits and barriers to healthy eating.
"From that I created healthy twists on recipes that people like to eat that were also budget-friendly," she remembers. "I did cooking demos at local places and made a little cookbook that I distributed. I learned more from those high school students that summer than they learned from me. It was an incredible experience."
Following her time in Chicago, Perdomo pursued her residency at Boston Medical Center and Boston Children's Hospital where she took part in the Leadership in Equity and Advocacy track and earned a master's degree in public health. She got involved early in a project called Health Equity Rounds, a training program to teach health-care professionals about implicit bias and racism in health care, and how these inequities negatively impact health outcomes. She helped develop the curriculum, which was later expanded to sites across the nation.
Perdomo says her experience with Health Equity Rounds was influential in how she sees her overall role now in the medical field. On a daily basis, she's a face-to-face pediatrician working directly with young patients and their parents at Nicklaus Children's Hospital. However, Perdomo says she is always looking to zoom out her lens.
"I'm always thinking about what could help my patient on a broader, more institutional level, or outside in their community. What social determinants of health might my patients need help addressing?" Perdomo says. "I think doing both—seeing patients and doing broader work—keeps me balanced in a way. The two always complement each other."
Like Health Equity Rounds, Perdomo hopes Food for Salud can be expanded and adapted to other medical facilities.
"Nutrition security—ensuring access to safe, affordable and healthy foods to optimize health—is a pressing issue facing families nationally and locally, one that has a huge impact on child and family wellbeing," she says. "I was inspired to become a pediatrician by a desire to not only address the medical needs of patients and families, but to also—and perhaps more important—address the entire environment and community in which a child and family lives and grows."
Photography by Eduardo Schneider