Photos by Eduardo Schneider
Saul Drier's mobile phone rings a lot. At 94, he's sitting in an office in his apartment in Wynmoor. He's a busy man, fielding calls from a summer camp in Wisconsin that wants to plan an upcoming performance for his band, and other calls about bookings everywhere, from Pennsylvania to Poland.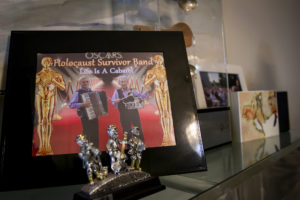 Since he had the idea for the Holocaust Survivor Band in 2014, Drier has been featured in the New York Times, played in Las Vegas and Washington, D.C.'s Kennedy Center. The band, which is made up of Holocaust survivors and children of survivors, was the first group to play outside the entrance of the former concentration camp in Auschwitz in southern Poland, in front of the infamous wrought iron "Arbeit Macht Frei" sign.
Guitar player Jeff Black, 68 (whose parents were able to escape), was with him, as well as two of the original band members Reuwen "Ruby" Sosnowicz (a survivor) on keyboard and accordion, and Sosnowicz's daughter, Chana Rose Sosnowicz, a percussionist.
"Do you know what the words mean?" Black asks. "'Work makes you free.' "
Drier, who's dressed like an aging rock star in his dark button-down shirt, black slim pants, and pointed, leather boots, sits behind his drum set in the middle of his living room. He attaches his mobile phone to a small speaker, then hits a button. The traditional Jewish celebration song "Hava Nagila" begins to play. He drums along with it, and not quietly. Do his neighbors mind the racket? "No," he says. "They are all deaf." He laughs.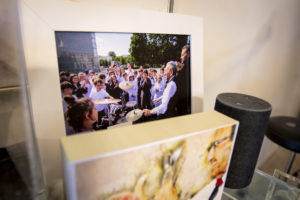 He remembers the first time he played drums. "Well, it's a whole story. You want to hear it?" Drier tells it as if it were yesterday. "When [World War II] started, I was 15 years old. My parents perished in the Holocaust."
He was in concentration camps for four years, laboring in a factory repairing radiators for airplanes. After he was liberated from a concentration camp in Linz, Austria, by the U.S. Army at age 19 in 1945, he was taken to southern Italy.
"I ended up in a Displaced Persons camp. We had nothing to do, but the Italian people would let us go into this hall," he says. "We wanted to sing and dance, but there was nothing in there. It was empty."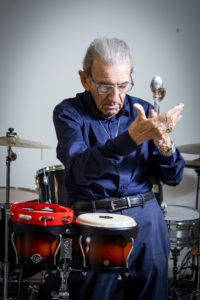 One day, a truck arrived with a piano and a set of drums. "They put the instruments in this hall. One night when we were all gathered there, the director of the [camp] asks, 'Who wants to play the piano?'" He remembers a man from Yugoslavia raised his hand. "No one wanted to play the drums, so I volunteered. You have to understand that in the concentration camp, people were singing. I had put two spoons together and was keeping the beat. That's how I started."
But as things happen and life went on, Drier gave up the drums. He came to the United States when he was 24. "I went to work right away in Brooklyn, then I moved to New Jersey, where I had a friend. I was building homes. Then I got married and had four children." He moved to Florida in 1980 with his wife, Clara. "She took sick in New Jersey and wanted to come here."
In 2014, he read an article about the death of Alice Herz-Sommer, a 110-year-old Holocaust survivor in England. She had survived her time in the camps by playing piano in concerts the Nazis arranged. They were making movies of the concerts to create the idea that the prisoners were being treated well, and the orchestras would entertain guards.
"I want to do something for her," Drier remembers thinking. "I'm going to put together a band, I told my wife, Clara.' She told me I was crazy."
That was on a Thursday. On Saturday, he was sitting next to his rabbi at lunch and he couldn't shake the idea.
"He says to me, 'Sal, you are 15 years retired. What do you want to do this for?' "
By Monday morning, Drier had gone to a music store and purchased a drum set. He gathered some musicians together and asked the rabbi if he could play in the temple's hall. The rabbi gave him his blessing, but wondered how he would get people to come and see the band. "If we play for nothing, everyone will show up."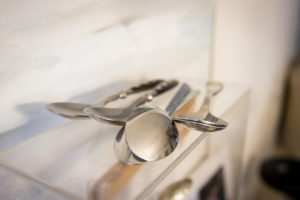 The Holocaust Survivor Band was a hit. "From there, we took off like a rocket," Drier says.
Black, who lives in Hollywood, says that the mission of the band is to keep klezmer music alive but also to get a message out: "That despite what Saul and the others went through, they keep on going and are still as vibrant as ever."