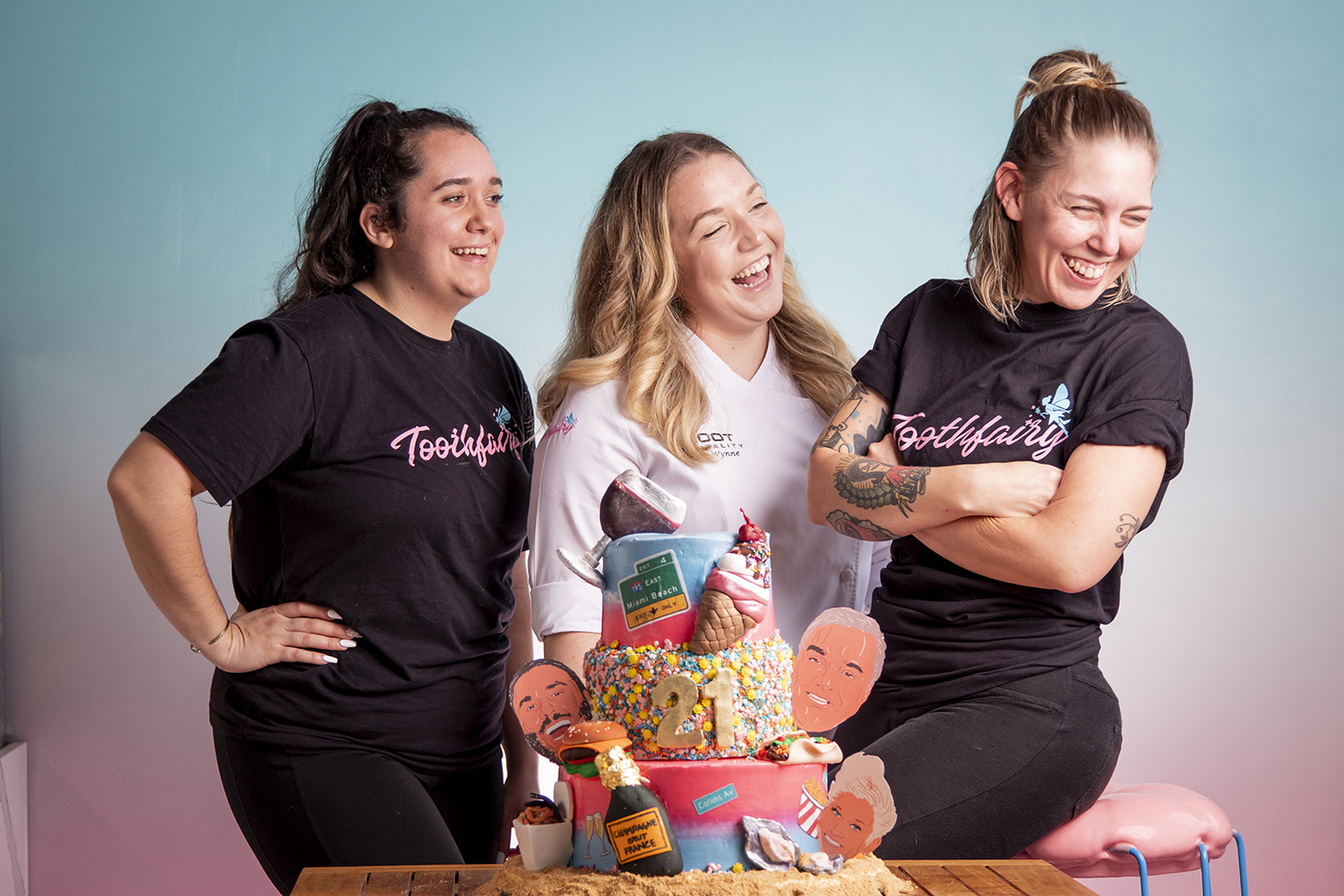 How Sweet It Is: Dallas Wynne
The corporate pastry chef for Groot Hospitality in Miami shares her story—and a cake creation—ahead of this month's South Beach Wine & Food Festival
Dallas Wynne
Corporate pastry chef, Groot Hospitality; executive chef and partner, Toothfairy
Back story: Though still a few years shy of 30, Wynne has won over Miami time and again with her original pastry concoctions and infectious enthusiasm for all things sweet.
As the Palm City native tells the story, she might have tossed a few spices into Mom's carrot soup as a child, but cooking never crossed her mind until she had a chance to skip a few high school classes by taking a culinary course. By the time the high school culinary team placed third in a state competition, Wynne was hooked.
She attended Johnson & Wales University in North Miami, but her eyes were on chef Michael Schwartz; she applied several times to Michael's Genuine before finally landing a pantry cook position at another of Schwartz's restaurants, Harry Pizzeria. Hedy Goldsmith, then the pastry chef at Michael's Genuine, soon took Wynne under her wing, changing the course of her career.
After working as a pastry sous chef at Thierry's Culinary & Event Design, she landed her first executive pastry chef job at Ariete in Coconut Grove. She was only 21. For the past year and a half, Wynne has been with Groot Hospitality, overseeing the pastry worlds at Toothfairy bakery, Winker's Diner, and Sushi Fly Chicken. She recently was elevated to the corporate pastry chef position at Groot.
The cake: Wynne and her creative team—Erica Lombardo (cake decorator at Toothfairy) and Dani Veit (executive pastry chef for Groot Hospitality)—spent the better part of 30 hours conceptualizing and bringing to life this ode to the South Beach Wine & Food Festival.
The fondant, gum paste and buttercream pieces representing iconic events—along with the sugar-sheet portraits of chef Anne Burrell, festival founder Lee Schrager, and Dave Grutman (owner of Groot Hospitality)—took days to create and dry. Toothfairy's Funfetti cookie dough cake provided part of the foundation.
"We wanted the cake to scream fun, because that's what [SOBEWFF] has been for me," says Wynne, 27. The number on the cake holds special meaning for Wynne, as well as being the 21st edition of the South Beach festival; she was only 21 the first time the festival invited her to participate in the festival based on her own merits.
And the winner is: If you think there isn't a mad scientist aspect to baking, consider the chocolate chip cookie at Toothfairy. At one point during testing for the perfect recipe, Wynne and her sous chefs had some 24 versions of the cookie. They varied percentages on the sugar and dark chocolate, they tried different flour, and they altered measurements by miniscule amounts.
"It's hands-down my favorite item in the bakery—and probably our No. 1 seller," Wynne says. "We took a little cake flour, some [all-purpose] flour, we reduced the sugar content, we added some brown sugar to make it softer. And we morphed it all together. I call it our Frankenstein recipe."
Sweet sentiment: There's something special about being the last bite of food on the table, Wynne believes. Desserts have the potential to put the exclamation point on a memorable meal—or change your mood after a tough day. But it's more than that.
"I like to focus on the nostalgic aspect of desserts," Wynne says. "I always want my desserts to bring you back to a place and a time. Things may have changed [with the emphasis on healthy eating], but with a good dessert, you're not thinking about calories, or sugar, or your diet. Once you take a bite, you forget about all that."
Photography by Eduardo Schneider