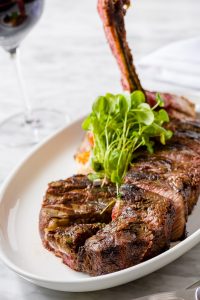 Photos by RM Studio Corp
Big things are happening at The Ritz-Carlton Coconut Grove. Late last year, The Commodore, a vintage-inspired cocktail bar, opened inside the hotel. Then, a few months later, Isabelle's Grill Room and Garden debuted next door, bringing a chic restaurant named in honor of Isabella Peacock, one of the Grove's earliest settlers, to the neighborhood.
"Coconut Grove is a historic place with a charm and spirit all on its own," says John Meadow, founder and president of LDV Hospitality, which owns Isabelle's and The Commodore. "With Isabelle's, we wanted to embrace that and pay tribute to it, while creating something that also looked forward stylistically and conceptually.
"Coconut Grove is going through an exciting culinary renaissance, and we're thrilled to be a part of that. Isabelle's is a place where people will feel that sense of history while enjoying food, drink and service very much in sync with the times."
Similar to The Commodore, Isabelle's dining room—outfitted with stained woods, burnished brass and cognac-colored leather—pays tribute to a bygone era. Adjacent to the restaurant is a more casual trellised garden terrace, decked with oversized planters, woven chairs and lush, green landscaping.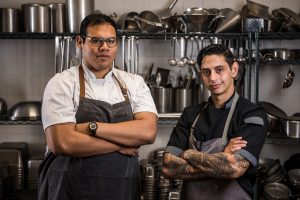 "Isabella Peacock and her husband, Charles, were [among] the earliest settlers of Coconut Grove, and the founders of Coconut Grove's first hotel, the Bay View Inn, back in 1882," executive chef Abel Veulens says. "Isabella is a historic name within the community, and we wanted to embrace her spirit and recognize her work."
Step inside Isabelle's for the first time and order the featured cocktail, the vodka-based Peacock with lavender, lemon and blood orange purée, Veulens suggests. As for the food, he recommends sampling items from the raw bar, including the shrimp cocktail, the east and west coast oysters, or the market ceviche. He also suggests ordering one of the restaurant's steaks with a comforting side, such as macaroni and cheese or creamed spinach.
Otherwise, dinner, which is served daily, includes a large menu of meat and seafood, including raw bar items like tuna poke and seafood towers, alongside beef carpaccio with crispy mushrooms and pecorino, jumbo crab cake with apple remoulade, and Spanish octopus with fingerling potatoes and spicy romesco. Main courses include lobster pappardelle and seared striped bass, a selection of steaks with blistered tomatoes, and Isabelle's cheeseburger with smoked tomato aioli, brandied onions and bacon.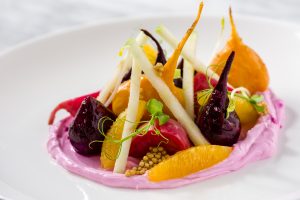 Though The Commodore is next door, Isabelle's features its own bar, which overlooks the outdoor garden terrace. There, bartenders sling a variety of cocktails: the Peacock, the Boulevardier with bourbon and Campari, the Aperol spritz made with Aperol and prosecco, and the Il Diavolo with tequila, jalapeno and lemon. Beer by the bottle, red, white and sparkling wine, and prosecco are also available.
"I suggest beginning the evening at Isabelle's," Veulens says. "Depending on whether you want a more intimate setting or a more casual feel, you can dine in either the main dining room or on the outdoor garden terrace. I would end the evening at The Commodore for an after-dinner drink (there's live music on Friday and Saturday nights). It's the perfect place to relax, enjoy, unwind and even sit by the fireplace."
Isabelle's Grill Room and Garden
Location: The Ritz-Carlton Coconut Grove, 3300 SW 27th Ave., Miami
Social: @isabellescoconutgrove on Facebook and Instagram