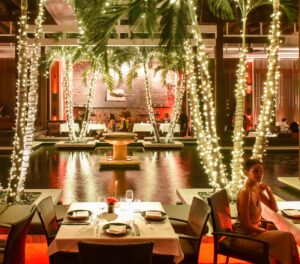 Jaya at The Setai in Miami Beach recently began offering its South Asian Sojourns journey, an exclusive new weekly prix fixe menu offering distinctive flavors and fresh combinations from various regions within Asia. The Wednesday evening offering features a three-course menu and specialty cocktail priced at $95 per person.
While enjoying the menu, guests can sip on the South Asian Sojourn specialty cocktail, the Bombay Sour, created with Jal Jeera-infused Bombay Sapphire Gin, Italicus Bergamot Liqueur, egg white, and fresh citrus, to pair with the flavorful menu. The menus change monthly with the April selection inspired by India, where Chef Vijay Veena hails from.
"The creation of South Asian Sojourns gives us the opportunity to dig deeper into our Silk Road roots – showcasing culinary techniques, spices and dishes that are profoundly unique to each region – giving our guests a truly authentic, elevated experience they cannot find anywhere else," Veena says.
For the premier dinner, guests will be welcomed with an amuse-bouche of Chachumbar Pachadi, a salad of tomatoes, cucumbers and yogurt tamarind, and appetizer options including Mulligatawny traditional yellow lentil soup, Rasam mussels and Aloo tikki, consisting of fried potato patties with masala spice chickpeas & mint chutney, topped with cardamom yogurt.
Entrees include a choice of Achari Murgh with marinated chicken thigh with fennel seed, cumin, fenugreek, mustard and onion seed, served with lychee raita; or Tandoori Machi, an organic salmon seasoned with ginger, garlic, chili, coriander, cumin, garam masala and yogurt mango chutney. Other options include Adraki Lamb with delicious stewed lamb leg, onion, tomato, chili, cumin, ginger, and cilantro in coconut milk with lemon; Goan Scallop & Grouper Curry with eggplant, tomato, okra and potato in vindaloo sauce or the vegetarian option of Malabar Avial with edamame, carrot, plantain, haricot bean and tofu, cooked with yogurt and coconut sauce.
A dessert menu provides either Naariyal Sagu featuring coconut Tapioca and pistachio ice cream or classic Gulab Juman, milk dumplings soaked in simple syrup and served with vanilla ice cream. Each dessert is also given with Chai Tea and petit fours for a sweet ending.
"I hope that guests come away from this new dining experience with a deeper appreciation and understanding of the various cuisines of South Asia," Veena says. "Many of the dishes featured throughout these menus are celebratory, traditionally enjoyed and shared during festive times. So, for those that choose to experience South Asian Sojourns in a shared family-style – it is my hope that they get a sense of the culture of celebration of each country. It all pairs so beautifully with the music and ambiance performances at Jaya."
The South Asian Sojourns dining series will continue through August, with additional menus focusing on Thailand, China, Vietnam and Japan. Reservations are required and can be booked via OpenTable. Jaya at The Setai is located at 2001 Collins Avenue in Miami Beach. For more information, please visit thesetaihotel.com or call (305) 520-6000.
Photo credit: South Asian Sojourns