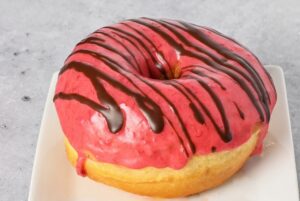 Pink Love Donuts & More, which serves made-from-scratch gourmet donuts, artisan croissants and Argentine empanadas, is now offering an all-day breakfast menu that includes a variety of flavorful French toast, chicken and waffles, and breakfast sandwiches with donut buns. The eatery is also launching its first-ever Pink Burger, with two selections to experience.
Pink Love Donuts & More started in Oakland Park before opening a second location at 222 67th St. in Miami Beach in 2022. The eatery features rainbow-colored decor, sensual sugar and melted chocolate aromas and rows of homemade baked goods.
"We decided to add breakfast to offer our customers even more delicious options throughout the day," owner Diego Macedo says. "As a Miami Beach establishment, we know that people are always on the go and looking for a tasty and convenient place to grab a bite that doesn't compromise quality. The Pink Burger is an homage to the theme of our shop, and we can't wait for guests to dig in."
The new menu features an all-day breakfast selection of acai bowls, avocado toast, and breakfast sandwiches and burritos such as the Peanut Butter Acai Bowl ($14.99), Ahi Tuna Avocado Toast ($15.99) and Ham and Cheese Donut Sandwich ($7.50). Various waffles, pancakes and French toast, such as the Nutella and Strawberries French Toast ($15.99), are also available. Guests can enjoy egg dishes like Huevos Rotos ($15.99) or the classic Chicken and Waffles ($16.99). Other offerings include sandwiches, fries, wings, poke bowls and burgers, including the Prosciutto Sandwich ($17), 12 Jumbo Buffalo Wings ($19.99) and Spicy Tuna Poke Bowl ($15.99).
Guests can also dig into two Pink Burger ($15.99 each) selections: the traditional Pink Burger, served classic with two Angus beef patties, provolone cheese, chimichurri and a side of home fries, and the Pink Panther Burger, served with provolone cheese, chimichurri, tomato and fresh arugula. The Pink Burgers are part of the launch of Pink Burger Miami, a new line from Pink Love Donuts & More that focuses on the brand's creative burgers. Pink Burger Miami is available at the Miami Beach storefront and Smorgasburg Miami, the Miami edition of America's largest weekly open-air food market.
The bakery has over 80 donut varieties in rotation, from classic glazed to gourmet picks like Bacon Sriracha, Dulce de Leche, Nutella and Tres Leches. The bakery also offers a wide selection of vegan-friendly donut options baked as squares rather than circles for easy identification. All donuts, croissants, empanadas and other baked goods are made in-house, from scratch, daily.
For more information, visit pinklovedonutsandmore.com.
Photo Credit: Pink Love Donuts & More