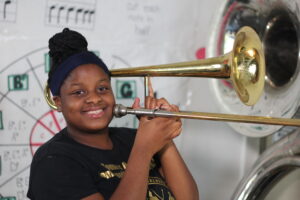 McCray's Backyard Bar-B-Q and Seafood in West Palm Beach has lent its support to help ensure the Sounds of Success Community Marching Band can participate in London Band Week in June. To raise funds for the overseas trip, a raffle is being held. Each raffle ticket purchased offers the opportunity to win a 2023 BMW 330i, a 2023 Hyundai Venue, a VIP Day on a yacht, free Golf at the Wellington Golf Club, or an 85-inch 4K TV. The raffle drawing will occur on April 8, and purchasers don't have to be present to win.
"If you purchase a $100 raffle ticket, we will give you a free family meal," Derrick McCray says, owner and chef of McCray's Backyard Bar-B-Q and Seafood. "The meal includes a slab of ribs, a whole chicken, and four large sides."
The deal is good on Wednesdays at McCray's 1521 45th Street in Mangonia Park; and Fridays at the new location at Handlebars in Tequesta, 19590 US 1 North.
McCray's Backyard Bar-B-Q is an 88-year family tradition in the McCray family. During segregation, it started as Harvey's Barbecue in West Palm Beach. Herman C. McCray Jr. worked at his Uncle Harvey's place as a young boy and a teenager. But after Harvey's was sold, McCray Jr. started selling his barbecue and established McCray's Backyard Bar-B-Q.