Chill, shake, and serve. With Miami Cocktail Co., that's all it takes to sip and savor a gourmet cocktail in the comfort of your home.
Think of the Wynwood-based business as a bartender in a bottle, where each cocktail blend—from mimosas to margaritas—is meticulously crafted with organic ingredients, like Florida grapefruit and Sicilian oranges.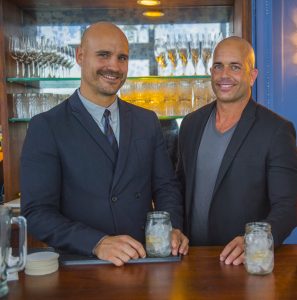 Created in 2013 by Ross Graham and Simon Benstead, Miami Cocktail Co.'s wine-based, ready-to-serve products were born from a desire to offer high-quality cocktails, made with real ingredients and sold at affordable prices.
"Simon and I have known each other for years," Graham says. "We both come from a hospitality background, and, over time, we noticed the market's need for something authentic."
Five years and thousands of tastings later, Miami Cocktail Co. products are available around South Florida, California and even the United Kingdom. Its products are sold at some of the most recognized retailers too, including Total Wine, The Fresh Market and Whole Foods.
"People demand more," Graham says. "We live in a Whole Foods world, and, at the end of the day, consumers care what they're putting in their bodies, even when it comes to alcohol."
Benstead adds: "Almost every other category in the grocery store, from dairy to meat, is moving toward better ingredients and more accountability. But it's always slow to innovate in the spirits industry, which is why we decided to take the plunge and launch our own products."
Miami Cocktail Co.'s main product line, Small Batch Originals, includes Blood Orange Mimosa, Copper Pot Margarita and Sunset Sangria, all of which are gluten-free with no additives, preservatives, artificial colors, flavors or sweeteners, and negligible sulfites, which means a lower chance for a hangover.
The margarita, Benstead's favorite, blends pure blue agave wine with Key lime juice and Valencia orange juice. The mimosa, the brand's No. 1-selling product at Whole Foods, calls for sparkling wine, with blood orange, tangerine and grapefruit juices. The margarita is made with red wine, pineapple, and mango, orange and lime juices.
"We're offering recognizable cocktails, but we've also put a lot of thought into them in terms of what ingredients we use," Benstead says. "It's not just orange and Champagne."
Besides flavor, Miami Cocktail Co.'s products offer noticeable value compared to traditional cocktails. Each Small Batch Original, priced at $15, weighs in at 750 milliliters and measures slightly above three cups. Benstead and Graham say one bottle generally serves about four people.
"If we walked into a bar and asked for a mojito, we're going for the experience of a bartender muddling limes and mixing it right in front of us," Benstead says. "We're giving you all that, but it's already done."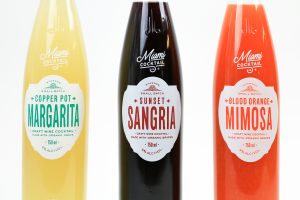 Earlier this year, the company launched its first single-serve cans in a spritz collection, featuring flavors like Elderflower and Ginger Margarita, Mandarin Rosé Mimosa, Sunrise Rosé Sangria, and Mango Peach Rosé Bellini. It also debuted a brand-new storefront and private tasting room at its Wynwood headquarters, which offers pairing events and art installations.
"We'll never replace the experience of walking into a bar and ordering a cocktail, but now we're giving people the chance to sip that same quality drink without paying a fortune or traveling far,' Graham says. "Not to mention, you can also pronounce every single ingredient inside each one."