Holly Blue
Address: 441 NE Third Ave., Fort Lauderdale
The Buzz: What's brunch without bottomless mimosas? While Holly Blue boasts a hearty menu to go along with its high-end Champagne selections, it's the build-your-own-cocktail brunch bar that draws crowds on a Sunday. For $60, create your own dream drink starting with Moët & Chandon to go with your preferred complement. The cocktail brunch bar has juices (orange, watermelon, pineapple and cranberry) as well as purees (strawberry, mango, peach or passion fruit)—so, there's no limit to the number of creative mimosas to conjure. There is, however, a limit to your Moët consumption. The restaurant limits "bottomless" drinking to 90 minutes per person. Holly's pretty-in-pink pastry tower (pictured) is a deliciously delicate accompaniment.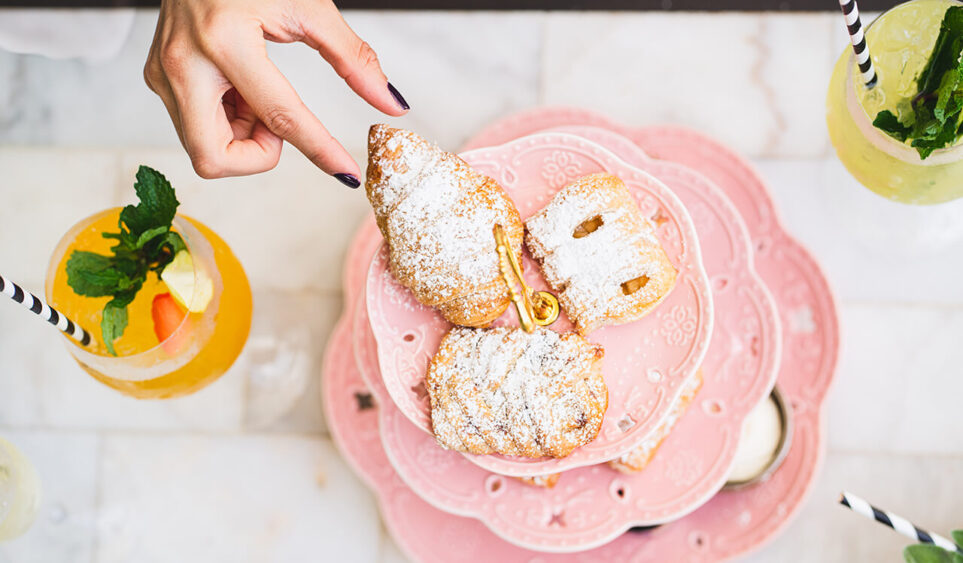 Sunday brunch: 11 a.m. to 3 p.m.
Contact: 954.488.2117; hollyblueftl.com
Elisabetta's Ristorante
Address: 32 E. Atlantic Ave., Delray Beach
The Buzz: Chef Lisabet Summa's travels to Italy inspire her twist on the traditional American brunch specialty, Eggs Benedict. Perfectly poached eggs are placed atop artisanal toasted and buttered sourdough bread, and then both are bathed in homemade béarnaise sauce. Lisabet's savory addition is prosciutto di Parma, a delicious dry-cured meat imported from Italy that boasts a balance of saltiness and sweetness to bring out every flavor in the dish.
Sunday brunch/contact: 11 a.m. to 4 p.m; 561.560.6699; elisabettas.com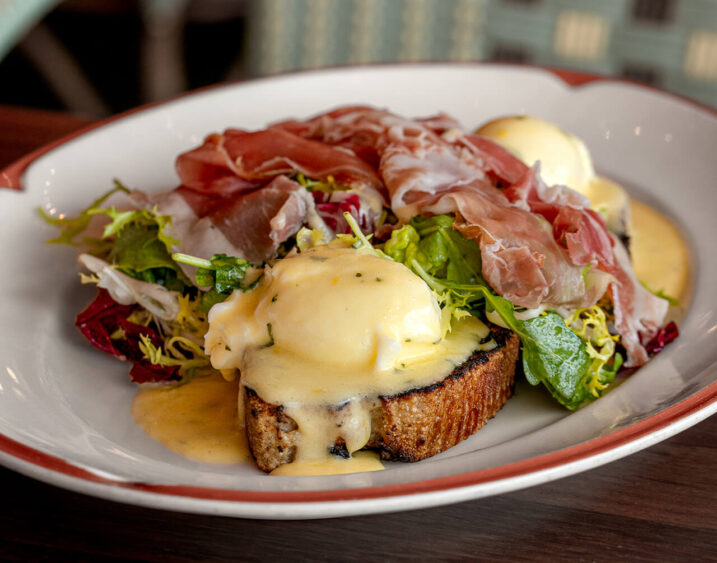 Union Kitchen & Bar
Address: 2309 N. Dixie Highway, Wilton Manors
The Buzz: The Union name represents husband and wife Roberto Colombi and Christie Tenaud—a marriage made in culinary heaven. He's from Northern Italy, and she's from Peru, but they met at an upscale restaurant (Blue, since closed) at the former Boca Raton Resort & Club (now, the Boca Raton). In her own kitchen, Christie gets inspiration from Dr. Seuss for her inventive Green Eggs and Ham quiche brunch entrée (pictured). What gives the quiche its green hue is the secret ingredient, pureed fresh spinach. She mixes in ham, onions, cheddar cheese and herbed sour cream, and adds the filling to her firm yet flaky homemade crust. Order the bottomless brunch drink, an Aperol Spritz. Colombi, who's been head sommelier with Gordon Ramsay, reimagines the drink special from his heritage; it's one of the most popular aperitif cocktails in Italy—and at Union.
Sunday brunch: 11:30 a.m. to 2 p.m.
Contact: 754.216.0143; unionkb.com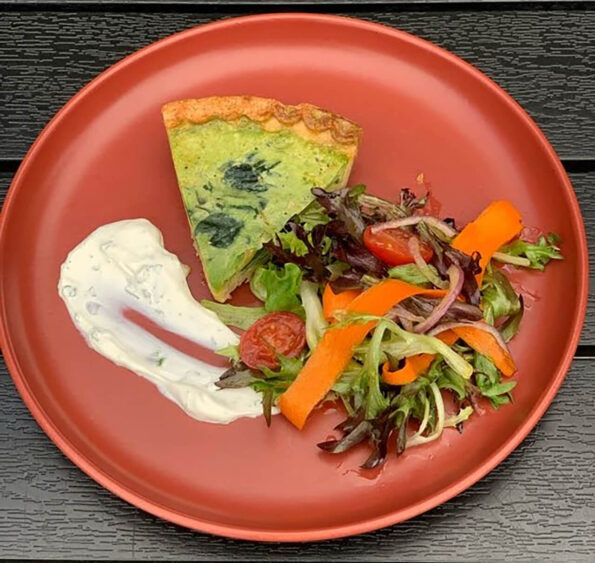 Aqui Bar & Kitchens
Address: 511 NE Third Ave., Fort Lauderdale
The Buzz: Say goodbye to ordinary French toast. Aqui goes all out, giving the morning breakfast mainstay a gourmet approach. Chef, co-owner and culinary director Gino Pérez-Ferrari takes everything up a notch, and his Brulee French Toast is certainly proof. Braided challah bread, specially ordered and brought in fresh from a local bake shop, is cut into thick slices then soaked overnight in bourbon and honey. It's then lightly scorched with a kitchen torch to caramelize the outside, which the chef says gives it a glaze topcoat like a creme brulee dessert. House-made creme fraiche (main photo), powdered sugar and macerated strawberries, which are made sweeter and softer using a sugar soak, provide the finishing touch. Served with butter-infused maple syrup.
Weekend brunch: 10:30 a.m. to 2 p.m.
Contact: 954.401.0450; aquibar.com
La Boulangerie Boul'Mich Doral
Address: 9690 NW 41st St., Doral
The Buzz: The French artisanal bakery with a Latin twist offers its take on the gourmet French ham and cheese sandwich, Croque Madame, which literally means "Mrs. Crunch." La Boulangerie Boul'Mich's version is presented as "our style." It starts with an open-face French baguette (it's usually stacked). The build starts as the baguette is topped with Black Forest ham and melted Swiss cheese; it's layered with two fried eggs, tomatoes and a touch of Béchamel sauce, then baked in the oven. C'est magnifique.
Brunch offerings/contact: Every day all day; 786.502.3025; laboulangerieusa.com