Celebrity Cruises has recently announced a revamped Caribbean program for the Summer 2024 season. With a global fleet of 16 ships at sea that take guests to more than 300 destinations around the world across all seven continents, the award-winning premium cruise line is thrilled to offer passengers an unforgettable experience on board two of their award-winning ships, Celebrity BeyondSM and Celebrity Reflection®, as they begin to call the tropics home. As part of the new program, both ships will now offer guests the exciting opportunity to experience Perfect Day at CocoCay for the first time in the cruise line's history. Additionally, the new program doubles the brand's number of year-round Caribbean sailings and introduces the first weekend itineraries.
The new program doubles Celebrity's Caribbean sailings and signifies a strategic move to get closer to Florida-based travelers. Starting in April of next year from Ft. Lauderdale:
Celebrity will begin sailing to Perfect Day at CocoCay – Royal Caribbean's private island paradise (the first time another brand outside of Royal Caribbean visits the private island)
Its newest and greatest resort at sea, Celebrity Beyond, will be available year-round.
The cruise line will launch year-round weekend itineraries available every week.
"Our customers are consistently asking for more opportunities to visit this stunning region year-round, have more weekend options so they can get away easier, and have expressed a desire for a private island destination. By introducing this new program, we can meet this demand and offer something new and historic to all our guests," Laura Hodges Bethge says, president of Celebrity Cruises. "Perfect Day is a destination like no other, and we are honored to add it to our portfolio."
Located in the Bahamas, Perfect Day at CocoCay is a vibrant island paradise and one of the Caribbean's most exclusive destinations. Guests can find peak relaxation or the ultimate thrill, whatever their speed and definition of the perfect day means. Travelers can enjoy miles of pristine white sand beaches and crystal-clear turquoise waters, dip in the largest freshwater pool in The Bahamas, and swim up to the bar for a refreshing tropical cocktail. Coco Beach Club features a heated infinity pool, a specialty restaurant, and 20 exclusive overwater cabanas, offering relaxation and privacy. Hideaway Beach, a new offering in January, will provide an adults-only paradise with private cabanas and a new signature food outlet. For those seeking adventure, North America's tallest waterslide or soaring 450 feet above the island.
Sailing out of South Florida, Celebrity Beyond will offer a mix of six and eight-night journeys that will take passengers to incredible destinations like Grand Cayman, The Bahamas, Mexico, and the Dutch Caribbean islands of Aruba, Bonaire and Curacao. The journey will also include a visit to Perfect Day at CocoCay.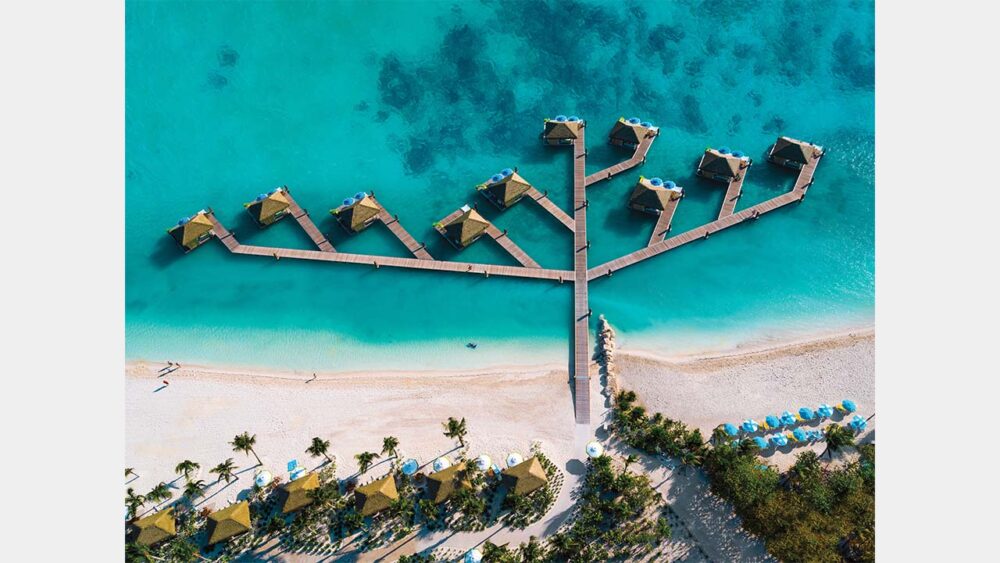 Launched in April 2022 in Europe and in November 2022 in North America, Celebrity Beyond became the newest member of the brand's Edge Series, which reimagined what cruising could be. The series boasts more than 30 food and beverage options, an outward-facing design that maximizes outdoor spaces and panoramic ocean views, world-class production shows, and elegant staterooms that range from Infinite Verandas, which open with the push of a button to welcome the outdoors in, to the wellbeing-focused AquaClass, and the ultimate in luxury with the first-ever two-story suites known as the Edge Villas.
For the first time, travelers can enjoy weekend getaways on Celebrity Reflection's new three and four-night itineraries. These itineraries allow travelers to break free from their routines and recharge in the Caribbean from Friday to Monday. Almost 40 itineraries will include the chance to visit Perfect Day and take guests to the charming streets of Key West and the beautiful white sand beaches of Bimini. These two destinations are known for their relaxed way of life and only allow one ship per day.
For more information on Celebrity Cruises or to book a Celebrity cruise, visit www.celebrity.com, or call 1-800-CELEBRITY.