The billion-dollar world of boating and yachting enjoys its annual moment in the Broward County spotlight from Oct. 25-29 at the 64th Fort Lauderdale International Boat Show (FLIBS). Produced by Informa Markets (and owned by Marine Industries Association of South Florida), the five-day nautical showcase spans seven different locations in downtown Fort Lauderdale.
Speaking of billions, it's estimated that FLIBS delivers $1.8 billion to the Sunshine State's annual economy. It's no wonder, given the luxury superyachts, aquatic toys and cutting-edge marine technology on display, not to mention the culinary and VIP activations available. It's also a testament to the allure of boating in South Florida—a spell that's only intensified over the past three-plus years.
"The boating sector's remarkable resilience, particularly evident in its robust growth during the pandemic, has not only attracted a fresh influx of youthful customers but has also reinvigorated the industry's landscape," says Phil Purcell, CEO of MIASF. "As demand skyrockets, FLIBS 2023 is primed to shine on an unrivaled stage, allowing the boating industry to proudly present its finest offerings, all while embracing a future of sustained success."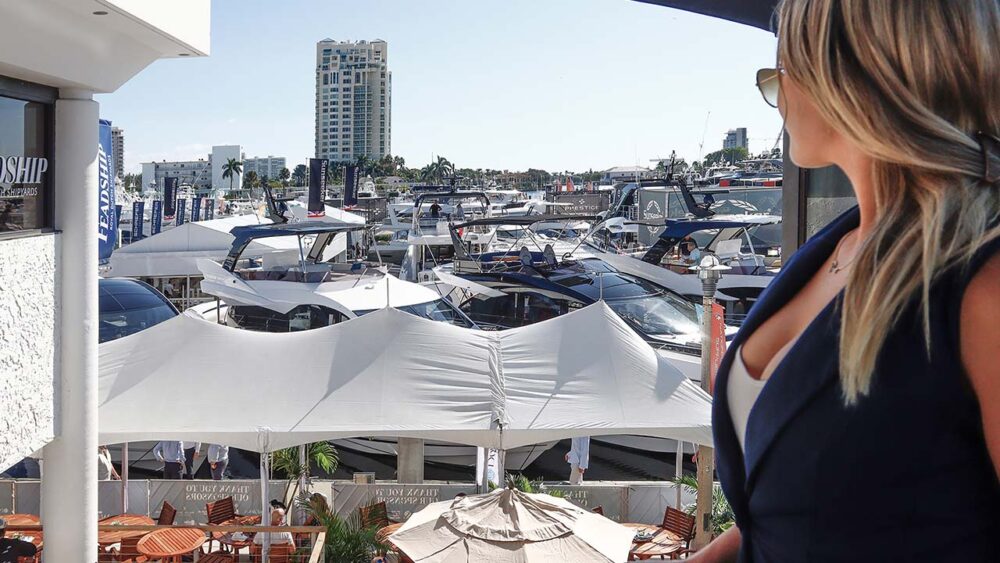 Special activations this year include: The Windward VIP Club (giving attendees access to premium pours and gourmet bites); AquaZone (an exhibition inside Broward County Convention Center with the latest water sports and marine products); and a Culinary Experience with more than 100 food concessions.
In addition, expect to see premieres from some of the planet's leading manufacturers, like Tiara, Princess Yachts, Sportsman Boats, Majesty Yachts and much more.
Tickets give boating enthusiasts access to all seven boat show locations:
• Broward Convention Center (1950 Eisenhower Blvd.)
• Bahia Mar Yachting Center (801 Seabreeze Blvd.)
• Las Olas Marina (240 E. Las Olas Circle)
• Hall of Fame Marina (435 Seabreeze Blvd.)
• Superyacht Village at Pier 66 South (2150 SE 17th St.)
• Pier 66 Marina (2301 SE 17th St.)
• 17th Street Yacht Basin (1881 SE 17th St.)
Visit flibs.com for complete details on the event—and flibs.com/en/attend/tickets.html for one- and two-day tickets and VIP experiences.