Welcome back to the old lunchbox-packing grind. Throw out last year's trusty (and presumably smelly and stained) bag, and get your shopping list ready. According to Lucille Beseler, the president and owner of Family Nutrition Center of South Florida, you should scribble fruits and vegetables at the top.
"That has to be the mindset—that we have to include fruits and vegetables in our children's diets daily," the registered and licensed dietitian says.
There are a few more items to add to the cart, but Beseler insists it's not hard to make this school year a healthy one. When packing lunch, consider:
Whole grains
"I get worried because I see some families where the kids say, 'I can't eat any carbohydrates. Carbs are bad.' One thing we should never do is demonize food," Beseler says. There are good carbohydrates, which are necessary for energy. Look for whole-grain bread, wheat pasta and brown rice.
Calcium
"Kids are not getting enough calcium. This is the time when they're building bone," Beseler says. Milk—or its substitutes, such as almond, coconut and cashew milk—is a great source of calcium, as is yogurt and cheese.
Vegetables
Before packing raw vegetables, put them out for children to taste. "Empower them. Give them something to say about the process," Beseler suggests. Vegetables such as carrots, cucumbers and bell peppers are easy snacks—especially with a little container of dip or hummus. You also can include vegetables within food, but don't be sneaky about it.
"I think that kids need to know what they're eating," she says. "I don't believe in hiding [vegetables] in food."  Try layering a sandwich with spinach rather than lettuce or chop up spinach to mix into chicken salad.
Protein
Protein helps curb hunger and boosts energy levels, among other benefits. Complete a sandwich with sliced chicken or turkey—many brands are additive-free, or you can include what you prepare in your own kitchen. Hummus and cheese are nutritious and flavorful vegetarian options.
Snacks
Beseler says a good snack is about 100 calories. She suggests almonds (depending on the school's guidelines on nuts), crackers, popcorn, baked chips and whole-wheat pita chips with hummus. She adds: "A little treat once in a while is OK."   
Drinks
"Soda is not the beverage of choice—it's not good for us," she says. Water is the best option, but for kids who want some flavor, she recommends adding a bit of unsweetened ice tea, herbal tea bags or fruit peels (she washes, freezes and then cuts orange, lime and lemon peels). "Sometimes, kids think they're hungry, but they're just thirsty," Beseler says. "They need to be drinking a lot more."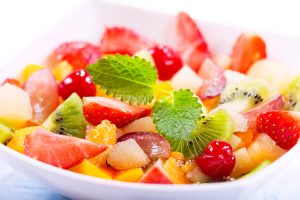 Don't Fear the Cafeteria
Meals served in Broward County's public schools meet dietary guidelines from the U.S. Department of Health and Human Services, which means they are low in fat, rich in whole grains, and include fruits and vegetables, says Darlene Moppert, the nutrition education and training program manager for the school system. For example:
The pizza is made with whole-wheat crust and low-fat cheese.

The chicken nuggets are baked with whole-grain breading. 

New entrée salads include Asian kale salad and hummus wraps (developed by celebrity chef Rudy Poindexter).

Fresh fruit is available daily.
Madam President
Beseler served as the 2016-17 president of the Academy of Nutrition and Dietetics, an organization that represents more than 100,000 credentialed nutrition professionals. In February, she represented the academy at the United Nations on the second International Day of Women and Girls in Science and Math. "It truly is a science, and we were honored to be among other scientific professions," she says. She practices from the Family Nutrition Center of South Florida's Coconut Creek office at 5350 W. Hillsboro Blvd., Suite 105. For more information, visit nutritionandfamily.com.