In the years since COVID-19, much has been made about the impact that the pandemic has had on Hollywood and the business of making and distributing movies. Much less has been written about theater chains, large and small, that have had to roll with those changes.
According to Michael Whalen, co-CEO of Paragon Theaters, the film industry is doing about 75 percent of the business it was doing in 2019. Though that percentage may rise a bit, Whalen believes the box-office bar never again will reach pre-pandemic heights.
"There's so much product currently streaming—between Netflix and Amazon and Apple TV and HBO Max [and others]—that's not theatrical," Whalen says. "They're all producing [episodic] shows. At the margins, it does hurt the theatrical business."
That's the bad news.
The good news for Paragon—which has seven theaters in three states, including three in South Florida—is that spaces like its Coral Square location in Coral Springs, with only eight screens (and one private screening room), already is set up for the future.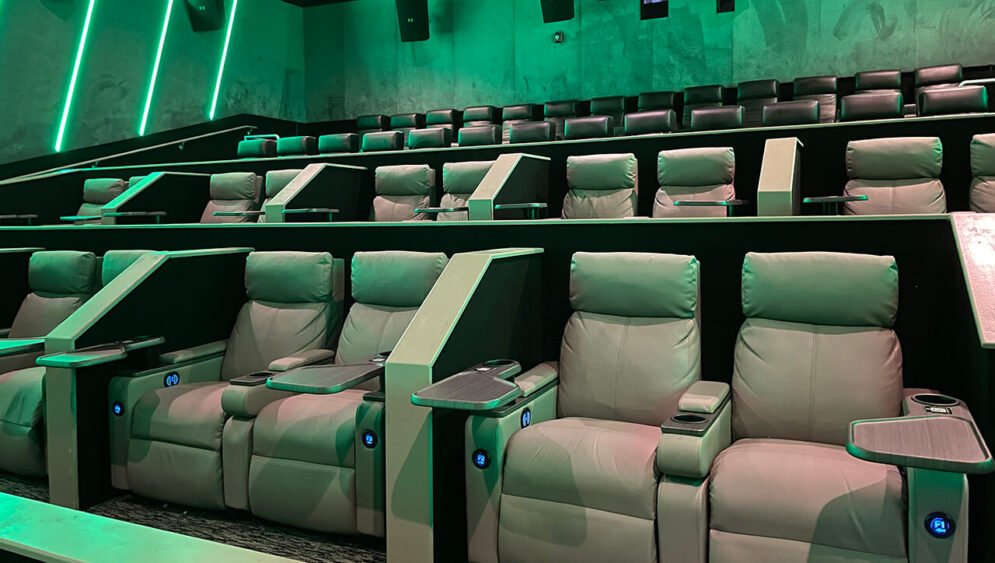 "Theaters with 16 to 20 screens have dead real estate," says Whalen (inset, left), who runs Paragon with co-CEO Michael Wilson (inset, right). "You only need eight to 10 screens, maybe 12 at max, going forward.
"Along with smaller theaters, we also have no debt as a company, so we're not financially leveraged like [some of Paragon's competitors]. We've been able to be proactive [in recent years] rather than some other theater chains, which are hobbled by their own financial distress."
So, what exactly does that mean for fans of the big screen?
At Paragon's theaters in Coral Springs, Delray Beach and Davie (paragontheaters.com), it's meant cutting-edge advancements in the movie-viewing experience. All three locations have Lux Box sections—pod-style prime seating in the middle of the theater with heated, zero-degree recliners. Better still, ticket-holders can order starters, sandwiches and even adult beverages on their cell phone from a QR code that connects to a full menu.
All three also have designated Axis 15 Extreme theaters with expansive wall-to-wall screens that are tilted at 15 degrees to match the viewing angle from your recliner seat. The rooms also have Dolby Atmos immersive sound and 4K laser projection. Laser, Whalen says, will one day replace all digital projection because it delivers brighter and sharper images to the screen; Paragon already has converted its projectors to laser.
The future also is about programming. At Coral Square, Paragon is broadening its scope by offering more than just movies.
"We're showing the big [Ultimate Fighting Championship] cards on a Saturday night," Whalen says. "We've had shows from the Metropolitan Opera. In Coral Square, you also can rent our private screening room with about 40 seats—and show whatever movie you want."
If all that's not enough, Paragon has added throwback ticket prices to the mix. At Coral Square, it's only $6 for a base ticket (still in recliner seats) any time of day. Even at $4 more for a Lux Box and an additional $2 for the Axis 15 screen, the tickets are still a deal.
"It's all about the experience," Whalen notes. "We have to get someone off their couch and into the theater," Whalen says. "So, we invested in all these [upgrades] and reinvented our movie-going experience to make it better than ever. I think we've created a pretty cool mousetrap [at Paragon]."