Though relatively new to the Fort Lauderdale dining scene, Press & Grind Cafe has quickly become a staple among both South Florida coffee enthusiasts and health-conscious consumers.
The combined juicery and coffee bar is locally owned and operated by South Florida resident Joe Sloboda, who conceptualized the space while traveling through Europe. "I was in Copenhagen, and I saw a lot of hybrid juice bars and coffee shops (…) I thought 'let's try to put that together.'" The idea was born in 2014, and just a few years later in 2018, Sloboda opened the store's flagship location in Victoria Park.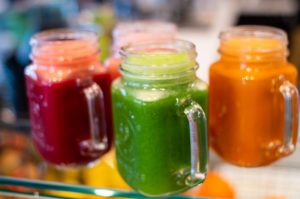 Staying true to its European muses, Press & Grind Cafe offers a unique menu of "good for you" options, including items within gluten-free, vegan and vegetarian diets, coupled with an upscale, spacious eatery and working environment. Guests can enjoy menu items like the Kale-y Berry Salad with shredded sweet kale and sliced green apples, Mr. Green Jeans juice made with cucumber, kale, broccoli, spinach and apple or the Acai Classic bowl overflowing with fresh fruits and garnishes. While these delicious concoctions can be ordered to-go, most guests find themselves dining in to take advantage of the productive atmosphere (and, of course, the readily available snacks).
"We have those who use it as a co-working space, putting in six hours every day, we have a lot that come before or after the gym, and we have those that want to just come and have a coffee with people." Sloboda elaborates, "People love the fact that our juices and smoothies are made with one hundred percent produce. That juice was made fifteen seconds before you're consuming it."
Since seeing great success during its first two years of operation, Press & Grind recently opened a second Fort Lauderdale location on 17th Street, just minutes from Port Everglades and the Broward County Convention Center. This location officially opened on Saturday, February 15th, and has already begun to gather a dedicated group of regulars. Slightly larger than its older sister and featuring complimentary WiFi and extended hours of operation, it's no surprise that this business is brewing quite the local following.
You can visit the Victoria Park location at 474 N Federal Highway or try the new 17th Street storefront at 1300 SE 17th Street.