Photos by Eduardo Schneider
As far back as she can remember, Rachel Silverstein has had a passion for the environment. What floats her boat, so to speak, are "all of the creatures and critters that live in the wild, and the unique and intricate ways that they all survive and interact with one another," she says.
Maybe she was meant to be a marine biologist. The executive director of Miami Waterkeeper lives in Coral Gables but grew up in San Diego. She wasn't what she calls a "typical little girl." She recalls class trips going to the tide pools of San Diego's beaches; her interest and curiosity about what was in the water surpassed her classmates'.
"I would end up in the deepest parts to check out some of the most interesting sea life," she says.
And, she wanted to get even closer. At 14, she got her certification in scuba diving. Now, Silverstein is one of the few full-time environmental stewards of Miami's waters, and it couldn't be a better fit. The role of the full-time Miami waterkeeper is part investigator, scientist, educator and legal advocate. Part of the Waterkeeper Alliance, Miami Waterkeeper and some 300 other similar organizations and global affiliates take protecting waterways seriously. The mission of Miami Waterkeeper, Silverstein says, is to defend, protect and preserve South Florida's watershed through citizen engagement and community action rooted in sound science and research.
"It's every citizen's right to have water that is safe for drinking, swimming and fishing," Silverstein says.
Miami Waterkeeper was founded as Biscayne Bay Waterkeeper in 2010. Before she even learned of the Miami group, Silverstein had been introduced to the work of the Waterkeeper Alliance. While getting her bachelor's degree in ecology, evolution and environmental biology from Columbia University, she interned with San Diego Waterkeeper.
"It just so happened that the annual conference of the Waterkeeper Alliance was held in San Diego that year," Silverstein says. "I went, and I got to meet them from all over the world. I was so inspired by the movement."
When she arrived in Miami for graduate school at the University of Miami's Rosenstiel School for Marine and Atmospheric Science, Silverstein realized there wasn't a waterkeeper here. But with the load of work involved in her Ph.D.—her focus was a study on how coral reefs are affected by climate change—the timing wasn't right for her to start a group in Miami.
"There were a lot of waterways to protect, and a lot of issues to take on," she says.
While Silverstein was in graduate school, someone else began Biscayne Bay Waterkeeper. She wanted to be involved, so she reached out to volunteer.
With her Ph.D. completed in 2012, it was off to Washington, D.C., after being awarded a fellowship to be part of the professional staff for the U.S. Senate Commerce Committee's Subcommittee on Oceans, Atmosphere, Fisheries and Coast Guard.
"It was quite an experience," she recalls about becoming a Knauss Sea Grant Fellow in 2013. Knauss finalists are chosen through a competitive process for a one-year paid fellowship working in the legislative and executive branch of government. "I was working in Congress and doing federal legislation related to ocean issues."
When she returned to Miami, she learned that the executive director of the local Waterkeeper group had moved on to a position in D.C. "There was no one at the organization, so I guess you could say I gave it a reboot," Silverstein says.
The name was changed to Miami Waterkeeper, and while part of the alliance, the organization is its own independent nonprofit group. Silverstein says it does a lot of work with Biscayne Bay. But now Miami Waterkeeper also pays attention to what's happening with all the waterways in Miami-Dade and Broward counties.
To say the position covers all her passions is an understatement. "I get to combine the science and the policy, which I love, and then going back to the science piece as well because [Miami Waterkeeper] also has a program that does water quality monitoring," Silverstein says.
Yet, the role of waterkeeper is as much of a watchdog as it is anything. Along with clean water and water pollution issues, Miami Waterkeeper also focuses on habitat protection concerns for sea grass, coral reefs, mangroves and wetlands.
"Miami Waterkeeper is a problem-solver; we work to solve problems that are impacting what makes our community function," Silverstein says. "What makes Miami Miami is clean water. We find that there's a really fragile environment in our backyard, and there is an inherent tension with that being located right next to one of the fastest-growing metropolitan centers in the country."
As part of its work, Silverstein says it is important that the organization be present in, and around, the community. "We go out and talk to groups, from kindergarten classes to senior citizens, about issues facing our waterways," she says. Junior Ambassadors, a year-long high school program, gives students training in advocacy, helping them to organize volunteer events and encouraging them to share what they learn with others. Additionally, Miami Waterkeeper's water quality testing laboratory is located at Coconut Grove's Ransom Everglades School. "Fifty of their students have taken our water training program," Silverstein says. "And once a month we go out on a boat with some of the students and we look for potential pollution issues."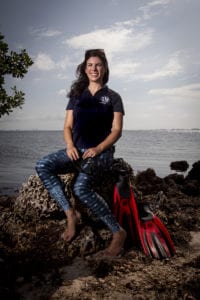 Another topic that Miami Waterkeeper keeps a close watch on is sea-level rise.
"The ground under the cities of South Florida is largely porous limestone, which means water will eventually rise up through it," Silverstein says about why continued ocean and atmospheric warming puts Miami and Miami Beach at risk for sea-level rise.
For Silverstein, one of the biggest triumphs Miami Waterkeeper has seen so far in her tenure is a sewage leak in Biscayne Bay. It was the summer of 2017, and a pipe that was meant to be dumping partially treated human waste in deep water was leaking in shallow water only three-quarters of a mile from beaches on Key Biscayne. Miami Waterkeeper sent a diver to investigate the leak.
"We discovered that the county had known about the leak but didn't do anything to fix it in over a year—and that they hadn't inspected the pipe in over 10 years," she says. "This was their responsibility."
The county was required to maintain and inspect the pipe and was violating the Clean Water Act, among other environmental issues. Miami Waterkeeper filed a notice of intent to sue and, Silverstein says, the organization alerted local news media.
"Within three days, the leak was shut down," Silverstein says. "I feel like we've been able to move the needle on some really big and important issues, and we've already seen some tangible successes. They are often David-and-Goliath type battles, yet we've had some serious victories and have raised awareness about important issues that will result in meaningful change for the community. We're a small organization that takes on big polluters, so it will always be a challenge."
How to Get Involved
Silverstein explains how to help save Miami's waterways.
Become a member of Miami Waterkeeper. "Members get access to our lunch-and-learn series, and by being a member, you give us the right to go to court on your behalf if someone is polluting your water," Silverstein says. "It's not like a typical membership program because it has meaning for us to do our work."
Join 1,000 Eyes on the Water: The volunteer-based water patrol program trains citizens to observe, document and report problems on waterways so they can be fixed. "We train you how to take the proper pictures, send the right information to us, and report it. You don't have to be out on a boat. The nearest body of water might be the storm drain at the end of your street," Silverstein says. "You can be aware when you're walking your dog, kayaking or biking or walking to work."
Download the Swim Guide app: Created by the Lake Ontario Waterkeeper staff in Toronto, the guide has information about 7,000 beaches, lakes, rivers and swimming holes in Canada, the United States, Mexico, the Bahamas and more. "Each day, water quality testing information from all over, in real time, is uploaded," Silverstein says. "Miami Waterkeeper realized there wasn't enough testing going on at Biscayne Bay—only two sites were being monitored weekly—so we increased the sampling and launched an additional six sites. That information is included in Swim Guide."
Find out about more opportunities, and sign up for news, at miamiwaterkeeper.org.