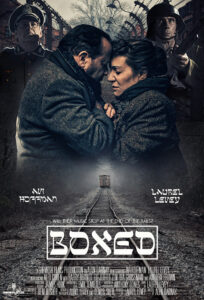 The list of recent acting credits on Laurel Levey's IMDb filmography page reads like a compilation of guilty pleasures on the Lifetime channel. She played Melanie Reynolds in The Blonde Hair Murders, Anna the housekeeper in Boyfriend Killer, a fan at the bookstore in Patient Killer, and, more recently, "woman" in Marriage Killer.
The Weston resident chuckles at the roster of deadly roles on her résumé, but she also understands that killer titles are the least of your concerns when you're trying to keep an acting career cooking from South Florida.
"This industry isn't for everyone," says Levey, who's been in the business since 2008. "In acting, your job can be one day, one month, three months. But to find that one job, you have to have such thick skin. You audition over and over and over. It's so challenging.
"I've found that it's important to be humble. And part of that is knowing your niche, your personal brand. A lot of people don't know their niche. In the beginning, no one knows. But after you gain some experience, you start to learn things about yourself."
It's what Levey discovered during the pandemic that soon will change the content on her IMDb page. The mother of three (all daughters), and grandmother to seven (with one more on the way, she says), is about to add filmmaker to her show business credits.
What began as monologue rehearsing to fill down time amid the lockdown quickly evolved into an artistic journey unlike any in which Levey had been involved. The result is Boxed, an independent short (roughly 20 minutes) that's slated to premiere this month. The Holocaust-genre film, set in two time periods (1938 and 1970), not only co-stars Levey—along with Avi Hoffman, renowned for his one-man shows Too Jewish? and Too Jewish, Two!—it's the inaugural release by the production company she launched last June, Shemesh Films (which translates to sun in Hebrew).
Levey describes the passion project, directed by Alyn Darnay (who's directed several films in the "Killer" series on Lifetime), as a "redemptive" story and a touching take on a married couple from Austria who endured a boxcar ride to Auschwitz during the Holocaust. The film is mostly in Yiddish (with some German and English), all with subtitles.
"For me, it's an opportunity to give back to the Jewish community, which I'm a part of," Levey says. "And, also, to give back to the 6 million people who lost their lives."
In other ways, it's an exhilarating and unexpected chapter for someone with acting in her blood—but who didn't pursue it until her children were adults. Levey's mother was an aspiring actress in Manchester, England, who came to the United States with hopes of one day dancing on the big screen with Fred Astaire and Gene Kelly. She never realized her Hollywood dream, but she did take the stage (and serve as president) at what is now La Mirada Theatre in Southern California, which is where Levey grew up.
"She was a dancer and an actress, and she lived a full theater life," Levey says. "But I never was interested."
That is, until 2008. Levey had lost her job in South Florida as a personal executive assistant at an insurance company amid the economic fallout from the real estate and stock market crashes. So, she traveled to Los Angeles to spend time with her mother, who was ill and in the final months of her life. One day, in her regal English accent, her mother suggested that Levey would make a wonderful actress.
Something clicked. The comment prompted Levey to open the Yellow Pages and find the talent agency closest to her mother's house. There turned out to be an agency a mile away; it was owned by Barbara Cameron, mother of actor Kirk Cameron (of Growing Pains fame). Levey walked in without a professional head shot or a hint of acting credits—and read that day for a Coca-Cola commercial. Barbara told Levey that, for an amateur with no experience, she had promise.
That was all Levey needed to hear.
"When I find something that I'm interested in, I become very intense," she says. "I returned to South Florida, I did all my research, I started doing all the training I could find down here, and then I got an agent. Suddenly, I started booking jobs like crazy. Within a few years, I was a member of the Screen Actors Guild and a board member."
By 2019, Levey had padded her acting résumé with work in short films, foreign and domestic commercials, TV movies, TV shows (including a nine-episode run as an uncredited doctor on The Glades)—and even an uncredited appearance as a fan of Stacee Jaxx (played by Tom Cruise) in the feature-length movie Rock of Ages.
When COVID-19 dropped the curtain on the entertainment industry, Levey did what she could to stay sharp creatively, including teaching herself how to tap dance. But as she began rehearsing one of her monologues, this one about the Holocaust, she realized there potentially was more to the story. She fleshed out the monologue and brought it to her friend and screenwriter, Deni B. Sher. Once in screenplay form, and after further embellishment, Levey sent Boxed to SAG-AFTRA (Screen Actors Guild-American Federation of Television and Radio Artists) for union sign-off.
"In the meantime, I assembled my cast and crew," says Levey, who self-funded the project, which wrapped filming earlier this spring. "My prop builder [James Hook] built a replica boxcar. I rented a film studio in Broward County called Canvas Films, where we shot on location. My second location, for the 1970s scene, was at Paolo's 3's Company, an Italian restaurant in Dania Beach that looks like Sardi's in New York.
"I can't wait to show everybody. I have big, big plans for this film."
To that end, Levey says she'll enter the short in several film festivals—plus, she's planning to pitch it to Netflix. There's even buzz about turning Boxed into a stage play or feature-length film. She's also in the process of writing her next project for Shemesh Films; it's another era-based concept in the Jewish genre.
"I want to continue to make films," Levey says. "And, hopefully, I can partner with someone so that we can expand. I'm so ready."