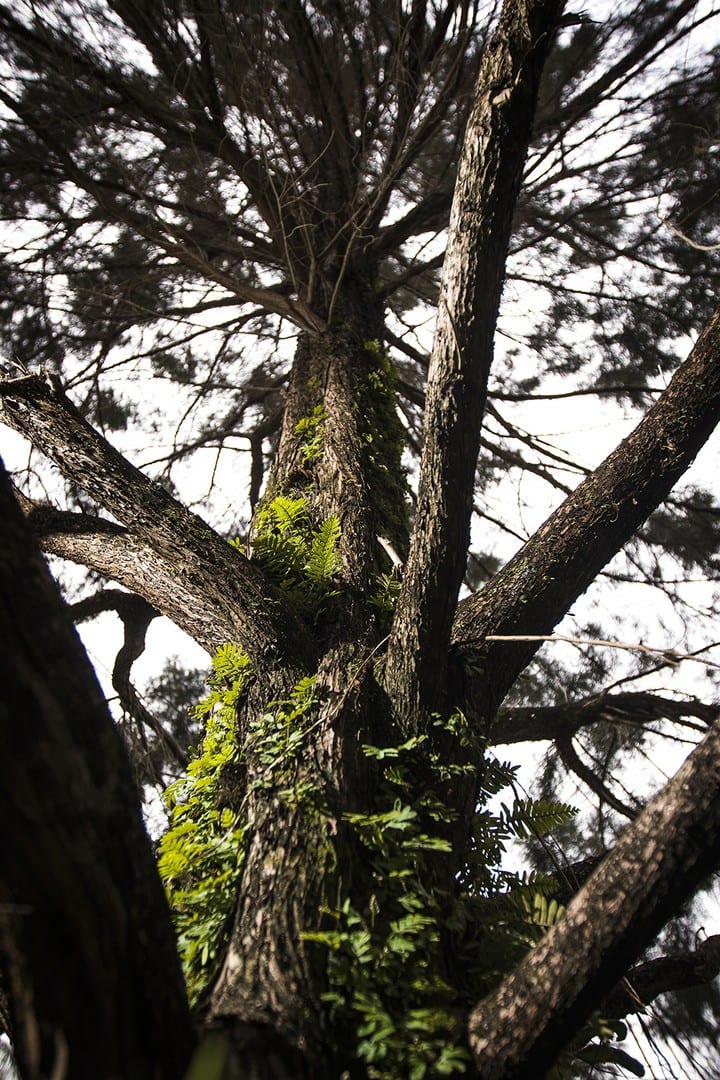 In the days after learning that a former Coconut Creek High School student, James Martin Singh, had died in a single-car accident at age 22 on March 22, 2016, Jill Ridinger and Sgt. Major Eunkyong Park began thinking of ways to honor his memory. The magnet coordinator at the school's Creek Technical Academy and the school's junior ROTC leader considered planting a tree to commemorate his life. Unfortunately, the school didn't have the money in its budget.
But the next month provided a possible solution.
April marked the return of Coconut Creek's annual Arbor Day Free Tree Giveaway, and students from the high school's Key Club once again would volunteer at the event that provides more than 600 trees and 1,400 plants to local residents. Ridinger asked the students, including recent graduate Amber Kelley, to bring a tree. Kelley and the other volunteers called Ridinger near the end of the event, announcing they had found the perfect tree.
"When we got the plant in [Ridinger's] car, it looked like a mini jungle," Kelley recalls. "It wasn't that big but the branches spread everywhere, so she had to keep her windows open."
The tree was planted outside the entrance to the Jim B. Weatherred Auditorium, along with a plaque inscribed with the words "In memory of C/LTC James Singh, Class of 2012." A few days later, Singh's parents, Martin and Annette, attended a ceremony that the school hosted in James' honor. Members of the school's JROTC, of which James was a battalion commander, joined the ceremony.
"They came back for his birthday and came over and prayed and brought some flowers and put it down beside the tree," Ridinger says. "It's nice that it's a positive place for them to come and remember James."
For Martin Singh, a former PTA coordinator, knowing that Ridinger and Park wanted to honor his son's memory was "overwhelming," especially since Park had never met James.
"It was a sad but wonderful experience to realize that James was being appreciated so much," Singh says. "It was a benefit for us on a very personal level. … Every memory counts. They're good memories; we're lucky to have those. And the tree is a reminder."
A lover of trees, Singh appreciates having one at the school to go back to. This March, he and his wife returned to mark the anniversary of James' death.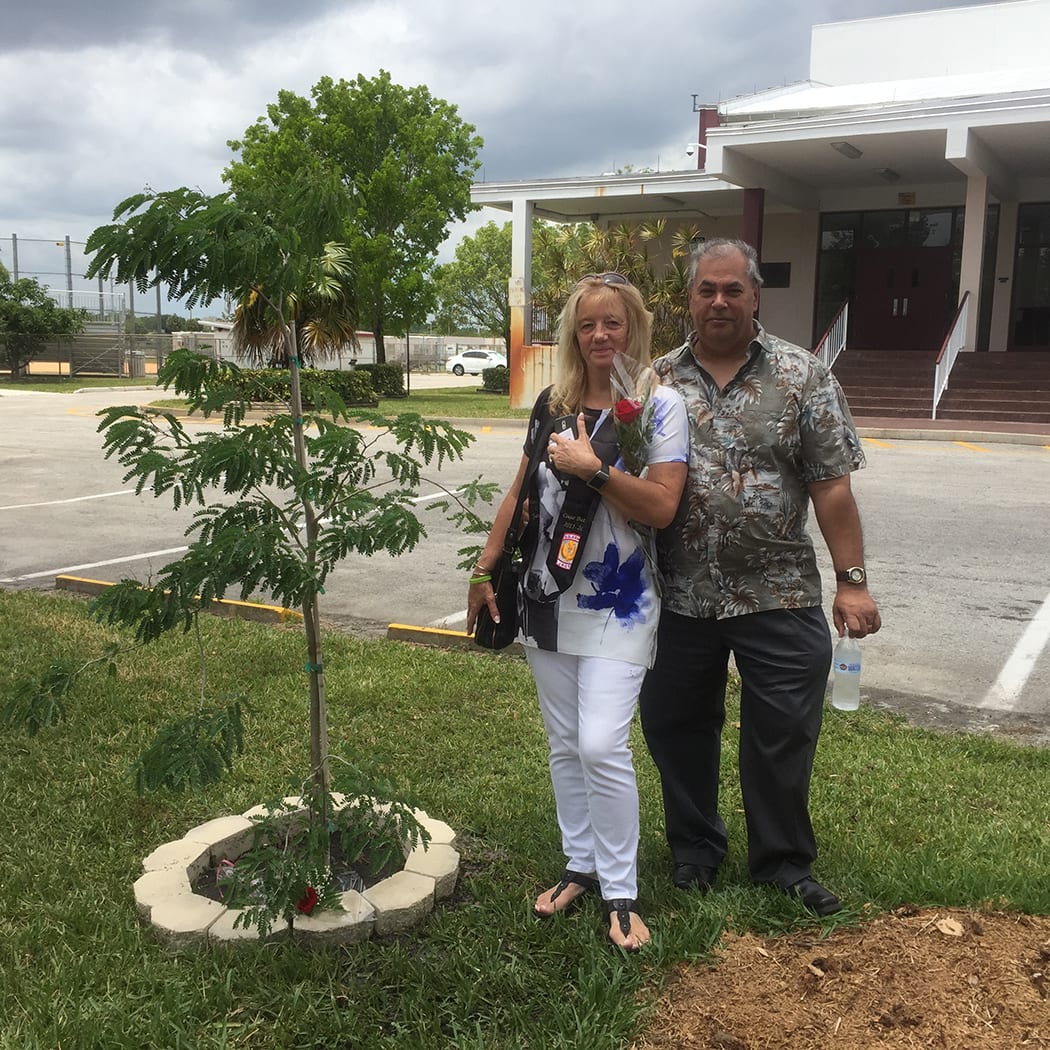 "Everything about the school and the JROTC was so important to him so it's fitting that the tree is there," Singh says.
The story is just one example of how the city's annual tree giveaway, celebrating its 17th year on April 29, not only helps the environment but creates ripples in the community that extend beyond the event.
"Sometimes, people don't see the impact that [the giveaway] makes on our little Cougar community, our Cougar family," Ridinger says. "We were putting something down as a representation that was in his memory, something that would continue to grow and that people would be able to enjoy."
Another ripple comes from the volunteer opportunities for students such as Kelley, who now attends Florida Atlantic University. Kelley volunteered at the giveaway with Coconut Creek High's Key Club during her junior and senior years. Her junior year, she volunteered at Home Depot's booth, giving away seeds. Her senior year, she informed people about invasive plant species.
"It's a very energetic vibe," she says of the event. "Everyone there was ready to tell people about climate change, energy conservation and the volunteers show up willing to work."
Sharon Vollmer, Coconut Creek's urban forester in the city's sustainable development department, has been involved with the giveaway since its inception. She points to the more than 100 volunteers involved each year, including students from Monarch High School, members of the Kiwanis Club of Coconut Creek, and representatives of the county and city.
Volunteers not only help attendees select a tree to take home, but they also work different booths that teach people about bees, vegetable seeds, flowers, recycling and other environmental information. Once residents register to receive a tree, they go through "education stations," to learn about butterfly gardening, native plants, proper pruning, composting, invasive plants and more details about plant care, including a planting demonstration area. They also receive guidance as far as choosing a tree that best suits their residential landscape.
Vollmer says the giveaway helps restore the city's tree canopy, encourages people to plant butterfly gardens and creates wildlife habitats. But there's more to the event than just eco-friendly benefits, she says.
"Everybody's in a good mood; it's almost always a beautiful day. It's a feel-good event that's very popular," Vollmer says. "So many people come, and it's an opportunity for people to get to know their neighbors. It's a time where people are interacting with the people they maybe wouldn't have met otherwise.
"They don't realize that you feel more connected to your community when you're living in an area with trees. People will maybe stand outside in the shade and talk to their neighbor a little longer, whereas they probably wouldn't have done that if it was blistering hot."
Frances Chaimowitz attests to the giveaway as a way to unite the community and help the environment. An 11-year resident of Coconut Creek, she's looking forward to attending the giveaway again this year after being unable to do so the past three years. The blooms of a white geiger she obtained at a past giveaway often have been a topic of conversation in her neighborhood.
"I tell them, I got it at the Tree Giveaway at Coconut Creek, and you can get one, too. And they go, 'Really?' " Chaimowitz says. "Who doesn't like free things? Especially trees."
Besides the geiger, she's also obtained a bald cypress, Simpson's stopper and a milkweek. The information she's received at the giveaways has made her more aware of how she can help the environment. As a result, she plants bushes and trees that attract bees and butterflies.
She spreads the word about the tree giveaway to other residents. Her only problem this year is space for her new tree.
"I'm not sure where I'm going to put it," Chaimowitz says.

Arbor Day Free Tree Giveaway
What: For the 17th year, the city of Coconut Creek presents free trees and plants to residents; one tree per household, two plants per household. The event includes information stations and Master Gardeners to answer residents' questions on gardening, sustainability and more.
When: April 29, 8 a.m.-noon, rain or shine
Where: City Hall, 4800 W. Copans Road
Info: coconutcreek.net/arborday
Bloom and Grow
Vollmer says that the types of trees at the giveaway change each year from native trees to flowering trees that meet a variety of planting needs. This year, the trees will come from Bill Ingram & Grandsons Nursery in Homestead. The following types of trees will be given away at this year's event (one per household with proof of city residency):
Gumbo limbo (Bursera simaruba): A Florida native.
Jacaranda (Jacaranda mimosifolia): Produces bluish-purple flowers.
Yellow tabebuia (Tabebuia caraiba): Blooms yellow flowers each spring.
Neem tree (Azadirachta indica): Leaves are used as a mosquito repellent.
Willow bustic (Sideroxylon salicifolium): Native tree but not often seen.
Crabwood (Gymnanthes lucida): Another Florida native.
Plants to be given away (two per household):
Florida privet

Giant milkweed

Maidenbush

Barbados cherry

Native porterweed

Corky-stem passion flower

Beach verbena

Buddleia

Yellowtop

Beautyberry