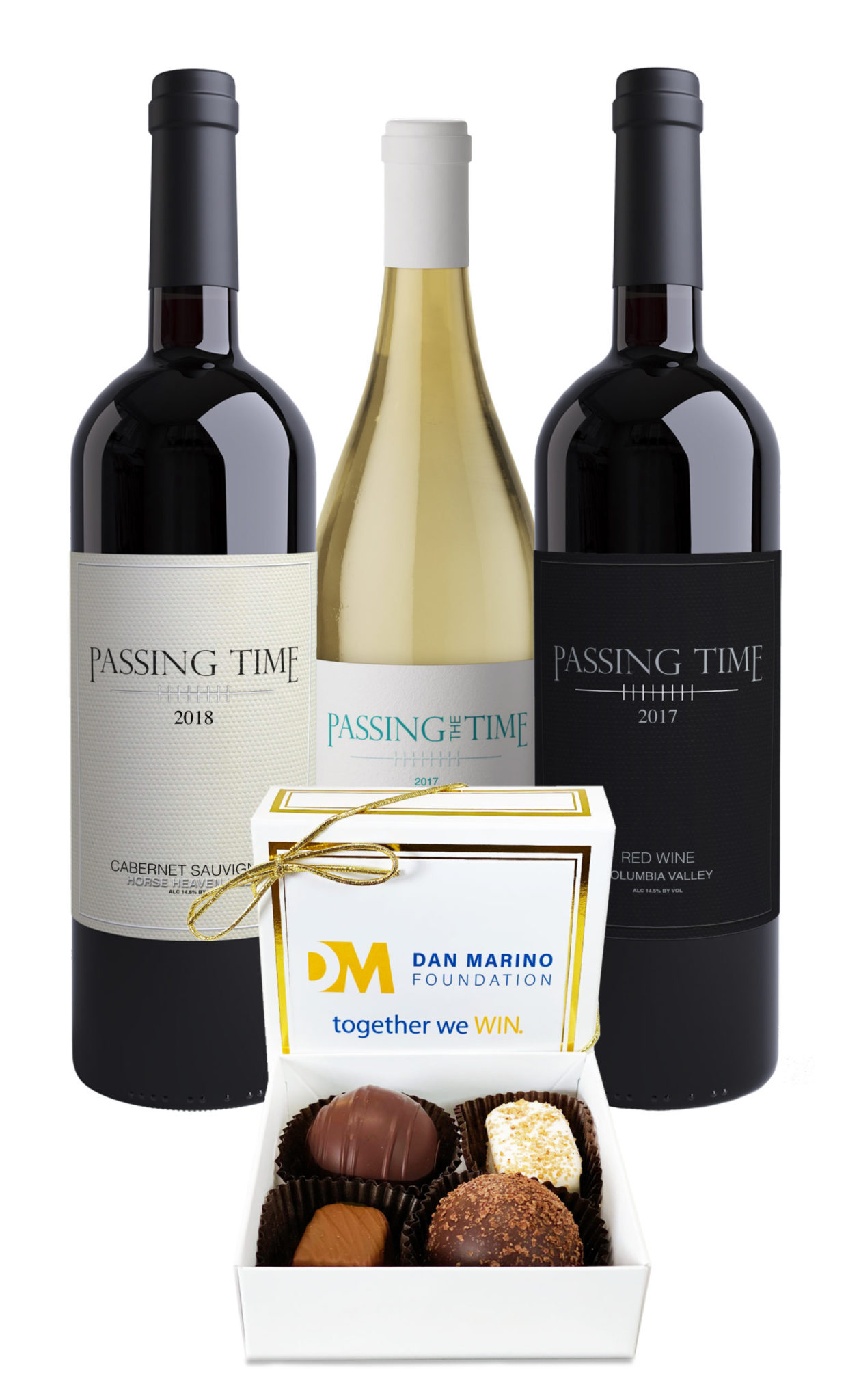 Two former quarterbacks are hosting a virtual meet and gree to talk wine and football.
Miami Dolphins quarterback Dan Marino and former NFL quarterback Damon Huard, co-owners of Passing Time Wine, will participate in Passing Time: A Virtual Wine Tasting & Talk, which benefits the Dan Marino Foundation.
During the virtual meet and greet, Marino and Huard will discuss their award-winning wine, based in Washington state, and answer guests' questions about football, wine and life. The event will be hosted by Andrew Lampasone of Fort Lauderdale-based Wine Watch. They will also be joined by Chris Peterson, the winemaker at Passing Time Wine, which launched in 2012.
Two options are available to registered guests: a Passing Time Trio set (pictured left) with three bottles (2017 Passing The Time Chardonnay, 2017 Columbia Valley Red BleOKnd, & The Flagship 2018 Horse Heaven Hills Cabernet Sauvignon) and a chocolate tasting box from Hoffman's Chocolates; or a Passing Time Duo set with two bottles (2017 Passing The Time Chardonnay, 2017 Columbia Valley Red Wine). Guests will receive the packages before the event.
Event sponsors include United Kronos Group, Badia Spices, Hoffman's Chocolates, Emeril Lagasse Foundation and Wine Watch. The proceeds will benefit the Dan Marino Foundation's mission to support those with autism and other developmental disabilities.
The event is March 18, 5:30-7 p.m. Tickets are $250-$350 and must be purchased by March 11. Register for the event here.
Featured image: Marino and Huard at the Passing Time vineyard.