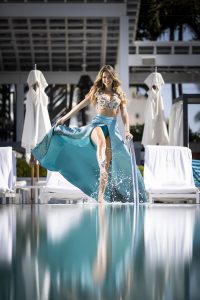 Picture This
Instagram, which launched in 2010, was still in its social networking infancy when Cindy Prado began posting photos. Merriam-Webster didn't yet have a definition for the word "influencer" as we know it today. And no one was earning millions off their followers.
But if the traditional modeling agencies weren't going to hire Prado because she wasn't 6-feet-tall, then she was going to find a way to flip the script.
Prado bought outfits with her own money from stores around Miami, among them Pretty Little Thing, the purveyor of affordable women's fashion in a variety of categories. She'd often drive to Coral Gables, find the right backdrop, and have a friend from high school who took a photography class capture her in the various pieces. She'd then post the images on Instagram and tag the stores from which the clothing came—all in the hopes that the businesses would repost her shots.
"Eventually, Pretty Little Thing started to notice, and they started 'liking' the images," Prado says. "But then other brands slowly started reaching out—they wanted me to do for them what I was doing for Pretty Little Thing. At the time, I was still living with my parents, and I'm getting all these free clothes, which is like every girl's dream, right?"
Except free clothes couldn't pay the rent, especially when she wanted to live on her own. But even though she wasn't monetizing the concept with consistency, Prado had tapped into her own version of Field of Dreams.
If she builds it, they will come.
"I began to realize that I didn't need to be hired through a modeling agency," Prado says. "I just needed the brands to notice me. And they were."
By the early 2010s, while still in college, Prado's following on Instagram (now in the tens of thousands) caught the attention of professional photographers, who wanted to work with her for their own portfolios. One of those photographers, who became a friend, submitted Prado's photos for Maxim magazine's 2014 "Hometown Hotties" contest, which went on throughout 2013. She ended being one of 10 finalists. Though she didn't win, she appeared in the magazine twice.
The publicity drew increased interest from clothing and beauty brands. More followers. And, in a bit of rich irony, modeling agencies began reaching out.
"I'm thinking, 'Oh, now you want to sign me,' " she says sarcastically. "So, yes, I finally went into the modeling space—and I started traveling. My last year of college, I did classes online because I was working in Europe [she'd signed with a modeling agency in London]. I wasn't modeling for Guess or any major brand. They were smaller brands, but I was getting the jobs.
"Oh, and I quit the dentist's office."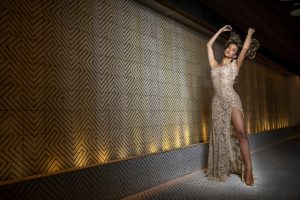 The Good Life
Prado says she wishes her story included some Hollywood-like defining moment when everything blew up overnight. But hers is a study in patience, persistence and nose-to-the-grindstone work ethic.
She had a college diploma if she needed it, but Prado was all-in on her dream.
And by the late 2010s, the plan was paying major dividends. As her followers surpassed 1 million, then 2 million—and as brands recognized the impact she was having on their sales—Prado began collecting more than just free clothes.
"At first, when I didn't have a lot of followers, I'd charge $100 to a company for a post," she says. "Then you go to $200, $300, $1,000. It keeps growing and growing."
So did her platform. Assembling her team proved to be the key that unlocked countless business opportunities. On the fitness front, she launched the Prado Program, which includes a seven-day reset—think intermittent fasting, smoothies, a low-cal meal plan and daily at-home workouts—that rids your body of bloating. She also offers a 12-week mental/physical transformational program that sheds body fat, builds lean muscle—and includes personalized motivational videos from Cindy.
On the restaurant front, Prado and two other local influencers (Samantha Schnur and Yanni Georgoulakis) collaborated with OG Hospitality to create a three-concepts-under-one-roof experience within Oasis (next to the Tower Bar) in the heart of Wynwood. There's Miss Crispy Rice (hand rolls, crispy rice and izakaya treats), Sushi OG (sushi rolls, chirashi bowls and crudos) and Papi Churro (stuffed churros, ice cream).
Four years ago, she signed with famed Elite Models. Agency work for Elite and other jobs prompt travel back and forth to Los Angeles, and around the globe, for photo shoots. She's also putting her money to work for her, preparing for the day when she stops modeling by investing "in about a dozen companies" in various business categories.
"I'm also working on things in the fashion category, more long-term, that I can't talk about right now," she says. "But it's all thanks to this life that I've created."
About that life. Prado understands the stereotype about influencers, that it's not a job, that it's self-indulgent and serves no purpose. But she begs to differ.
"There's a difference between generating income at 2.6 million [Instagram followers] and having 2.6 million followers because you're just cute. You can tell from looking at my page that I have a team, that I'm working hard at this—and that I have a real service that I can provide your company.
"Brands aren't booking me as a model to be a mannequin. They book me because I'm Cindy Prado."
Photography by Eduardo Schneider
Shot on location at W Fort Lauderdale (401 N. Fort Lauderdale Beach Blvd.)
Fashion courtesy of Wade Allyn Miami (wadeallyn.com)