Timon Balloo
Chef at: The Katherine (723 E. Broward Blvd., Fort Lauderdale)
SOBEWFF Events: Dinner hosted by Balloo, Tiffany Derry and Jeff Masanz (Feb. 24); The Cookout, hosted by JJ Johnson and Dwyane Wade (Feb. 25); and Farmer's Market Brunch, hosted by Michael Schwartz (Feb. 26). After participating in the dinner at The Bath Club that's part of the Eater Event Series, Balloo heads to the Cookout for a walkaround event at 1 Beach Club that celebrates African-American cuisine. From there, Balloo concludes his busy SOBEWFF weekend at a walkaround brunch that honors the community's farmers and chefs who place a priority on sustainability and regenerative farming.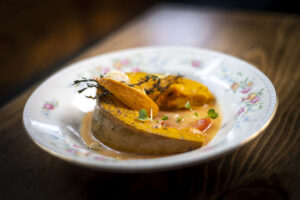 The Dish: Caribbean-style curry pumpkin served with black lime, curry leaves, citrus and garlic. "At a certain point in my career, I reconciled with my father—I was raised by my single mother—and I learned more about his heritage in Trinidad [his father is Indian; his mom is Chinese, Indian and Black, also from Trinidad]. Professionally, I hadn't cooked Caribbean food. It was always saved for the home. I didn't want to feature it in the kitchens I worked because I was a little embarrassed of my culture in culinary terms. Much of my career had involved fine dining and Euro cuisine. In those kitchens, it was considered street food, peasant food. But today, there's so much more understanding, awareness and acceptance for ethnicities. I've found this happy platform to finally express all of me."
About Timon: The James Beard nominee has been the toast of the Miami foodie community since launching Sugarcane Raw Bar Grill, the global small-plate sensation between Wynwood and the Design District. He's equally revered for elevating Caribbean cuisine (with Southeast Asian influences) at Balloo in Miami, which closed due to COVID (Timon is hoping to revive it). His Broward outpost, the Katherine, "is all the layers of our hospitality group and its growth."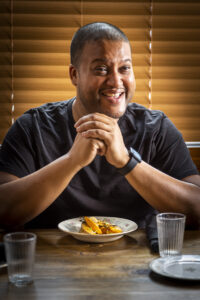 Opening Eyes and Palates: "Between technology and all the cooking shows, people are becoming more familiar with new ingredients, new cultures," Balloo says. "As we see restaurants open around the world, there's more willingness to try these different cuisines. Food is soul; we find something we connect with in different cultures. In that sense, it's like a form of diplomacy. So, chefs are stewards—we can show diners where dishes and ingredients come from. We find relevance and similarities [amid cultures] in our cooking, and we form these bonds. You see it with all the multicultural restaurants emerging."
Love Story: Though he's had career highlights in Miami, Broward remains important to him—it's where he met his wife, Marissa, as a teen.
The Cookout: "It's great to see an event that represents the African-American and the Afro-Caribbean footprint in South Florida," Balloo says. "It's another layer of culture that needs recognition. To be part of that platform and to help to spread that message through my vehicle, cuisine, is humbling."
Contact: 723 E. Broward Blvd., Fort Lauderdale; thekatherinerestaurant.com
Photography by Eduardo Schneider