For our December cover story, Lifestyle celebrates nine prominent professionals whose charitable efforts impact countless lives in South Florida. This week, we highlight Jessica Triana, Carlton Washington and Andy Cagnetta
Pictured above from left: Jessica Triana, Julie Jones-Bernard, Erica Morse and Liz Caldwell
Jessica Triana
Director of Philanthropy, American Cancer Society
Charitable Involvements: American Cancer Society, Association of Fundraising Professionals (Fort Lauderdale/Broward chapter), Planned Giving Council of Broward
Why it's personal: "I have strong Cuban women in my life who taught me early on to be gracious and stand up for what is right. These core values fueled my personal mission to help others, which eventually manifested itself into a career in philanthropy. … I've always loved what I do. I meet some of the most fascinating and generous individuals. I learn about the powerful stories that guide their giving principles and make them such compassionate people. I'm so grateful to be entrusted with this role."
Source of pride: "Through my role at ACS, I've gotten to know a group of compassionate South Florida families that want to ensure that potentially groundbreaking research moves forward. Although the society allocates millions of dollars annually to new and ongoing grants, a significant number of exceptional applications cannot be funded due to budget constraints. Through the efforts of the group now named the South Florida Research Council, we've been able to raise over $170,000 to fund lifesaving research grants that would otherwise go unfunded. By combining investments to fund research, this group of donors [has] a seat at the table to select the most relevant grants for funding. It's a transformative, hands-on approach to funding cancer research where the impact is tangible."
Words to live by: "Like so many people, I have family members and friends that have been affected by cancer. Many survived; others lost their lives to the disease, including my grandmother and father. To me, ACS represents hope not only for the patients and survivors we impact, but hope for future generations to live in a world without cancer. So, when people ask me what I do for a living, I like to say I am in the business of saving lives—and I really believe that."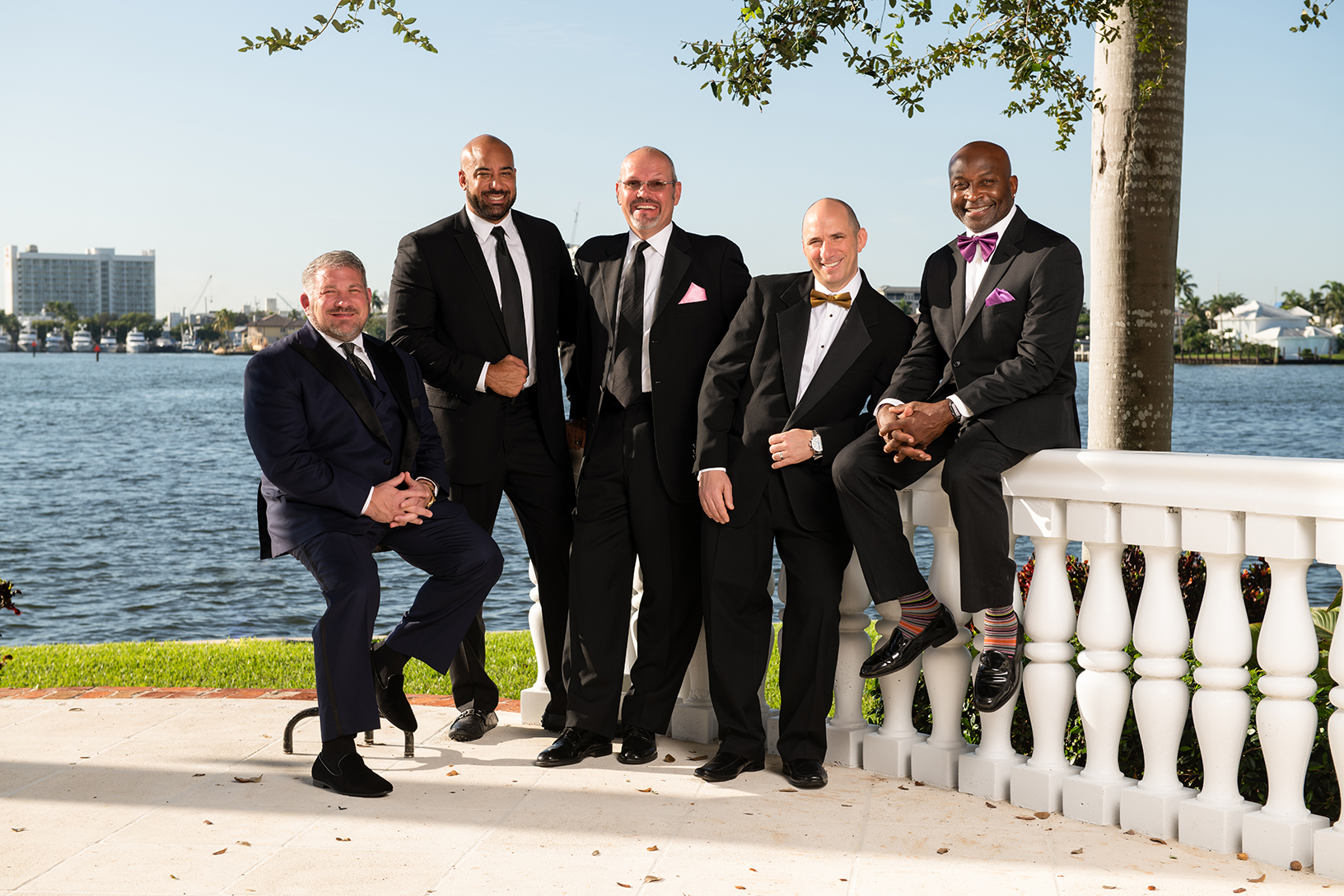 From left: Richard Weissman, Carlton Washington, Heiko Dobrikow, Andy Cagnetta and O.J. McDuffie
Carlton Washington
Co-founder, 4Ever Young Anti-Aging Solutions
Charitable involvements: Kids in Distress, Boys & Girls Clubs of Broward County and a dozen other nonprofit organizations with which 4Ever Young is associated
Why it's personal: "While forming 4Ever Young, my business partner, Deniz Duygulu, and I realized we both attended the same church. We tried to incorporate lessons taught by the church into the culture of our company. Giving back happened to be a big one. We've consistently given, through good times and bad, and we believe it's been a factor in our success."
• "Kids in Distress is close to my heart because my parents adopted me out of foster care. I'm always thankful for that, so I greatly appreciate the work they do—and I can identify with some of the struggles of the youth in their care." [Note: In addition to short- and long-term placements for children through its foster care program, Kids in Distress offers coordinated family services, adoption services, preschool and aftercare programs, and more.]
Source of pride: "Although we give services, products and donations to various organizations, there is nothing like the quality time spent with young adults. I'm most proud of having opportunities to tell youth the raw truth about life and experiences—and how they can overcome [their challenges]. Encouraging underprivileged youth is the most fulfilling thing I can think of next to supporting my own children. If you can turn on just a few light bulbs, you can create positive change for a lifetime.
Words to live by: "Many of us are one situation away from needing help. I've overcome very significant life hurdles, and I still have family members in need to this day. So, it's never foreign or forgotten to me that life is hard and unfair. I recently visited a family member in hospice who, shortly thereafter, died of AIDS. No matter how good life may seem today, you never know when you will find that you are the one in need. Based upon my beliefs and life experiences, I feel that giving back or paying it forward is essential to living a well-balanced life. I'm far from a perfect human being, but I have been blessed with the ability to help others at this point in my life. My hope is that life allows me to continue doing so."
Andy Cagnetta
CEO, Transworld Business Advisors
Charitable Involvements: United Way of Broward County, LifeNet 4 Families (through his annual Andy's Family Pasta Dinner fundraiser), Junior Achievement of South Florida
Why it's personal: "My first involvement was with LifeNet 4 Families, then the Cooperative Feeding Program. I volunteered to help fix an air-conditioning problem they were having—and was asked to join the board. After LifeNet opened its facility in 2001, we needed to raise money. As chair of the board, I invited my friends and family to the facility and cooked them dinner. Andy's Family Pasta Dinner was born."
Source of pride: "It shows the power of community that this small pasta dinner started by a group of people who were not professional fundraisers could catch on and grow so significantly. We had about 30 people at the first fundraiser, which collected $500. Our 18th dinner is set for Feb. 16 … [and] we expect 1,000 attendees, and we hope to raise $300,000. Over the first 17 years, we've raised a combined $1.5 million. I'm so proud of my family, friends, coworkers, sponsors and even strangers that come together to continue to build the event and support LifeNet."
Words to live by: "My philosophy is simple. I have been blessed with so many things in my life—family, friends, a good education, business success and more. I think it's my duty to help others who are not so fortunate. As a society, we should all come together to lift up those who need it."
Photography by James Woodley
Shot on location at La Maison Blanche in Fort Lauderdale Creative direction: Melanie Smit
Copy by: Kevin Kaminski
Creative assistant: Evelyn Suarez
About the location: Sprawling La Maison Blanche, encompassing some 1.4 acres and nearly 17,000 square feet (under air) on the point of Southeast 10th Street overlooking the Intracoastal, features 11 bedrooms, 12½ baths, a home theater, great room/entertainment center, formal dining room, chef's kitchen, fitness room, pool and outdoor kitchen, and a two-bedroom guest house. Contact Julie Jones-Bernard at ju[email protected] or 954.328.3665 for additional details.