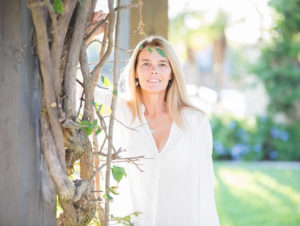 As a physical education teacher at Unity School in Delray Beach, Sharon Gerry (pictured) was a model of health and extreme endurance. She ran 60 miles a week on average, she didn't smoke or drink, and she slept restfully every night.
So, when the 55-year-old athlete woke up feeling "kind of odd," she thought her morning coffee would be the jumpstart. By the time she got to school, she couldn't string thoughts together and stumbled into the building.
"I felt my body dying inside out," she says, recalling that life-changing day in November 2017. "I told the [school] nurse, 'I can feel my cells dying. I'm dying. You have to help me.'"
Recognizing that Gerry was having a stroke, the nurse rushed her to Bethesda Hospital East in Boynton Beach. Physicians treated her with tissue plasminogen activator, an intravenous protein known as tPA that break down blood clots; in this case, Gerry was suffering an ischemic stroke, caused by the blockage (due to the blood clot) of a vessel carrying blood to the brain.
To survive, "you need to get it within 3½ hours from the onset of symptoms," Gerry says. "I had 15 minutes left."
Gerry is one of 795,000 people in the United States to have a stroke each year, according to the Centers for Disease Control and Prevention. Strokes kill 140,000 people annually, 5 percent of all deaths nationwide. Typically associated with the elderly, strokes occur at any age. The March death of Luke Perry, star of the 1990s teen drama "Beverly Hills, 90210," at age 52 has increased attention on the number of Gen Xers and young baby boomers to either die or be left with serious physical and mental impairments from stroke.
The risks more than double each decade after the age of 55; 75 percent of strokes occur in people 65 and older. That said, the number of older people hospitalized for stroke has decreased by nearly 30 percent in recent years, while hospitalizations for adults 44 and younger have increased some 44 percent, according to a 2016 paper by the American Heart Association.
Generally speaking, several factors help to explain why younger people are developing stroke at a faster rate, according to stroke neurologist Ridwan Lin, of Broward Health Medical Center. These include earlier incidents of Type 2 diabetes, weight problems, high blood pressure, recreational cocaine use and high levels of alcohol consumption.
Hormonal contraception could be another cause, he says. In fact, Gerry says her stroke has been attributed to hormone replacement therapy (estrogen) after a hysterectomy at a young age. She has since stopped taking it.
Race also comes into play: Risk of having a first stroke is nearly twice as high for blacks as for whites, and blacks have the highest rate of death due to stroke, according to the CDC. Though overall stroke death rates have declined for decades, Hispanics have seen an increase since 2013. Though traumatic injuries, such as car accidents, also can play a factor, sometimes it's just random: A Maryland woman in March suffered a stroke after a yoga headstand ruptured a neck artery. She survived but has significant speech and memory problems.
Out of the Blue
Gayle White, a Coral Springs science teacher born in Jamaica, is working hard to get better while wondering how she got here in the first place. The night before her stroke she had visited her sister-in-law and bought Halloween candy for her children.
"I woke up Monday morning and found myself peeing in bed," she recalls. "I needed to go to the restroom but each time I tried to get up I fell back." When her husband found her on the floor, she couldn't think or move.
After inserting a catheter in her groin, Lin suctioned a blood clot from her brain.
"We don't know the cause of the stroke," White says. "I don't smoke, I don't drink, I don't have high cholesterol."
After spending two days in the ICU, she was able to get out of bed and sit in a chair. She was paralyzed on the right side. She has improved physically in a relatively short period of time by walking up to an hour on a treadmill, followed by five minutes on a stationary bike. Her foot flips over from time to time although there is no physical sign of deformity.
Though she speaks slowly and quietly, White has resumed teaching at Coral Springs Middle School. Certified in Jamaica, she has had to take professional education exams to be fully qualified in Florida. In February, just three months after the stroke, she took a nearly three-hour exam and "passed it, no problem."
Meanwhile, Gerry had another setback in June 2018—a stroke-like transient ischemic attack, which cuts off blood flow to the brain for a short time. Working on a second master's degree, she is learning at a slower place. "I get overwhelmed quickly and can't think."
After her TIA, Delray Medical Center doctors recommended physical therapy for a limp and dropped foot. She started with treadmill work and rowed to build up her quads. With balance problems, she held on to resistance bands to avoid falling while doing squats. Within a month, she could walk 2 miles. Last fall, she completed a "dry" triathlon hosted by Orangetheory, consisting of a 2,000-meter row, 300 bodyweight reps and a 5K treadmill run.
Says Gerry's trainer at Orangetheory, Ashley Elliott: "I definitely think her background in fitness and sports played a huge role in her recovery."
ABCs of Stroke
A: Take aspirin as directed by your healthcare professional.
B: Control your blood pressure.
C: Manage your cholesterol.
S: Never start smoking and quit if you do.
3 Questions
Ask the person to smile. Does one side of the face droop or feel numb?
Ask the person to raise both arms. Done one arm drift downward?
Have them repeat a simple sentence, like "The sky is blue." Is the sentence repeated correctly?
If you observe any abnormalities, call 9-1-1 immediately.