Photos by Eduardo Schneider
As an airline pilot, Wolfgang Mattern had seen every corner of the globe. Lisa, his wife, was a flight attendant for the same German airline, LTU International. She, too, had traveled the world. They met almost 30 years ago, many times flying the same routes together.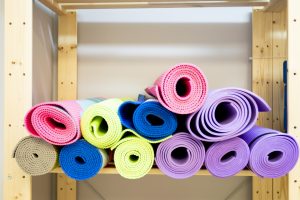 Until recently, and for the past decade, the couple, who have been married 25 years, lived in Abu Dhabi, the capital of the United Arab Emirates, where Wolfgang flew planes for Etihad Airways. (Their son, Lukas, is now a pilot for Etihad.) Lisa took a different path. In Abu Dhabi, she worked as a guide, leading German-speaking visitors on tours of the city.
Eventually, they knew they'd be on to a new adventure. Wolfgang was ready to retire from his years of piloting, and Lisa, allowed things to fall into place.
"There was something about Florida that drew us to it," says Wolfgang. He flew into airports in Fort Myers and Miami and had layovers in the area and knew he wanted to settle here eventually. So, while still in Abu Dhabi, they bought a condominium in Pompano Beach and a business in Coconut Creek.
Not the type to retire, or, for that matter sit still, they took over the already established Yoga Cure, in the Marketplace on Hillsboro. They ran it from Abu Dhabi for a year, but in October, they decided it was time to "fully commit" to their life in South Florida.
As soon as they'd unpacked their bags, they wanted to put their own stamp on the studio, and become the warm and welcoming faces of Yoga Cure. "This is a very personal type of business," says Wolfgang. "It's not like a gym where you sign in and then you're off on your own."
The environment of Yoga Cure is meant to be communal and friendly. Classes are held in a large, modern studio, which the Matterns have renovated and updated. "We are a boutique studio, however, so we want to keep that atmosphere," Wolfgang says. Part of the cozy-yet-well-designed space, includes another area designated as the Kids' Zone, which serves two purposes. Yoga Cure offers in-house child care: "We don't want [people], especially moms, to not be able to attend yoga because they don't have anyone to watch their child or children," Lisa says. There are also no-parents-allowed kids yoga classes, taught by a trained children's instructor.
You won't see Wolfgang and Lisa teaching any of the eight adult classes—"We leave that to those that are experienced," Wolfgang says—but you will see them on a mat. Lisa finds her Zen participating in the Vinyasa classes. "I'm a mover, so I prefer Vinyasa. It's quick, and you will sweat," she promises.
Wolfgang is a weekend yogi. "I take Friday, Saturday and Sunday classes. Those usually have men participating," he says. Look for a men-only class in the future at Yoga Cure. "I think men are afraid they will look foolish, and are reluctant to take classes, so this may be a way to get them interested in a more comfortable environment." They are also hoping to add a 55-plus, age-specific class.
The Matterns embraced the name of the studio when they bought the place, and never considered changing it. It embodied what they wanted to convey about their sanctuary. "The idea behind Yoga Cure is that, at the end of the day, it is to love yourself, to be who you are and nothing else," Lisa says. "This is a place where there is no judgment. The foundation here is that yoga is for everyone."
Yoga Cure
Location: 4419 W. Hillsboro Blvd., Coconut Creek
Info: yoga-cure.com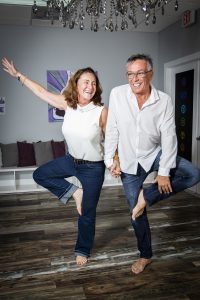 Stretch into Yoga
At Yoga Cure, first classes are free. There are single classes, no-commitment packages and unlimited memberships. What's available:
Yoga for Beginners: Focuses on concentration, alignment, transitions, and proper breathing techniques. Also taught in Spanish.
Hatha Yoga: The foundation of all physical poses in yoga.
Yin Yoga: A slower pace. Poses are held for longer periods of time, for deep calm through regulating the flow of energy in the body.
Vinyasa Yoga: Sometimes called Vinyasa Flow Yoga because of its continuous flow of postures to connect breath and movement.
Vin-Yin Fusion Yoga: A combination of vinyasa and yin.
Gentle Flow Yoga: A slower-paced vinyasa class focusing on breath and stability.
Restorative Yoga: Relaxation is encouraged on a deeper level to promote healing. Bolsters, blocks, blankets and other props are used to support the body.
Yoga Nidra: Guided meditation zeroes in on relaxation, accompanied by sound healing. Held on Friday nights to calm the mind after a busy work week.
Kid's Yoga: Children 4-13 learn breathing techniques and the practice of yoga through fun poses.