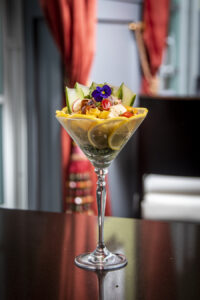 1. Hanging in: Having already cultivated a late-night setting unlike anything in Fort Lauderdale—the hip and cozy Posh, with its live DJs, hookah, and celebrated sushi, sashimi and specialty rolls—John and Vandana Janho were poised to add to their local legacy. But less than a week after their March 2020 purchase of popular Asia Bay became official, the COVID-19 pandemic shut down restaurants all over Florida. "I'm not the type of person who bails on things," says John, an esteemed chef and graduate of the culinary arts program at Johnson & Wales University. "We had a game plan and hung in there; eventually, we saw the light at the end of the tunnel."
2. A new day: Recently, that light fully revealed itself as Eve on the Water, a shared-plate concept that embraces the "Asia" aspect of its former incarnation in all its geographic splendor. The gourmet offerings on a menu John curated and brought to life incorporate influences from throughout the continent, not just the Far East fare typically associated with Asian cuisine. The falafel with special Lebanese seasonings, as well as the hummus (regular and pesto), speak to John's own Middle Eastern descent. The traditional Filipino lumpia, meanwhile, recalls a vegetarian spring roll with a filling that includes carrots, scallions, onions, water chestnuts, garlic and fresh ginger.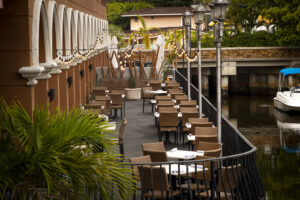 3. In demand: Much of the new menu debuted before the name change, and favorites already have emerged. Korean baby back barbecue ribs marinate for 48 hours in a mixture with seven different Asian spices, minced garlic, ginger, soy sauce and Sapporo beer. "The Asian beer breaks down the meat; it's so tender that it nearly falls off the bone," John says. The chef is more tight-lipped about the secrets of a stir-fry sauce that elevates the pineapple fried rice, but the dish is so popular that John "can't make enough of it.
4. More menu: Portion sizes fall somewhere between tapas and entrees, allowing parties of two and more to try a variety of dishes on a menu that also features lightly battered rock shrimp tossed in kimchi sauce; crab Rangoon; and pan-seared scallops in chili soy butter. At press time, additional dishes were set to join the menu, including a fillet of sea bass with curry coconut milk sauce, grilled lamb chops in a garlic-rosemary marinade, ceviche, skirt steak, and crab cakes.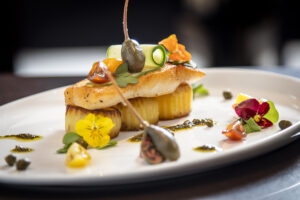 5. Stay a while: In addition to mulling over changes to the menu and restaurant name, John and Vandana spent time enhancing the overall vibe for customers who've been through their own travails over the past year-plus. The space at Eve features canal-front tables along the side, a casual gathering area overlooking the outdoor dining in front, a quaint bar, soothing sounds from a live DJ on several nights, and a warm, inviting atmosphere. "Instead of customers coming in and staying an hour, we want them to enjoy the night with us," John says. "People have enough aggravation at work or at home. They're coming out to have a good time. We want to give them their money's worth."
Contact: 1111 E. Las Olas Blvd., Fort Lauderdale; 954.848.9900; asiabayrestaurants.com
Photography by Eduardo Schneider