If you build it: There was no place like home—well, in truth, his family's birth home—for Theo Xidis when it came to Greek cuisine. His parents were born in Greece (Corinth), and he traveled there upward of four times a year with his wife, Grace. Though Theo and Grace scoured South Florida for a sophisticated dining experience that could transport them to the birthplace of democracy, nothing compared to the food they so enjoyed in Greece. So, like any good entrepreneur might do, the couple took matters into their own hands. The result is Théos Estiatório, a charming spot next to the venerable Gateway Theater in Fort Lauderdale that, only a few months after opening, is being lauded as a breath of fresh foodie air for the Victoria Park community.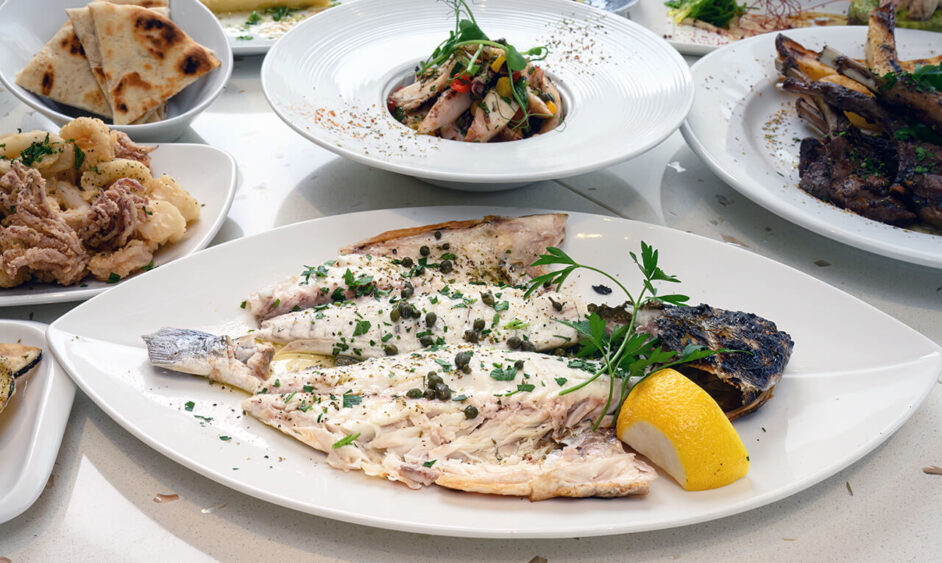 The tone: Part of the joy, beyond the world-class Mediterranean cuisine (more on that in a second), stems from the familial vibe permeating a restaurant that ultimately will seat 110 overall (finishing touches on a cozy outdoor area were nearly complete at press time). Theo and Grace work the room like they've known each customer for much of their lives; servers are engaging and well-versed on the menu. "When you have customers who come back three times a week, that speaks for itself," Grace says. "It means that food comes out every time to their liking. It means we're there to greet people like they're entering our home. When you drive by and see this quaint spot with everyone having fun, it's so inviting."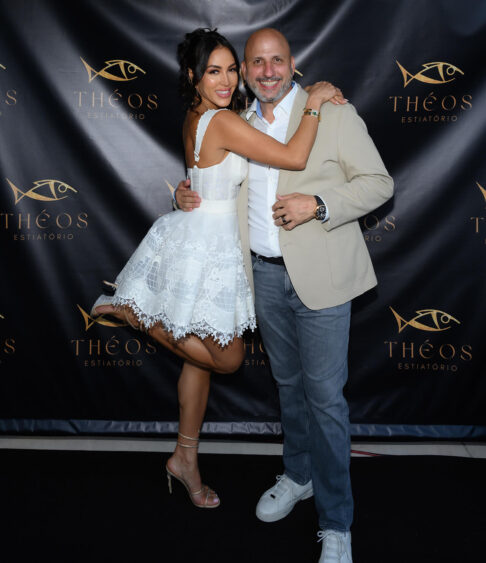 Chef's special: Equally compelling is everything coming out of a kitchen helmed by executive chef and partner Peter Spyropoulos. The graduate of the Culinary Institute of America has a rock-star Mediterranean résumé, including a prolific run in New York as chef, partner, or both at esteemed eateries Ethos, Limani and Oniro Taverna; he also was the opening chef at famed Estiatorio Milos in Manhattan. When friends Theo and Grace approached him with the idea for Théos, Spyropoulos relished the opportunity to bring authentic Greek dishes to Broward. Chef Peter notes that he's opened 11 restaurants, and they've all been successful. "It's not rocket science," he says. "The only time you fail is if you don't care."
For starters: The measure of any quality Mediterranean restaurant, Spyropoulos says, is in its Greek salad, octopus and lamb. Théos soars on all three counts, but the tender chargrilled Spanish octopus with red onion, and red and yellow peppers in a red-wine vinaigrette is a scene-stealer. Other highlights on the meze side include loukaniko (Greek sausage); shrimp saganki sauteed in a tomato and feta sauce; keftedakia (sauteed lamb, beef and herb-infused meatballs with feta mousse and lemon); and steamed mussels in an ouzo reduction with either white or red sauce.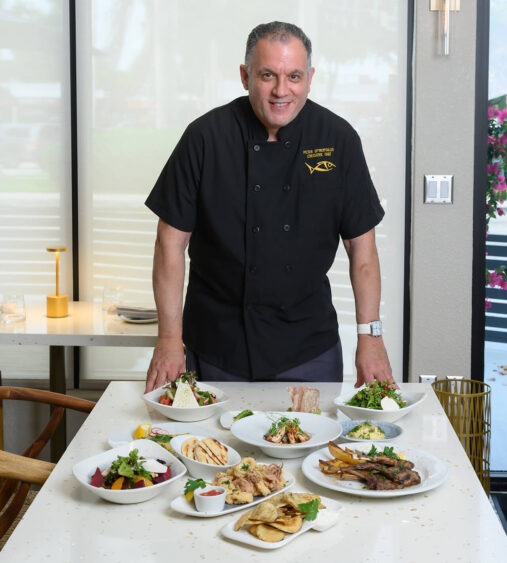 Main course: Spyropoulos may scale down the menu at some point, but for now there's a bonanza of chef-driven standouts, including more than two dozen entrees. Among them: Greek paella with orzo, shrimp, mussels, calamari and clams in a seafood broth, tomato and feta; whole-fish offerings (branzino, black sea bass, red snapper); sea dwellers such as Chilean sea bass plaki in 100-percent fish broth with onion, potato and tomato—as well as a swordfish kebab with onion, pepper, tomato and lemon potatoes. On the meat side, lamb makes a few appearances—the shank is rendered fork tender after being braised in red-wine mirepoix, while herb-marinated chops are complemented by lemon potatoes and tzatziki. Attention to detail, so evident in the front of the house, extends to the kitchen, where sourcing includes olive oil and olives imported from Greece.
Contact: 1826 E. Sunrise Blvd., Fort Lauderdale; 954.404.3040; theosestiatorio.com
Images by Dream Focus Photography