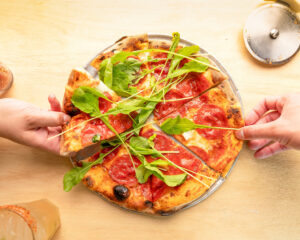 Michael Schwartz had been working in restaurants since his high school years in Philadelphia, slowly building an impressive kitchen résumé that included time in California, New York and Tokyo—as well as a game-changing turn with Wolfgang Puck.
But now it was the mid-2000s, and all of that momentum had come to a screeching halt. His seven-year partnership in South Florida with Myles Chefetz—a collaboration with the restaurateur now famous for Prime 112 in Miami Beach that resulted in concepts in the mid-1990s like Nemo and Big Pink on South Beach, and Fish in Aventura—had dissolved. And a chef who seemed on the cusp of something special was kicking around at a place called Afterglo that proved to be the restaurant equivalent of his rock bottom.
"I was struggling to get my footing," Schwartz says. "I hadn't put enough thought into what I wanted to do after [his partnership with Chefetz ended]. And I worked in some weird places. I was lost and dejected. And it wasn't pleasant.
"But Afterglo snapped me out of it. I was charged with creating a menu centered around foods that were anti-inflammatory or that made you look and feel better; the idea, actually, was ahead of its time. But the owner wanted to call it 'beauty cuisine.' I came up with a sockeye salmon sausage dish that was amazing, with turmeric and walnuts. And he called it, the 'Beauty Pill.' Just awful. I was done.
"So, I started looking. The goal was to put my own concept together. And that ended up being Michael's Genuine. I had everything riding on the success of that restaurant."
Fourteen years later, Michael's Genuine, which closed for renovations over the summer, is set to make its triumphant return this fall. In the decade-plus since it launched in 2007, Schwartz has buried the Beauty Pill and earned his rightful place on the Mount Rushmore of South Florida chefs. His current concepts include Harry's Pizzeria (named after his 18-year-old son; in the Design District, Coconut Grove, and Miami Beach), Genuine Burger (Miami), and Amara at Paraiso (his ode to Latin American flavors that overlooks Biscayne Bay).
But it's Michael's Genuine that put him on the culinary map—and earned him the prestigious James Beard Foundation Award in 2010 as Best Chef in the South. Getting there, Schwartz will tell you, was half the fun.
In part one of this two-part online story, he looks back on a journey that began at age 15 at a Northern Italian fine-dining restaurant in Philly.
Childhood influences: "I did not grow up with spectacular food memories. My dad owned an auto parts store; he was a blue-collar guy. He liked his pizza burned, his chicken wings extra crispy. We used to make a lamb roast, and it was tied with a string. And he loved chewing on that roast string. Weird.
"My mom later became a very good home cook after I got into cooking, but I grew up with TV dinners. Even things like olives and mushrooms were exotic foods to me. My big moment to shine in the kitchen was when my mom would let me cut the Stroehmann white bread into cubes for the Thanksgiving stuffing."
The origin story: "My first job was at this Milan-esque restaurant called DiLullo's in Philadelphia. I started as a busboy, and within a year moved into the kitchen. They were doing things like Parmesan ice cream, and using ingredients like radicchio and Belgian endive, that seem like nothing now—but were cutting-edge for 40 years ago. Plus, there were Italian women hand-cranking fresh pasta in this glass-enclosed room.
"I'd leave high school at noon, and go right to work. My parents had split up by then. Being in this grown-up, sophisticated atmosphere, I think, filled a niche for me. It also opened my eyes not just to the culinary world but hospitality in general. I ended up working for that company for five years."
Wolfgang: "I had grown up in Philly, so I wanted to see what else was out there. Around [age 22], I moved to Southern California—and walked into Chinois on Main, Wolfgang Puck's restaurant in Santa Monica, with my weird résumé. They hired me as a prep cook.
"At that point, Wolfgang was very involved in his restaurants—and he was at the forefront of this fusion idea. Chinois was the original sort of Asian fusion concept [in this case, combining Japanese/Chinese tradition and California ingredients with French techniques]. My whole career to that point had been about Italian food, which, in a lot ways, is pretty one-note.
"Wolfgang is not one-note. There were things happening there that blew my mind. I only worked there for a year, but it was such an eye-opening learning experience. … In a short period of time, Wolfgang became a mentor and connection for life. He wrote the foreword to my first cookbook. And I'll credit his passion, creativity, and work ethic as being an ongoing inspiration for me."
Pizza in Japan: "Somebody that I worked with at Chinois had a friend with a big company in Japan, and they were looking for an American chef to help them open a California-cuisine restaurant outside of Tokyo. This was around 1988, and I went there for six weeks.
"This restaurant in Japan wanted to do pizza—and I didn't know pizza. DiLullo's was a pasta restaurant. But there was a Spago in Tokyo at the time [another of Puck's concepts]. And I knew the chef because of my connection to Wolf. He gave me a crash course on pizza—and that same day I went to the restaurant that I was hired to consult with and showed everyone how to make pizza. Like I had been doing it my whole life. That's where my passion for pizza started.
"They were paying me, but I should have been paying them. I learned way more than I taught anybody."
Did You Know?
Harry's Pizzeria is named after Schwartz's 18-year-old son. But his two daughters have had their culinary moments. At one point, Schwartz had a cafe in the Design District (Apella) named after his oldest, Ella. And middle child Lua has a wine named after her.