Just like the snowbirds who flock south to escape the winter weather, some area residents can't stomach the summer sizzle without at least a brief escape. It's no wonder then that, despite the nearly 5,000 miles between our corner of the country and the 50th state, Celebrity Cruises sees its share of South Floridians heading to the Great Northwest.
Celebrity's Alaskan sailings present a luxurious and relaxing way to experience wilderness adventures and picturesque glacier sightseeing for couples or the entire family. The company offers a multitude of itineraries on Celebrity Eclipse, Celebrity Solstice and Celebrity Millennium for sailings that originate out of Seattle, Vancouver and Seward, Alaska.
The cruising season in Alaska starts in late April/early May and runs through early September. The scheduling variety provides robust options to experience a natural backdrop unlike anything South Florida or the Caribbean can replicate.
"As you get into the summertime, you're seeing a lot of destinations have average temperatures in the 60s, which is great," says Brendan Halcomb, sales and marketing manager for Celebrity's "Cruisetours" offerings for the Alaska itineraries. "There's a lot happening in the summertime, and that's why we're there. It's the ideal time to be in Alaska."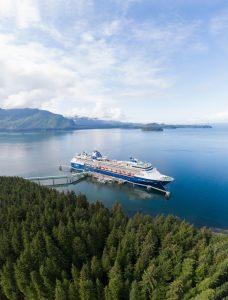 An Alaskan cruise wouldn't be complete without getting up close and personal with majestic glaciers. Luckily, every Alaska itinerary on Celebrity includes treks through the Inside Passage, a 500-mile throughway for ships along the Pacific Ocean. The coastal route boasts an array of wildlife sightings, towering glaciers and opulent island scenery.
Sailing out of Vancouver is offered on Celebrity Eclipse. The round-trip cruise allows passengers to experience an urban city like Vancouver before exploring the vast beauty of the Pacific Northwest.
Another northern city on the itinerary list is Seattle. Cruises on Celebrity Solstice are for seven nights with stops at Endicott Arm and Dawes Glacier. Solstice also provides visits to the port city of Victoria, British Columbia. Celebrity Millennium features seven-night, open-ended itineraries between Vancouver and Seward, a coastal town that is one of Alaska's oldest communities.
An added bonus of Celebrity's Alaska sailings are the Cruisetours on Millennium sailings, which enable passengers to explore the heart of Alaska's interior. Cruisetours combine a seven-night Alaska sailing with an in-depth, multi-night land tour that features rail travel and local lodging. The Cruisetours provide the perfect blend of wilderness adventures while still enjoying the perks of a luxury cruise ship. Popular destinations among cruise passengers include Denali National Park, Katmai National Park and Preserve, Icy Strait Point and the Kenai Peninsula. These experiences can include witnessing whales breaching from the ocean, watching bears hunt for salmon, or taking a hike or train ride through the mountains.
"Just to be amid wildlife in their natural habitat is one of the elements that's really special and wonderful about Alaska," Halcomb says. "And these are all experiences that families can have together."
It's the experience aboard one of Celebrity's luxury ships—with world-class dining and entertainment and amenities galore combined with cruises to high-desired locations—that remains the main attraction.
"You want to be able to have those amazing Alaskan experiences during the day, but then also come back to a luxury ship experience at night," Halcomb says. "That's part of the reason why Celebrity Cruises is such an exceptional choice for Alaska because we are delivering the destination, but we're also delivering a new luxury experience while guests are on board our ships."
Regardless of the itinerary in Alaska, the state's unique wilderness and cool summer climate ensure all passengers can have their vacation desires met while experiencing a memorable luxury vacation to one of the most awe-inspiring destinations in the world.
Celebrity is currently offering a limited-time promotion for passengers that book any 2023 Alaska Cruisetour on Millennium sailings to save up to $800 per stateroom, with up to $200 off airfare with Flights by Celebrity. For more information, visit https://www.celebritycruises.com/cruise-deals/cruisetour-savings