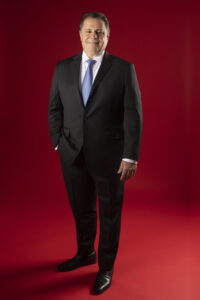 Ray Berry
CEO of Health Business Solutions
Charity Highlights
• Florida Girls Giving Back: Ray and a group of dads (among them, Tim Petrillo, CEO of The Restaurant People) were on a father-daughter camping trip in the mid-2010s when they had the inspired idea to launch a nonprofit that empowered teenage girls to make decisions about where and why to donate charitable funds in Broward County. What started with 11 girls, including Ray's oldest daughter (a former president of the nonprofit), now encompasses more than 100 teens, representing some 20 high schools. The organization, which began with excess funds from a nonprofit that had ended, relies on ongoing fundraising for gifts to local organizations—which, over the years, have included Arc Broward, Covenant House and Habitat for Humanity Broward. (floridagirlsgivingback.org)
• Jack and Jill Center and Broward Health Foundation: Ray serves on the boards of both organizations. (jackandjillcenter.org; browardhealthfoundation.org)
Father Knows Best: The example of a dad who immigrated to Ellis Island at age 12 from Lebanon (along with his sister, who was 9) continues to inspire Ray. His parents settled in Michigan and raised a family of five (Ray was the middle child) on his father's salary as a foreman in the automotive industry with Ford.
Ray never recalls feeling poor; he and his siblings always had what they needed. But, looking back, he knows that it wasn't easy for his parents to raise such a large family.
"I remember as a little kid someone coming to the door and dropping off presents the day before Christmas; I suspect it was an organization like Goodwill, some group that helped needy families," Ray says. "I know [my parents] also were involved in the food stamp program back then.
"But my father constantly reminded us how lucky we were to be on American soil. He was so grateful for the opportunities that the United States gave us. He also appreciated the various programs in the community that helped my parents when things weren't so good.
"As a result, both my parents encouraged us to give back."
Philanthropy at Work: "When I first began my professional career, I started as a floor tech at The Starting Place, a not-for-profit drug treatment center for children in Hollywood," Ray says. "As an employee, I helped multiple children through a program called TASC (Treatment Alternative to Street Crime). In the mid- to late-1980s, we would intervene within the court system to help children that were arrested for minor possession of drug crimes but were placed in cells with hardcore adolescent offenders.
"The number of children that became successful members of society glued me to service like this. I eventually became a national leader (board member and chair) in the TASC programs, which eventually morphed into Juvenile Assessment Centers and mental health drug courts. The kids that we saved, and some that we lost, left a lasting impression on me that I will never forget."
Words to Live By: "I have four children of my own so, obviously, I have a soft spot for kids and the challenges they face. I remember what it was like growing up with siblings and parents that wanted the best for me but didn't always understand my world. As an adult with a lot of adult responsibilities, I don't want to lose touch with younger generations and how they contribute to society. I love knowing that we are planting seeds of community, love, education and volunteerism in these kids.
"I believe that giving back to the community has given me and my family so much to be thankful for. I am a strong believer in karma and in paying it forward."
Photography by Eduardo Schneider
Creative direction by Melanie Geronemus Smit