It's a brilliant "Greetings From Sunny Florida" postcard morning, and Rita Case, queen of the Rick Case Automotive Group empire, is humming along like a turbocharged engine.
As usual, she's dressed to kill in any boardroom: sleek skirt and jacket. Power pumps. And her trademark hat. Today's choice, a classy pink pillbox number, is plucked from her collection of more than 250.
She welcomes a guest to corporate headquarters at Rick Case Kia, hard by the Sawgrass Expressway, and immediately launches into a tour of the lobby and hallways filled with trophies and plaques honoring Rita and her late husband for their many achievements in the auto industry and devoted work in charities.
The conference room glitters with more awards and testimonials, earned through 60 years in the business and 40 years of marriage. When it comes to shiny hardware accolades, the Case collection makes the New York Yankees' haul look like it could be stored in an overhead bin.
Rita Case smoothly slipped into the driver's seat of Rick Case Automotive Group as CEO and president after her husband, an automotive legend, died of cancer in September 2020. Truth is, she always had a hand firmly gripping the wheel.
"We had an amazing business relationship," Rita, 67, says. "Rick knew how he wanted it done, and he told me to get it done."
Given her day-to-day role running the operational side of the 14 dealerships in South Florida and Atlanta, Rita was surprised at some of the reaction from the public after Rick died. A sort of "Poor, Rita. Whatever will she do now?"
Some saw Rita as the dutiful and devoted wife alongside the ultimate entrepreneurial husband in TV commercials. Everyone in the business, including Rick Case dealership general managers, knew better.
Still, her first mission was to visit every general manager in person and pledge her commitment to the company.
"I told them, 'We're not selling,'" Rita says. "I told them that they could count on me. I said, 'We are going to find ways to fill in for all the holes that Rick has left. It's a lot, but don't worry. Keep selling cars the way he taught you. Keep running your business the way he taught you. Keep treating customers as your best friends the way he taught you.'"
One thing Rita Case wasn't worried about: Rita Case.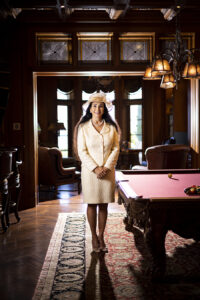 Like Mother, Like Daughter
If they measured gumption by the gallon, Rita could circle the planet without a fill-up. Her ambition and energy has always been fueled by motivation from her mother, Lori Manly, who at 90 still stops by the Santa Rosa, Calif., dealership she opened in 1970 with her late husband, Bill, as the first Honda auto dealer in the United States.
"My mom is amazing," Rita says, beaming like a schoolgirl whose mother just interrupted first-period math class with a tray of freshly baked cookies. "From the moment I can remember, she always was doing things that nobody can believe."
Lori Manly raced motorcycles, piloted vintage planes with her husband, competed in ice skating and gymnastics, performed in ballet and at 15 modeled for a local department store.
The Manlys owned a motorcycle sales and repair shop during Rita's childhood and, unlike her two brothers and sister, she took a keen interest in the business. By age 8, she was sweeping floors, answering phones and polishing bikes. At 16, she obtained two licenses—driver's and pilot's. Like a chip off the old hubcap, she also was racing dirt bikes, competing in gymnastics and playing a variety of other sports.
In 1968, when Honda asked California dealers who had been selling their motorcycles if they were interested in pioneering their venture into U.S. auto sales, the Manlys bought in. Two years later, their teenaged daughter was introducing curious but skeptical motorcycle customers to the tiny foreign cars sitting in a makeshift showroom.
"No one wanted to buy this car," Rita recalls. "They'd say, "Oh, my God. It's so small. Is it safe?'"
Rita was their test driver, tooling around town in what she describes as an "air-cooled, 600cc tin can with two seats."
"Some bikes had larger engines," she says. Her selling points leading to the first Honda automobile purchase in the country were gas mileage and maneuverability alongside the boxy, two-ton gas-guzzlers of the day.
One thing Rita was sold on—her passion for the auto business and her desire and determination to take over her family's dealership. Her father didn't get it. For one thing, he told her, "This is really for guys. Men are the ones who are car dealers. Let your brothers do it."
Rita revved her engine in reply.
"Why? I can be better than them."
Lori Manly was all in for her daughter.
"You can do it," she told Rita. "But you have to be the best. If you're going to be a woman in this business, you have to be the smartest one in the room."
After graduating from University of California at Davis with a degree in economics, she took over her parents' dealership. Early on, her position was met with quizzical looks from male counterparts.
"I'd be at a meeting, and someone would say, 'Where's your dad?'" Rita says. "I'd say, 'I run the business now.' And they'd say, 'Well, good luck.' "
Behind the scenes, they assumed, Dad was still running the show. Rita jokingly referred to herself as "D.D." in reference to behind-her-back whispers of "She's just the dealer's daughter."
Turns out, D.D. had a pretty sharp business IQ. Realizing that most Honda auto dealers were more well-versed in selling the Japanese brand's motorcycles, she turned to the National Automotive Dealers Association for help in branching out to car sales.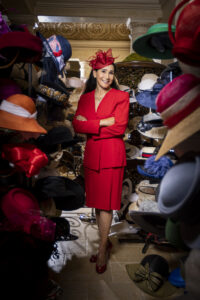 Dealer's Choice
The NADA's 20 Group program brings 20 dealers together for several days of brainstorming. Rita managed to round up 18 dealers to meet in Hawaii to talk about Honda cars, including Rick Case, who had made a name for himself with innovative, wacky and lucrative sales promotions at his dealerships in Cleveland and Akron.
At 22, she was the youngest in attendance and the only woman.
"I stood out and he stood out," Rita says. "I stood out because I didn't have any fear. I was a small-town girl in the room with people from Chicago, St. Louis, Cleveland and Dallas. I said, 'Guys, I put this deal together because I need to learn the car business, and I'm asking all of you to help me.'"
She arrived prepared because she remembered her mother's strong words of advice.
"They didn't discount me because I was the smartest one in the room," she recalls. "I knew my financial statement inside and out. I knew the business. I understood the math of it."
Rita and Rick were the only single dealers at the conference, so they sat side by side at breakfast and lunch, and when wives joined their husbands at dinner.
Rita quickly realized that they shared a drive to be the best.
"It was pretty much love at first sight," Rita says. "He was so energetic. He was so enthusiastic about being great. He would say, 'I'm going to be the No. 1 volume dealer in the world' and I would be over here saying, 'I want to be a great dealer, too.'
"That was the attraction."
After the meetings, they kept in touch, exchanging ideas and the usual starts and stops of running businesses. In 1979, Rita invited Rick to spend time with her in California. If you're imagining a Hallmark Channel script of picnicking in the park and strolling hand-in-hand as the sun sets over the lapping waves of the Pacific Ocean, think again. Gearheads will be gearheads, so Rita and Rick set off on motorcycles to visit Honda dealerships up the Pacific Coast, and on to Portland and Seattle.
Despite the exhausting itinerary and a chaperone—Rita's father insisted a third wheel accompany the fledgling couple, so a dealer friend of Rick's tagged along—"We fell in love on that trip," Rita says.
The next year they married. Rita handed back the family dealership to her parents and joined Rick in Ohio. By then, he had reached celebrity status in Cleveland and Akron, partly because of his successful Honda auto and motorcycle dealerships but more through creative, some might say, crazy, advertising gimmicks.
Rick promised to buy back your car if it didn't get 50 miles per gallon. Bring you a tire if you had a flat. He leaped off the roof of a dealership (and into a cushion below), and got motorcycle daredevil Evel Knievel to jump 10 Mack trucks at a Memorial Day promotional event. (Knievel then hired Case as a promoter, including for his infamous Snake River Canyon rocket-powered jump in 1974.)
Meanwhile, for Rita Case, D.D. was now D.W.—dealer's wife.
"It was burning inside of me," she says. "What am I going to do to be noticed? I am not just Rick's wife. I am his business partner, and we're married, and I want you all to see me as his business partner, not as cooking his oatmeal in the morning.
"I had to do something different."
Photography by Eduardo Schneider
Creative Direction by Melanie Geronemus Smit